The Argentine winger is set to leave the Bernabeu this week in a transfer that has highlighted some familiar flaws from Real Madrid.
There was hope right until the end. On Sunday morning, Spanish sports daily
AS
captured the mood of madridistas with a front cover that read: "Saving Private Di Maria." In an accompanying survey, it added, 83.5 percent of fans wanted him to stay. But by Sunday afternoon, he had packed his bags and said goodbye.
Coach Carlo Ancelotti faced the Madrid media Sunday and confirmed his player's imminent exit, which had looked inevitable ever since the Italian left the winger out of Friday's night's Supercopa de Espana second leg against Atletico at the Vicente Calderon.
After losing 1-0 to his club's city rival, Ancelotti attempted to justify the Argentine's absence. "It was a technical decision," he said. "We didn't need Di Maria today."
MORE: Balotelli in photos | Done deals | WAGs
That hypothesis was hardly backed up by the result, though, as Atletico claimed a 1-0 win on the night to take the trophy 2-1 on aggregate. And on Sunday, Ancelotti failed to convince once more. "It was his decision [to leave]," he said. "The club did everything possible to keep him."
But actions speak louder than words and, in reality, Madrid could have done much more to keep the attacker. Di Maria wanted a salary of 8 million euros per year after tax, but was only offered around €6m (over €12m in gross annual wages).
That total would have made the 26-year-old the 11th best-paid player at the Santiago Bernabeu and the former Benfica player, who was key as the club claimed the Copa del Rey and Champions League last season, believed he was worth much more that that. And it's understandable, given his value to the team and the fact that Madrid happily agreed to pay Cristiano Ronaldo €20m after tax in a new deal last September. Di Maria, surely, was worth at least half as much.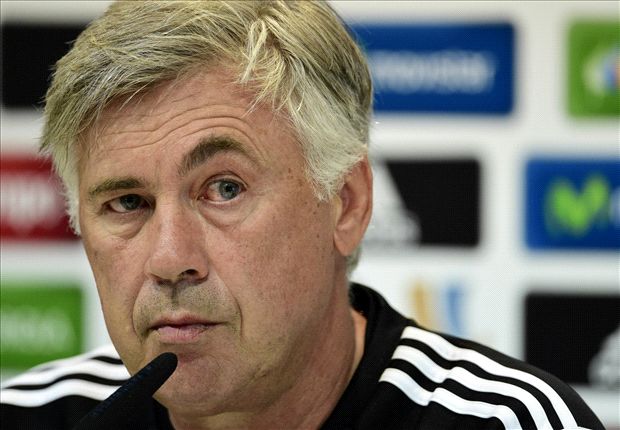 DIPLOMAT | Ancelotti has remained politically correct in his time as Madrid boss
But a higher offer never materialized and, instead, Madrid chose to sign James Rodriguez for €80m, paying the 23-year-old Colombian wages much closer to those requested by Di Maria. With Toni Kroos also arriving for €30m in midfield, it was hard to see how the Argentine winger would fit in. And by then, of course, Madrid needed money to fund its summer spending spree.
In his final 12 minutes as a Madrid player, Di Maria did more than any of his teammates as Real drew 1-1 with Atletico on Tuesday in the first leg of the Supercopa. "Di Maria changed the game," Diego Simeone said afterward. "But it's logical — he's the best player they have."
Simeone did not speak again ahead of the return leg and after winning his fifth trophy as Atletico boss on Friday, simply said: "I can't talk about that any more. I just gave my opinion on a player I would like to have."
Di Maria is a player any coach would like to have, Ancelotti included. "He has been badly treated," former Argentina coach Cesar Luis Menotti wrote in his column for news agency
DPA
last week. "He has to be the best footballer in the Spanish championship over the last few months — even better than [Lionel] Messi."
The the forward has had his problems with Madrid in the past and came close to leaving last summer when Madrid wanted to sell him to raise funds for the purchase of Gareth Bale from Tottenham. But the 26-year-old impressed Ancelotti and the club ended up selling Mesut Ozil instead.
As the season started, Di Maria soon settled again and subsequently produced the finest football of his career under Ancelotti. Previously brilliant yet frustratingly inconsistent, he hit even greater heights in the Italian's 4-3-3 formation, doubling up as an energetic midfielder and an impressive attacker with his
tireless workrate and rampaging runs that hurt so many teams in 2013-14.

In what was his final full season in Spain, Di Maria scored 11 goals and assisted 24. Significantly, he also played a pivotal part in the two titles won by Madrid, scoring the opener after racing clear in the Copa del Rey final against Barcelona and then setting up the decisive goal for Bale in extra time of the Champions League final, escaping down the left when everyone else was exhausted.

Such moments will be sorely missed and Ancelotti, ever the diplomat, won't say what he really thinks. When eyebrows are raised all around him, the Italian raises only one — and he gets on with the job. After all, he has seen it before — with Ozil, with Diego Lopez, and now with Di Maria.

"In general, the squad has improved with the arrivals of Kroos, James and Keylor Navas," he said Sunday. The sale of Di Maria, however, has taken most of the shine off what had looked like a successful summer of transfer business at the Bernabeu.

And it's nothing new. Not for the first time, president Florentino Perez has brought in a new "Galactico" star signing and duly dispensed with a vital player. It happened when Madrid bought David Beckham and sold Claude Makelele in 2003, as Michael Owen joined in 2004 when Fernando Morientes was a more-than-able alternative to Raul and Ronaldo, and again last year as Ozil made way for Bale.

The Perez policy remains risky and flawed as the club falls back into old patterns, a strategy seemingly more about muscle-flexing and merchandising than it is about winning soccer matches, and although it worked out well last season as Bale shone in Ozil's absence, Di Maria was also absolutely crucial to that success. So his departure could yet prove to be an unmitigated disaster for Madrid and, despite what Ancelotti said about the club's efforts to keep him, his exit could and should have been avoided.