Carlo Ancelotti
has confirmed that
Angel di Maria
wants to leave
Real Madrid
and that the club is looking for a solution before the end of the summer transfer window.
The Argentina international has lost his starting berth at Madrid following the arrival of James Rodriguez and Toni Kroos this summer and is keen to move on to secure first-team action elsewhere.
Di Maria has been heavily linked with Paris Saint-Germain and Manchester United in the past few months, but the Ligue 1 champion recently stated that it is no longer interested in signing the winger because of financial reasons, seemingly leaving United as the main contender to lure him away from the Santiago Bernabeu.
MORE: Ronaldo ice bucket challenge | Pitch invader's free kick | WAGs
"The player has requested a transfer this summer. He rejected the club's offer to stay at Madrid, so we are looking for a solution," Ancelotti said at a news conference. "We will find a solution for Di Maria before the end of the transfer window, but he remains a Madrid player for now. We are in a situation that the player has to fix himself.
"I'm surprised that it seems as if we are not all in agreement about the situation, but this is not the case. We are all on the same line here. If Di Maria cannot find a solution for his future, he will stay here. We embrace him and he can continue to work here. There's no problem. Di Maria could start in the second leg of the Supercopa de Espana against Atletico, like all the players who are available."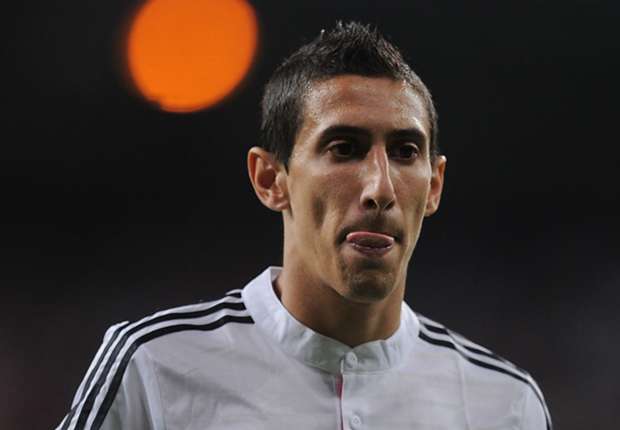 Wantaway | Di Maria is looking to find a way out of the Santiago Bernabeu
The 26-year-old, who joined Madrid from Benfica in the summer of 2010, has a contract with Madrid until the summer of 2018, but could be available for a transfer fee in the region of 60 million euros.
Meanwhile, Ancelotti has stressed that Sami Khedira's situation is different to that of Di Maria, adding that the Germany international — a reported target for Arsena, Chelsea and Bayern Munich — has not asked to leave.
"Khedira's situation is different than Di Maria's situation. He has just one more year to go on his current contract and he has only recently come back from a serious injury," Ancelotti added. "We will see what happens, but he has not requested a transfer."