The transfer of the highly-rated attacking midfielder Kingsley Coman, who yesterday sealed his move from Paris Saint-Germain to Juventus, has added to the ever lengthening list of promising players who have quit the French club in search of pastures new.
Paris-born Coman, 18, has ended a decade long association with his hometown club, opting to play for the Serie A champion rather than continue to develop with Laurent Blanc's side despite the promise he showed in the, albeit, fleeting appearances he made last season.
The youngster was highly regarded at Paris Saint-Germain, and alongside burgeoning talent Adrien Rabiot and Hervin Ongenda, was thought to herald the arrival of a string of exciting youth players to supplement the number of high-profile stars at the Parc des Princes. With the departure of former academy star and club captain Mamadou Sakho last summer, the onus shifted on les Parisiens to maintain a stranglehold on the current crop produced by the club's prestigious youth system.
Blanc himself echoed such sentiments in February, remarking that Coman "is one of the young people who have the greatest potential. For him to improve, we're here for him, [and] counting on him for the future."

Bold statements, but one that only adds to the 18-year-old's value after such a encouraging start to his career.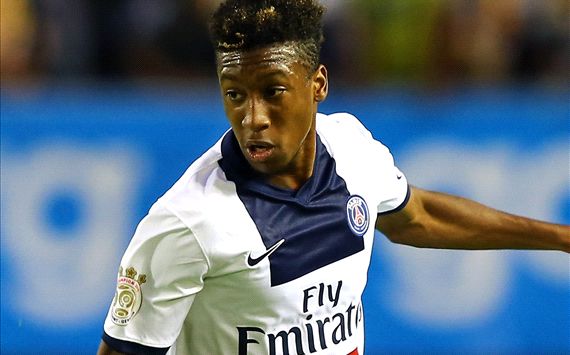 Taking a risk | The highly-rated youngster spurned PSG's offer to sign for the Serie A champion
Coman began his footballing education with US Senart-Moissy at age six, before joining les Parisiens three years later, at the behest of his father – a PSG supporter. From there, the youngster was in the ascendancy, excelling in every age category. Those close to the club and the academy had raved about his quality for some time.
It was no surprise then, that Carlo Ancelotti, then coach, fielded Coman in a 3-2 defeat to Sochaux in February 2013, as he became the club's youngest ever player to appear in Ligue 1, breaking Nicolas Anelka's long-standing record. It was under Blanc, however, that Coman was expected to make a bigger splash.
The attacking midfielder featured in August's season-opening Trophee des Champions win against Bordeaux in Gabon, but it was his performances in the UEFA Youth League that caught the imagination, and the attention of Europe's leading clubs after a dazzling campaign as the spearhead of the U-19 side.
Coman is an individual that is blessed with fine pace and intelligence on the field. Highlighting maturity that belies his tender age, he can feature prominently on the left or right of midfield, as well as showing great composure in possession. He has the ability to be versatile, though it is in the advanced number 10 role in which he most excels, despite being used on the flanks by Blanc.
"He is talented, complete and intelligent. Coman can play anywhere in attack or midfield," enthuses Coman's former U-17 coach Patrick Gonfalone. "For a long time I have not seen an impressive young player. This boy is already equipped for games at the highest level."
KINGSLEY COMAN FACTFILE

NAME:
Kingsley Coman
DATE OF BIRTH:
June 13, 1996
PLACE OF BIRTH:

Paris, France
NATIONALITY:
French
POSITION:

Attacking Midfielder
Undeniably, Juventus' latest signing has parallels to the acquisition of Paul Pogba, who signed on from Manchester United at the end of his contract. Like Pogba, Coman was unsatisfied with his prospects ahead of the coming season. Indeed, he only saw 37 minutes of playing time in Ligue 1. In 2013-14, though he did still manage to impress in a fleeting cameo against Montpellier on the final day of the season, setting up fellow disillusioned youngster Adrien Rabiot for the fourth goal in a 4-0 victory.
Ringing endorsements indeed. However, Coman remains a considerable distance away from being the 'finished article' so to speak. The youngster requires some work on his all-round game, at times demonstrating a lack of conviction in the final third of the pitch, as well as the tendency to over-complicate moves on the pitch. However, it is the move to Turin which will help him rid himself of these deficiencies in his game.
However, this level-headed 18-year-old has all the qualities to succeed. Should he continue on his upward trajectory, there is no doubt that Coman will soon flourish at Juventus, in the company of some of the biggest names in football. Similar to Pogba, he has taken a risk in order to make his way to the very top after refusing a three-year contract extension in the French capital.
In close proximity to France's new international star, Kingsley Coman will be hoping the gamble pays off just as well in the famous Bianconeri shirt.
Follow Mohammed Ali on