Arsenal's two-year search to replace Robin van Persie has been a lengthy and frustrating one.
But
with a 40 million euro deal for Alexis Sanchez edging tantalizingly closer
, the Gunners could finally have a forward worthy of following in the footsteps of the Dutchman and his iconic predecessors, Thierry Henry, Dennis Bergkamp and Ian Wright.
Signing Sanchez would transform not only Arsenal's front line but also the club's immediate fortunes.
A team which, with Olivier Giroud as the lone spearhead, too often looks slow against marquee opponents, especially during Theo Walcott's frequent injury absences, is increasingly confident of having the luxury of calling on a forward capable of scaring all defenses.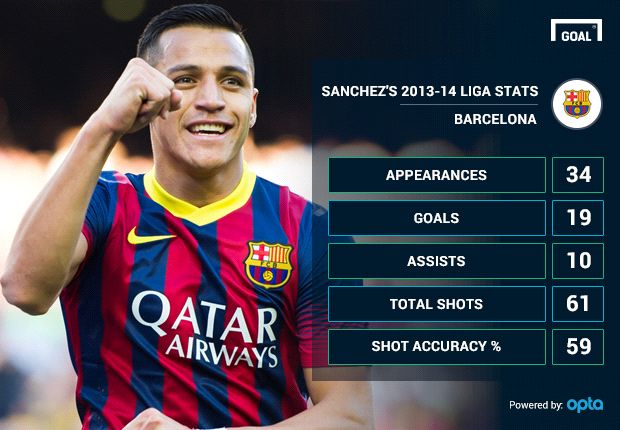 A technically gifted speedster with an eye for goal, Alexis is set to make way at Barcelona to free up funds for the €88 million signing of Luis Suarez.
Yet his transfer-market availability is no reflection of his standing. Only Lionel Messi scored more than the Chilean's 21 Barcelona goals last season and he was a player in demand even before a series of outstanding World Cup displays further enhanced his reputation.
The prospect of Aaron Ramsey, Mesut Ozil, Santi Cazorla, Jack Wilshere and Alex Oxlade-Chamberlain linking up with Alexis is a lip-smackingly enticing one.
Gunners fans, wary of Arsene Wenger's innate caution in the market and the number of deals for strikers that have fallen through for the club in the last two years, could be forgiven for reining in their excitement.
Only when the white smoke starts puffing out of the Emirates Stadium can the celebrations at an audacious signing begin.
TIME FOR LIVERPOOL TO FIND SUAREZ REPLACEMENT
It has been a whirlwind start to the window for Liverpool.
The club has completed the signings of Adam Lallana, Emre Can and Rickie Lambert and is close to finalizing a deal to sell Suarez to Barcelona.
With the Uruguayan's move set to be a straight cash deal, the focus will turn to the club finding a blue-chip replacement.
LIVERPOOL LATEST

Accepting that Suarez is irreplaceable, Liverpool would have known when it agreed the release clause that was inserted in the Uruguayan's contract last December that there was a reasonable chance that it would be triggered this summer by a more wealthy and glamorous club.
It is the task of Liverpool's tier of recruitment executives, working from the information of their network of scouts, to source the next Suarez - easier said than done in a global market where secret superstars are virtually non-existent.
>Highly promising Belgium striker Divock Origi is set to join from Lille, although a mooted loan back may now be on the back burner following the Suarez developments.
Yet Liverpool needs a ready-made forward star rather than a potential one if the club is not to move backwards following its astonishing improvement last season.
Alexis, two years younger and €48 million cheaper than Suarez, could be that man, although there is little optimism at Anfield that he will choose Liverpool ahead of his other suitors.
With money to burn, the onus is now on Liverpool to recruit a mobile and technically gifted goalscorer who will fit into Brendan Rodgers's playing style.
Assuming that Lambert will be third choice behind Daniel Sturridge and Suarez's successor, the Merseysiders now need to demonstrate that their knack for procuring top-notch attacking talent remains.