Liverpool has entered the race to sign the ever-controversial striker from Manchester City this summer, with Monaco, Paris Saint-Germain and Juventus also targeting the Argentine.
If you momentarily put to one side the on-field sniping at Roberto Mancini, the driving disqualification, the 250 hours community service order, the talk of wanting to return to Boca Juniors, the talk of moving to Paris Saint-Germain and the talk of moving to Monaco, Carlos Tevez, with 17 goals in 39 games, has looked like quite the player for Manchester City this season.
CARLOS TEVEZ'S CAREER STATS

TEAM
YEAR
APPS
GLS
Boca Juniors
2001-04
110
38
Corinthians
2004-06
76
46
West Ham
2006-07
29
7
Man Utd
2007-09
99
34
Man City
2009-13
138
73
Perhaps Liverpool is the latest club willing to turn a convenient blind eye to the indiscretions after considering a move for the striker. City is not. It wants rid of Tevez this summer.
But with a year remaining on his 198,000-pound-per-week contract -- almost double that of any potential deal from the Anfield side -- Tevez somehow again holds the aces over another club at which his behavior has been brazen. The common consensus at both City and beyond is that it has been far, far worse than that.

Not for the first time, Tevez and his representative Kia Joorabchian have left City officials shifting in their seats and scratching their heads. Their options switch between offering the 29-year-old a new contract on similar terms to his current eye-watering deal, accepting a bid for far less than the 25 million pounds they paid for him in 2009, or do nothing and lose the forward for no fee at all next summer.
And just as was the case on the Allianz Arena bench to which he seemed so oddly attached in September 2011, Tevez is happy to sit still as chaos ensues around him.
Monaco could yet provide a solution to keep all parties happy, after already securing the services of Radamel Falcao, James Rodriguez and Ricardo Carvalho and bankrolled by the soon-to-be Ligue 1 outfit's billionaire owner Dmitry Rybolovlev. Ever the extrovert, Tevez admitted in May that he would "really like" a project like Monaco.
Elsewhere, Paris Saint-Germain remains an "interesting option" for the player who many would say is lucky to even still be on City's payroll after spending more three months of the 2011-12 season on leave in Buenos Aires, in which he spent more time on his homeland's golf courses than its football pitches.
THE VIEW FROM FRANCE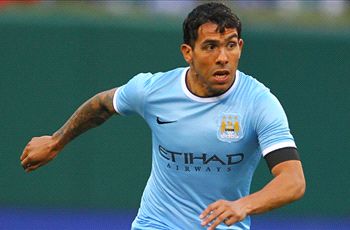 HOCINE HARZOUNE, GOAL FRANCE

PSG needs a great striker to team up with Zlatan Ibrahimovic as the other attackers in the squad have failed to deliver, with both Ezequiel Lavezzi and Kevin Gameiro facing the exit door.
After being utterly dependent on Ibrahimovic, the club knows it needs to add depth. Tevez could be the perfect solution.
As for Monaco, the Ligue 2 champion remains intent on making a statement before the start of next season. Tevez is a big enough name to do that, but neither club can afford to entertain the press with rows and scandals between managers and players like Man City did with Tevez and Mancini, as both try to build their image.
Juventus, well aware of the 29-year-old's delicate contractual situation, has admitted to undergoing informal talks with Tevez's representatives in recent months, though is said to favor a move for the striker's compatriot and Real Madrid forward Gonzalo Higuain.
Meanwhile, City sporting director Txiki Begiristain and chief executive Ferran Soriano are mindful that they must amass around 40 million pounds from player sales and wage bill savings if they are to secure their ideal 120 million-pound-rated shortlist of six summer targets, headed by the man they see as Tevez's ideal replacement in Edinson Cavani.
But Tevez, who is said to be impressed by the pending arrival of manager Manuel Pellegrini from Malaga, is happy to stay in self-imposed - and let's not forget lucrative - limbo at City, with Soriano ready to meet with the striker and Joorabchian in the coming weeks to discuss a new deal to keep him at the club and up his value in the face of potential bidders.
It is an unhappy, ludicrous marriage of convenience.
Tevez doesn't like Manchester, and Manchester is proving increasingly less fond of him, yet both he and City are set to come together to ensure he remains a valuable asset for his employers, as well as one of the game's best-paid players.
So welcome to Manchester and welcome to the world of Carlos Tevez. Quite the player. Quite the problem.