Arsenal
could be forced to concede defeat in its pursuit of
Santi Cazorla
as
Malaga
will demand at least 20 million pounds for the midfielder, Goal.com can reveal.
Reports have suggested that the Gunners have already agreed a salary package with Cazorla and are ready to bid 15.6m pounds for the Spain international as manager Arsenal Wenger looks to add more creativity to his side.
CAZORLA IS A TREASURE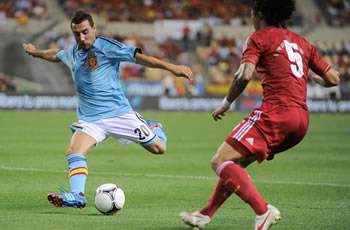 ALBERTO PINERO | GOAL.COM SPAIN

Santi Cazorla is a treasure. Developed at Villarreal, Real Madrid was very close to signing him four years ago. Since that time, he has continued to grow as a player.
What shows of the quality of this player, is that he is not only the cornerstone of Malaga, but a permanent feature for the all-conquering Spain.
The Malaga coach Manuel Pellegrini knew him very well from Villarreal and he didn't have any doubt about putting his future in Cazorla's hands.
Paying 20m euros (15.6m pounds) for him was good business - absolutely. The problem for Arsenal is that, if Malaga is to sell the 27-year-old, the transfer would cost even more.
He would be worth it, though, because a team that counts on Cazorla is a team that has a treasure.
However, Goal.com understands that Malaga is determined to keep Cazorla and will demand huge money for the 27-year-old - who has a 45m euro (35.3m pound) buyout clause in his contract - despite significant financial problems.
Malaga's Qatari owner, Sheikh Abdullah Bin Nasser Al Thani, has dispatched executive Moayad Shutut to Spain to clear the club's debts, with sources confident that the issues will be resolved.
Cazorla, who joined Malaga from Villarreal last year for 19m euros (14.8m pounds), wants to leave after wages went unpaid and was one of four players who threatened to make a formal complaint earlier this month.
Al Thani has a history of being unreliable in making payments or meeting deadlines as he has multiple businesses and takes little interest in Malaga, but the billionaire has the means to easily clear the club's debts.
Wenger is a huge admirer of Cazorla and made inquiries for the creative midfielder last summer as he looked for potential replacements for Cesc Fabregas and Samir Nasri.
The Gunners hope that Cazorla's desire to move will aid their bid for the playmaker as they look to improve their squad ahead of the new season.
"I am ready to talk a lot, but not a lot about transfers, because it is a very fragile subject and a very secret subject," said Wenger earlier this week.
"We bought [Olivier] Giroud and [Lukas] Podolski and I hope that we bought [Abou] Diaby and [Jack] Wilshere too, who didn't play at all last season. We will add Wilshere to the squad as soon as possible. But we are not at the end of [the transfer window] - we will still bring players in."
Follow Greg Stobart on