The Red Bulls' star has made it known that he would love to play with the former German international.
Michael Ballack would be a welcome addition on the New York Red Bulls, says Thierry Henry.
Despite some
controversial comments
made by Ballack's agent towards the Red Bulls earlier this week, Henry would like to play alongside the Bayer Leverkusen midfielder who will be free to sign with any team this summer and has his eyes on New York.
"Who wouldn't like to play with Michael Ballack?" Henry asked. "His CV speaks for itself. After that I don't know what's going to happen. Of course, you want to play with Ballack."
He added, "He's going to score you goals, he has experience and he sees the game well as a midfielder. I don't know his situation but...he's one of the best midfielders that we've seen in the game so if he can come [it would be good]"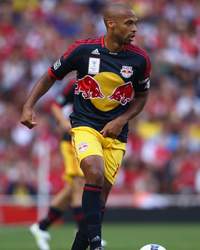 Entering his third season with New York, the Red Bulls have yet to find a midfielder who can unlock defenses and create opportunities for Henry and his forward partners Juan Agudelo and Kenny Cooper. As a result, Henry has opened the season forced to be the playmaker instead of doing what he does best, scoring goals. He complained about his role after a tough 2-1 season opening road loss to FC Dallas.
"I don't like to come down and ask for the ball. I would rather stay up front and make the run behind the defense, but sometimes you've got to do what the game is asking you to do and I had to drop," Henry said last week following a training session.
When asked on Thursday if an advanced playmaker was the Red Bulls needed overall as opposed to just Ballack, Henry clearly hinted his preference towards the former Germany international.
"I don't know if necessarily a position we need. If he comes then obviously we need him," Henry said. "You should ask the boss [Hans Backe] that but you're always going to need a guy like that."
Follow ALEX LABIDOU on

Neither Backe nor team general manager Erik Soler would comment on Ballack's interest in New York or any other player that they've spoken to about the role.
When Soler was asked whether or not he's narrowed down his target to one player as Ballack's agent Michael Becker alluded to with Stephen Ireland, Soler denied that and motioned with his hands spread apart, "We're still at this stage," he said, hinting that the team still has several targets in mind.
Soler said that it is team policy to not comment on any player not on the club but he did acknowledge that the door was still open for Ballack despite his agent's comments.
"No," he said when asked if his opinion of Ballack. Then he referred back to the team's policy: "It's so much smarter to not to speak about players that are not on your team because whatever you say can be tossed out and look very differently [on print]."
Backe agreed with Soler calling the report published earlier in the week as just "rumors." But he did acknowledge that the team already knows what position it needs but refused to elaborate further.
"Yes, we have an idea but I don't think that's fair to our players at the moment," Backe said.
While team management continues to keep their plans private, one of the Red Bulls' most underrated players Joel Lindpere has made no secret of what Ballack could bring to the team. The Estonian midfielder believes that the 35-year-old star would give the struggling Red Bulls a major boost and might even elevate it to the 2012 MLS Cup title.
"If he was coming, he'd be a big help. Imagine a midfield with [Rafa] Marquez and [Michael] Ballack together," Lindpere told Goal.com. "It would give us a lot. With his German [roots], it's a different style. Everyone knows what Torsten Frings brings to Toronto."
He added, "Michael Ballack is a great player. If he were to join us, he would bring a lot more to our midfield. It would be a big thing for every player on the team. It's a chance to play with some of the world's most famous players together."
Still, Lindpere stresses that both the team's passionate fan base and players must not get ahead of themselves and expect that Ballack would be a cure-all. Until the German signs with New York, everything is just speculation in Lindpere's mind.
"The Red Bulls are a big brand and we don't know what's on the top of the list [of targets] or who's deciding it. There's always rumors about this player or that player. There were rumors about Anelka at one point," said Lindpere. "I'll believe in it when everything is confirmed."