With the ka-ching of a cash register, Wenger bought five players in a matter of days and altered his patient developmental philosophy to focus on his squad's present weaknesses.
Between Ashley Young's two delicious curlers to emphatically pronounce Manchester United's dominance in an 8-2 win over Arsenal, something inside Arsene Wenger's head snapped. Maybe it was a blood vessel in the brain bursting or perhaps a jawbone fracturing as he ground his teeth, but something changed.
For the Arsenal fans pleading, begging, whimpering to sign somebody – anybody – this transfer window, that came as good news. Wenger walked down the Old Trafford tunnel, dumped out his piggy bank, dusted off the ole fax machine, and started buying soccer players. Five reinforcements arrived in north London before the transfer window smoothly slid closed with a metallic thump, and they represent a significant departure from Wenger's traditional methodology.
Since the Invincibles, Wenger has preferred to purchase teenagers and unknown exports, polishing and developing as needed, to kneed a doughy side wholly in his image. Arsenal bases its attack on quick short passes and fluidly rotating positions, with the defense built upon more finesse than flattening tackles.
Six trophy-less seasons and that self-sufficient model has been swept aside.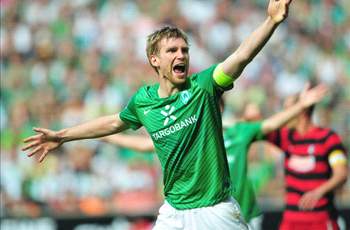 All Aboard | Pile in the Arsenal express
At varying points in the past two days Park Chu-Young, 26, Per Mertesacker, 26, Andre Santos, 28, Mikel Arteta, 29, and Yossi Benayoun, 31, smiled and blinked at the flashing bulbs as assorted hacks noted their arrivals. The average age of the quintet is 28. All have international pedigree. Two even have Premier League experience.
Prior to the 8-2 loss to Man United, Arsenal had purchased three players for the first team (four if you count Costa Rica striker Joel Campbell, currently on loan at FC Lorient). The average age of Gervinho, Alex Oxlade-Chamberlain and Carl Jenkinson is 20.
Clearly the past few days display a shift in focus – if not a frantic lunge – toward experience and age. What they don't indicate, however, is any change in tactical philosophy for the Gunners.
All five late additions fit snugly into Arsenal's 'Barca Lite' style of play – quick, slender players who coddle the ball with superior technical ability but perhaps lack the girth or ruthlessness for physical tussles.
| | | |
| --- | --- | --- |
| Name | Age | Fee in pounds |
| Alex Oxlade-Chamberlain | 18 | 12m - 15m |
| Gervinho | 24 | 10.5m |
| Mikel Arteta | 29 | 10m |
| Per Mertesacker | 26 | 9m |
| Andre Santos | 28 | 6.2m |
| Park Chu-Young | 26 | 3m |
| Carl Jenkinson | 19 | 1m |
| Joel Campbell | 19 | 900,000 |
| Yossi Benayoun | 31 | loan |
At 6-foot-6, Mertesacker certainly looks a looming departure from that style, but the German has a touch of Peter Crouch about him in that he's more adept at skills unrelated to his impressive size. (Of course, as a defender, Mertesacker doesn't share Crouch's mortal fear of headers.) Mertesacker will also need his fair share of time to adapt. His best performances have come for Germany in a deeper-positioned backline, and his glacial pace is exposed by Werder Breman's high line. England defenses tend to press high when in possession as well.
The two who will most easily acclimatize are Benayoun and Arteta, both having already spent many years in the Premier League and displaying obvious stylistic similarities to Arsenal's firmly entrenched brand. Their two main problems are named Samir Nasri and Cesc Fabregas, the players they will ostensibly be asked to replace.
"Imagine the worst situation: We lose Fabregas and Nasri," Wenger sighed earlier in the summer. "You cannot convince people you are ambitious after that."
Benayoun and Arteta, though nifty players in their own rights, won't convince anyone otherwise. Arsenal received 65 million pounds for Fabregas and Nasri; no one was clamoring to offer near that sort of money for anyone Arsenal brought in.
Overall Arsenal's purchases aren't poor. They were cost-efficient and addressed needs in the roster. Andre Santos, first choice at left back for Brazil, in particular is an instant upgrade, and Chu-Young is South Korea's national team captain and should provide some guile in attack if he is given the time to adjust.
What's alarming about the signings is the reversal of market strategy in the wake of a huge loss (reactionary plans hastily assembled and dismissed seems the exact sort of thing Wenger has spent his entire career striving against), and the suspicion that many of those brought in, despite the proven names, will need significant time to adjust. Only the unfolding season will reveal if Wenger's desperation lunged into short-termism or if he finally snapped out of the lull that has insulated him in these past six barren years.

Follow ZAC LEE RIGG on

or shoot him an email.