No matter when or where Ghana's Black Stars play, you can guarantee there will always be a huge sideshow.
For while Asamoah Gyan and his teammates keep themselves busy on the pitch, several thousands fans in the stands — adorned in the nation's bright colors and wielding musical equipment of all sorts — create empowering music that spices up the atmosphere.

In recent years the world has been blessed by Ghana's musical talents several times over. The FIFA World Cups of 2006 and 2010, as well as the prestigious international friendly against England at Wembley in March 2011, are perfect examples. Cymbals, trumpets, drums, tambourines, trombones — you name it — the Ghanaian fans possess every musical instrument.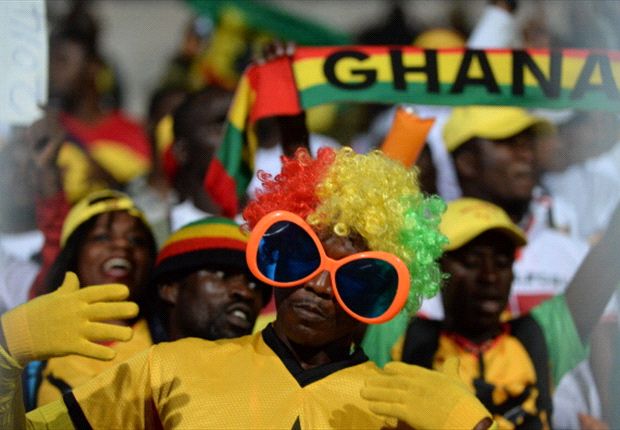 'Jama' | A Ghana fan in animated mood at the 2013 Afcon
There are countless supporter groups, commonly referred to by their abbreviated names — for example, MISUGHA, WOSUGHA, NSU, GHANSU, DHSU, GUSU — that produce the music. In total, there are enough supporter unions in Ghana to supply the other 31 nations at the 2014 World Cup.
One of the most famous fans at Ghana matches is Abraham Boakye, nicknamed the "One Man Supporter." Decked out in his military-style costume, he has become synonymous with the national team over the years, orchestrating the chorus of chants and directing the fans like a general.
These chants, branded locally as "jama" — an eclectic mix of selected gospel tunes, pounding anthems, battle cries and heavy instrumentals — are combined with emotive, animated physical movements.
Pitted against Portugal, the United States and Germany at the 2014 World Cup™, Ghana's fans have a lot to sing and dance about in Brazil. And regardless of how the team does on the pitch, Ghana will bring a lot of fun and noise to the World Cup in the stands.
This is how Ghana supporters share their musical soccer experience. Now it's your turn to select your favorite music for 2014 FIFA World Cup Brazil™ with Hyundai's Pin Your Fan Park. Create your own Fan Park by sharing live footage of you enjoying the 2014 FIFA World Cup Brazil™. Post your supporting message, upload photos and videos and make soccer playlists at worldcup.hyundai.com