For nearly 20 years the England Supporters Band has been producing a proud rendition of the theme tune from 'The Great Escape' movie during national team fixtures.
Since their debut at an England game in 1996 - a 2-1 win over Poland at Wembley - the band, led by John Hemmingham, has been a fixture of every friendly, qualifier and international tournament in which the team has taken part, fighting off criticism and the authorities who have confiscated their instruments along the way.
Hemmingham, who plays the bugle, first decided to bring his musical talents to the terraces in 1993 when he smuggled the instrument under his coat into Hillsborough as his beloved Sheffield Wednesday faced Everton. Manager Trevor Francis tracked down the mysterious bugler and asked if he would consider setting up a complete band to rival those he experienced during his playing days in Italy. Chairman Dave Richards even offered to buy some of the instruments for those willing to take part.
Once the calls came flooding in, Hemmingham - along with Steve Holmes and Laurence 'Los' Garratty - quickly had a band cobbled together, and they became synonymous with Sheffield Wednesday matches for the next two seasons. In one particular away clash against Arsenal, England manager Glenn Hoddle and FA chief executive David Davis - who were in attendance at Highbury - contacted the band to ask if they would swap club colors for the international scene. They made their England debut at Wembley later that year and the rest, as they say, is history.
The band is famous for playing the England national anthem, Rule Britannia, and especially the theme to 'The Great Escape' film of 1963, starring Steve McQueen, in which Allied POWs attempt to break out of a German prison camp. The movie's key message is around English resilience and ingenuity in the face of hostility ­– and it is one which still resonates with fans of the national team.
The chorus became so popular in the band's early years that they released it as an official single for the 1998 World Cup, and then again in 2000 for the European Championship. Both reached the top 50 in the UK charts.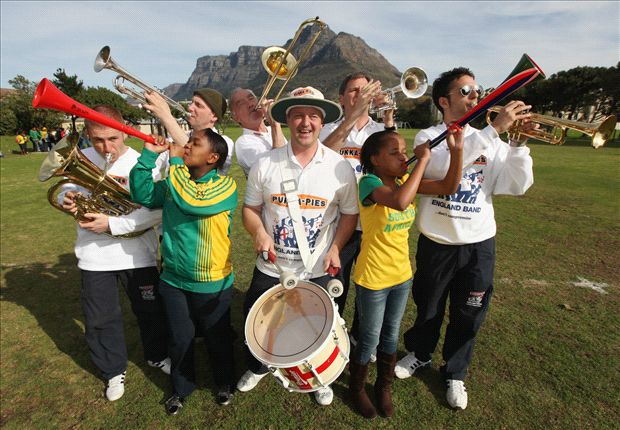 Band on the run |
Members of the group met with South Africa's Vuvuzela enthusiasts in 2010
The band currently features 22 members, has visited more than 60 countries and funds trips to England matches almost entirely out of their own pockets, yet they have faced their fair share of criticism. Comedian David Baddiel once rubbished the band's perceived limited repertoire (unfairly, in truth, given they added The White Stripes' 'Seven Nation Army' to their playlist just last year), while one English commentator claimed: "I don't know anyone who likes the band."
The group also had their instruments confiscated before England's first match at Euro 2012 by local stadium security and, prior to winning back the right to play in Poland and Ukraine, a Twitter account calling for them to be barred from matches had amassed 500 followers.
The band, however, is undeterred in its quest to back England to glory and considers it a personal challenge to drown out both their critics and opposition support.
This is how England supporters share their football experience. Now it's your turn to select your favourite music for 2014 FIFA World Cup Brazil™ with Hyundai's Pin Your Fan Park. Create your own Fan Park by sharing live footage of you enjoying the 2014 FIFA World Cup Brazil™. Post your supporting message, upload photos and videos and make football playlists at worldcup.hyundai.com.