Goal takes a look at every continental league, where more than six but less than 13 games have been played, to find the stingiest defensive units of the season so far.
Italy has long been synonymous with the art of defending, so perhaps it is no surprise to learn that Serie A outfit
Roma
currently shares the top spot in our Top 10 of the meanest defenses in Europe.
Looking at all of Europe's top flights in which at least six and no more than 13 rounds of matches have taken place, the Giallorossi are leading the way along with Greek champions Olympiakos. Both sides have conceded just one goal in their first seven league games this season, while they have each put 20 in the opposition's net - quite a marker for their respective domestic rivals.
EUROPE'S TOP 10 DEFENSES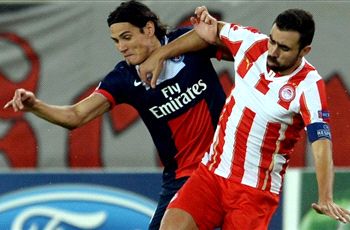 | | | | | |
| --- | --- | --- | --- | --- |
| NO. | CLUB | CONCEDED | GAMES | RATIO |
| =1 | Roma | 1 | 7 | 0.14 |
| =1 | Olympiakos | 1 | 7 | 0.14 |
| 3 | Southampton | 2 | 7 | 0.29 |
| =4 | Bayern Munich | 3 | 8 | 0.38 |
| =4 | Fola Esch | 3 | 8 | 0.38 |
| =4 | Cukaricki | 3 | 8 | 0.38 |
| 7 | Partizani Tirana | 3 | 6 | 0.43 |
| 8 | Standard Liege | 4 | 10 | 0.40 |
| 9 | Lille | 4 | 9 | 0.44 |
| 10 | Torpedo Kutaisi | 4 | 8 | 0.50 |
Mauricio Pochettino's Southampton is the pick of the Premier League, having conceded just three in the first seven games. Much is owed to goalkeeper Artur Boruc, who has begun the season in excellent form, while youngsters Nathaniel Clyne and Luke Shaw continue to impress alongside the more experienced Dejan Lovren.
Bayern Munich left the continent in its wake last season, and the defensive excellence has continued this campaign, with just three goals shipped in its Bundesliga title defense so far. Given the long-term absence of Holger Badstuber in the Bayern back four, as well as the need to move Philipp Lahm into midfield to compensate for Javi Martinez's injury, such a record is particularly commendable, and the praise currently being aimed at Dante and Rafinha in particular is more than merited.
Luxembourg's Fola Esch shares the same record as the European champions, having kept six clean sheets in the league to date - a big improvement since its 6-0 aggregate defeat to Dinamo Zagreb in the Champions League qualifiers. Cukaricki of the Serbian Super Liga boasts the exact same record of three goals conceded, six clean sheets and 0.38 strikes let in on average, with not one coming at home.
Albania's Partizani Tirania is placed one position lower by virtue of having played two fewer games, but given that only nine goals have been scored at either end in its six games to date, the Selman Stermasi stadium seems a safe haven for defenders this season. The club sits one place above Standard Liege, which has managed an impressive seven clean sheets in its 10 games so far in Belgium's Pro League, with just four goals conceded.
Lille has been the most miserly in France this season, shutting out seven sides in its early Ligue 1 encounters and letting in just four goals, while Georgia's Torpedo Kutaisi props up our top 10 with just four goals conceded in eight matches.
A notable omission from our list is La Liga, with not one representative from Spain boasting a strong enough defense to make the top 10. Leaders Barcelona and Atletico Madrid have each conceded six goals in their opening eight games so far, but since they have won each of those encounters, neither Gerardo Martino nor Diego Simeone will be unduly concerned at present - especially with the Blaugrana set to welcome back Carles Puyol and Javier Mascherano soon after the international break.
Interestingly, the Bundesliga boasts the worst overall defensive record out of the leagues featured in our top 10, with an average of 3.30 goals conceded in each of the 72 games in 2013-14. Serie A matches have allowed 2.97 goals on average to date this season, while Ligue 1 and the Premier League sit much further down on 2.32 and 2.31 respectively. The Albanian Superliga lead the way for defenses, with just two goals per game on average being scored.
Follow Joe Wright on