ATLETICO MADRID
De Gea: 6.5 – May have hoped to at least get closer to Davies' goal, but on the whole he produced some very good stops. His claiming of crosses wasn't always convincing, but he'll be more than happy with his night's work.
Ujfalusi: 6 – At times he looked like a blockbusting, robust winger on the ball, but was reduced to a mere traffic cone off it as Davies and Zamora had success down his flank. His effectiveness as an attacker was also diluted as the game progressed.
Perea: 5.5 – Clattered into Zamora on occasion, and let the striker in behind him a couple of times as he looked suspect during Fulham's rare attacks. Again outdone by the big man just before half-time and Davies made him pay. He looked more comfortable after Zamora was withdrawn, but by no means had the easiest of times even then.
Alvaro Dominguez: 6.5 – Looked the more convincing of the two center-backs as Fulham concentrated most of their attacking efforts down the left due to their success rate against Ujfalusi and Perea. Stood up strong on those occasions he was asked to do more.
Antonio Lopez: 6.5 – Cool on the ball but rarely attacked by a Fulham side who didn't get much possession down the right. Linked up well with the Atleti attackers when he got forward.
Reyes: 6.5 – His great free kick effort forced Schwarzer to scramble before a great run down the right and cross set up the opening goal as his pace caused Fulham problems. But from thereon he didn't really have the same effect and he was replaced before normal time was up.
Assuncao: 6 – Seemed to have control of the game early on, but when Fulham upped the pace, he was unable to cut them out in midfield. To make matters worse, his flick on inadvertently set up Davies' goal from Gera's chipped cross. Settled back in later on as their opponents' presence diminished.
Raul Garcia: 6 – Put in a great midfield shift, but his passes seemed to get longer as Fulham got back into the game. Failed to really regain the composure he showed early on when helping his side to dictate the pace of the match more, though he did cause trouble whenever he got on the ball around the Whites' box.
Simao: 6 – Showed only a glimpse of the ability he has put on display at times this season. Increasingly frustrated in his attempts to get at Fulham as the Englishmen got back into the game and was eventually replaced by Jurado.
Aguero: 7.5 – Constantly found pockets of space in which Fulham just couldn't play him. He had particular fun down the left, where he gave Baird and Hughes all sorts of problems. Could have converted a chance or two himself, but he'll no doubt settle for his winning late assist.
Forlan: 8 – The difference. He did almost everything right when beating Schwarzer on the break in the 12th minute, but his shot hit the foot of the post. His extremely cool finish put Atleti ahead and it was his touch which won the trophy. Also provided many opportunities for Aguero et al to feast from in a near-perfect front man's performance.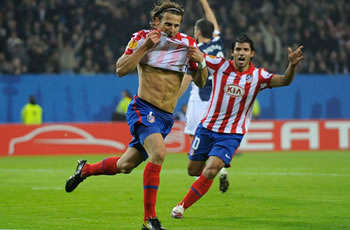 Subs:
Jurado: 6 – Brought on midway through the second half for Simao and had a bit more of a positive effect as Atleti started to regain control of the game.
Salvio: 5.5 – Didn't have the impact of Reyes, who he replaced, and he should really have scored after Forlan's superb run to the by-line halfway through extra-time.
Valera: NA – Late time-wasting substitute.

FULHAM
Schwarzer: 7 – Occasionally unconvincing at crosses, but he made some vital saves, especially either side of full-time as Fulham were left to hang on in the extra period. Didn't really deserve to be beaten again, but finally was as Forlan stung them late on.
Baird: 5 – Struggled to cope throughout as Aguero found the weak link he was looking for and was intent on exploiting it. Despite the presence of Hughes by his side, he found it almost impossible to cope with the little Argentine's trickery.
Hughes: 5.5 – Looked strong up against Aguero early on, but eventually pulled right out of position by 'Kun' as he had to do a double-marking job with Baird, and was too often beaten.
Hangeland: 6 – Surely Roy Hodgson's best buy as Fulham boss, and again one of the cornerstones of the Whites' performance tonight. Made one particularly important clearance under pressure from Forlan after great work by Aguero in the first half, and was regularly the one to cut out trouble at the last gasp, before inadvertently deflecting the winner past Schwarzer.
Konchesky: 6.5 – Had plenty of chances to get forward in the opening minutes, but those opportunities died out and he was asked to do a more pressing job at the back. But his tackling was generally excellent and he was forced into a many a desperate block in a very accomplished display.
Duff: 6 – Was almost acting as a second right-back at times in the first half as Fulham had to absorb a great deal of pressure. But in the second period he offered much more danger on the ball and made quite a nuisance of himself before making way for Erik Nevland late on.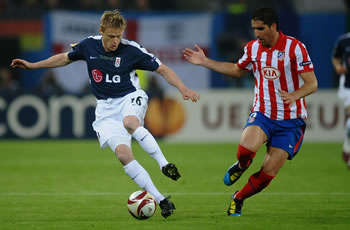 Etuhu: 6 – Wasn't afraid to try to muscle his way into the game when Atleti had the early running, but after a brief spell of possession he was forced back into the role of a tackling midfielder as Fulham appeared second best at dictating play.
Murphy: 5.5 – Gave the ball away a surprising number of times in the opening minutes, and was almost made to pay when he set Atleti onto an attack from which Forlan hit the post. But he began to settle into the game more as time went on and managed to cut the errors out, even though he was unable to force his side into the ascendancy.
Davies: 6.5 – His cracking finish breathed life back into the Cottagers' hopes, and he so nearly put them ahead with a right foot shot which brought the best out of De Gea. His energy down the left and ability to shoot on sight regularly had Atleti's defense scrambling.
Gera: 6.5 – It was his composed cross which set up Davies for the equalizer after Zamora had done well to keep the ball, and he was regularly a part of Fulham's best moves. But he couldn't quite deliver the last pass or the predatory finish which his side lacked.
Zamora: 7 – He was probably pleased to see the flag go up after scuffing early left foot shot. But he worked superbly hard for a man still carrying an injury, and never more so than when he kept the ball away from the Atleti defense in the lead up to Davies' goal, even when he looked to have pushed it to far. Substituted soon after the break as his lack of match fitness finally began to show.
Subs:
Dempsey: 6 – Brought on for the leg-weary Zamora early in the second half and ran his heart out in a bid to cover the hard yards high up the field.
Nevland: 6 – Replaced Duff towards the end of normal time and had only half chances at best to feed off. He did well at holding onto the ball at times as the Whites faced intense pressure late on.
Greening: NA – Brought on for Murphy after Forlan's killer second.
For more on Spain click ahead to Goal.com's Spain homepage and join Goal.com USA's Facebook fan page!