Brazilian football fans are set for another scare thanks to Puma, who have decided to release a video of the 'Ghost of 1950' to commemorate Uruguay's qualification for next summer's World Cup.
Many Brazilians are still haunted by their nation's defeat to their South American neighbors in the final game of the 1950 World Cup – a tournament held in Brazil, that the host nation was expected to win.
Yet with the Selecao needing just a point to top the round-robin final group stage, and after holding a 1-0 lead, they somehow conspired to implode as Alcides Ghiggia scored the winner for Uruguay 11 minutes from time.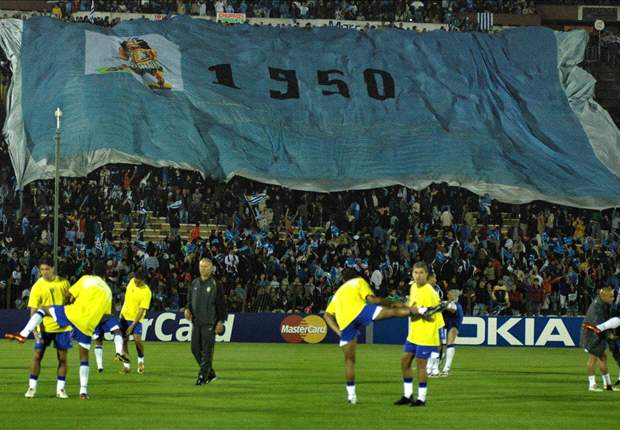 Haunted | Uruguay never misses a trick to remind Brazil of its darkest hour (Getty, 2005)
The result is considered to be one of biggest upsets in footballing history and the scars are still there to be seen on the souls of the Brazilian people to this day.
They therefore will not take too kindly to Puma's video that depicts a blue ghost, complete with the number '50' on its back, trekking his way around the sights of Rio de Janeiro and scaring the city's locals, while reminding them of their nation's biggest ever failure in the process.
Perhaps Luiz Felipe Scolari might want to show his Brazil squad this video before taking to the field next summer should they need a little inspiration?