English referee Howard Webb won both plaudits and the chance to referee the World Cup final with his fine early tournament performances.
But how did the Yorkshireman fare on the biggest stage of all? Below we look at some key decisions and analyze whether or not he got them right.
Flashpoint 1: Nigel de Jong on Xabi Alonso
Midway through the first half Nigel de Jong went in high and hard on Xabi Alonso, the former's boot hitting the latter's chest. Although the ball was around chest height Nigel got nowhere near it: Howard flashed him a yellow card.
The Verdict:
This was a red card offense. It was violent, it was far from the ball, and it endangered Alonso. You could perm one from three offenses and find grounds for a sending-off. How de Jong remained on the pitch is a mystery.
Flashpoint 2: Andres Iniesta on Mark van Bommel


Mark van Bommel, no shrinking violet himself, went down under a high arm from Andres Iniesta in an off-the-ball incident. This came mere seconds after van Bommel had brought down the man from La Mancha. Iniesta picked up a booking.
The Verdict:
By the letter of the law, again, this should have been a red. It was a petulant move from Iniesta: he was justifiably angry at having been on the receiving end of tough van Bommel challenges, but this was no way to react. That said, van Bommel was lucky to even be on the pitch at this juncture.
Flashpoint 3: Carles Puyol on Arjen Robben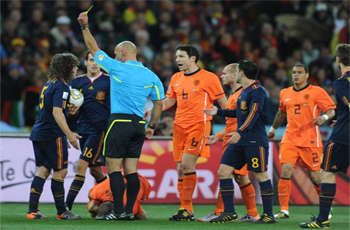 Seven minutes from time Barcelona man Carles Puyol found himself again evaded by Arjen Robben. But the Catalan managed to get arms and legs around the Dutchman, whose one-on-one with Iker Casillas failed to pay off.
The Verdict:
In the event Robben sort of went down over the goalkeeper, and was then booked for screaming at Webb for a penalty. This was correct on the ref's part. But Puyol was all over him in the build-up and should have conceded a free-kick.
Flashpoint 4: John Heitinga on Xavi; Nigel de Jong on Andres Iniesta, 92'
Another real tangle of legs in and around the area, and one that saw the Spaniards calling for a free-kick and a penalty amidst what they claimed was either an infraction or a set of two.
The Verdict:
A hellish one for any referee as a tangle of bodies always sees both the whistler's vision obscured as well as that of his assistant. In this instance, though, Webb got it spot on: there was no foul. Refereeing in the high-paced and physical Premier League has clarly helped him in such incidents. Good defending and very good refereeing.
Flashpoint 5: John Heitinga on Andres Iniesta, 109'
As Iniesta got between the defenders, Heitinga panicked and raised his arm, making contact with Andres Iniesta, who quickly went down on the edge of the area. A second booking ensued.
The Verdict:
Again, the correct decision. It's funny that one of the softest bookable offenses of the evening resulted in a second yellow card while many others didn't even provoke a first, but what is it they say about two wrongs? A fine decision from Webb.
Flashpoint 6: Carles Puyol on Eljero Elia, 113'


With pacy substitute Elia about to break into the box seven minutes from time, in steamed Puyol to prevent him from doing so.
The Verdict:
Unquestionably a booking - one that would have seen the experienced stopper removed from the pitch. Puyol didn't commit many fouls but his early booking and this late foul should have seen him walk.
Overall:
The World Cup final is the toughest occasion for a referee. That much goes without saying. There is no sign that the pressure of the occasion got to Webb, but certainly it's the case that some core incidents should have been handled better. The man himself may well feel the same.
The 2010 World Cup is finally here, so keep up to date with all the news at Goal.com's World Cup homepage and join Goal.com USA's Facebook fan page!