So the final picture was a familiar one. The Dutch players stormed away, sullen, bickering. At least this time they were bickering at the referee rather than between themselves. But the result was the same. The Netherlands failed to collect the World Cup for the 16th time, the third at the final hurdle. Spain won 1-0, but the Oranje will believe on reflection that they beat themselves. Again.
It could have all been so different for Bert van Marwijk's men. And not because of Howard Webb's decision not to penalize the combination of Cesc Fabregas and Sergio Ramos for blocking off Eljero Elia's foray into the box seconds before Andres Iniesta's winner. Instead, Holland could have won the game in the 62nd minute when Wesley Sneijder's delightful through ball sent Arjen Robben through one-on-one with Iker Casillas.
It was the kind of chance that their gameplan was made for. They set out to hold Spain wherever possible, shake them up, kick them if necessary (and necessary it was)... then take the chance that would inevitably come their way. La Furia Roja had so nearly been upset by a similar approach in their last two fixtures, overcoming the temporary scares presented to Oscar Cardozo and Toni Kroos on their way to a first World Cup final. But Robben's was arguably the most gilt-edged of them all. And he bottled it.
The class of 1988 apart, it has been a familiar story throughout Dutch footballing history. In 1974 they were widely accepted to be the best team in the world, but come final day they failed, even after Johan Neeskens' second minute penalty. And four years later in Argentina, they fell apart in extra-time as the hosts saw off the Johan Cruyff-less Oranje.
In recent years they've continued to live up to the 'big game bottlers' tag, with the last three European Championships being notable for Dutch implosions. In 2000, they reached the semi-final on home territory but missed five penalties against Italy, while four years later they were undone by Maniche against hosts Portugal (and would suffer the same fate in the 2006 World Cup). In Austria and Switzerland two years back they took both Italy and France apart but were outdone by Russia in the last eight as Robin van Persie and Wesley Sneijder split the camp with arguments over the pecking order for free-kicks.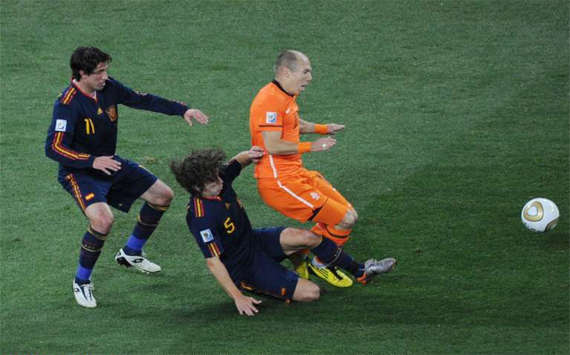 But we'd been assured that it was different this time around. The squad had more unity, their style of play more reliant upon a team unit than ever before and coach Van Marwijk quickly resolving the first signs of tension after the last 16 win over Slovakia. They were undoubtedly outsiders against Spain, but not by much.
And it all seemed to be working, despite the brutality with which some of their first half challenges had been exacted, until Robben dithered and dallied and eventually tried to sidefoot past Casillas, who blocked with his foot. Had he been more decisive, he'd surely have rounded the Spain No. 1, or even drilled the ball at the first attempt into a near-gaping net. But he didn't.
Minutes later he proved that he'd lost his cool completely, shirking off a Carles Puyol challenge which was reminiscent of a tight end taking out a running back, but panicking once he saw Casillas advance once more. His response was to perform a swan dive and immediately chase the referee around like an overzealous stalker. With that, Robben's effective waned. As did Holland's.
They were two missed opportunities which typified the Oranje's night. Nay, their history.
The 2010 World Cup is finally here, so keep up to date with all the news at Goal.com's World Cup homepage and join Goal.com USA's Facebook fan page!