Goal.com Editors' Top Of The Match Sponsored By Turkish Airlines: Diego Forlan


Diego Forlan has been one of the outstanding talents of the 2010 World Cup, so it was fitting that the Atletico Madrid striker finished with something of a flourish in the third/fourth place playoff.
Uruguay might have come up short against Germany, edged out 3-2, but that certainly wasn't for a lack of effort from their talismanic forward. Indeed, Forlan had his side ahead early in the second half, diverting an awkward pass from Alvaro Rios brilliantly into the net with a volley of technical excellence... off his weaker right foot.
Even in the game's last breath Forlan nearly brought new life into his side, sending a well struck free kick against the face of the crossbar that would have brought 30 additional minutes of play and enhanced the 31-year-old's chances of claiming the Golden Boot, which he is in tied first position for ahead of Sunday's final.
The Celeste may not have matched die Mannschaft, but Forlan, whose passing was perceptive and imaginative, was undoubtedly the game's outstanding talent.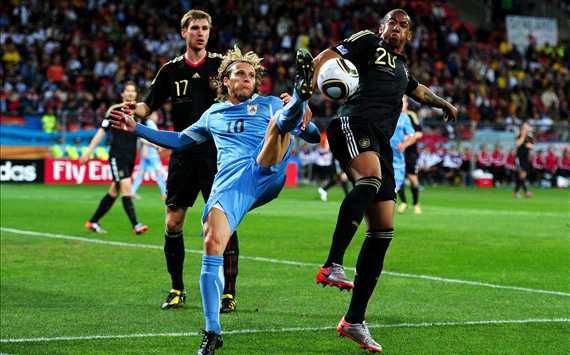 Goal.com Readers Top Of The Match Sponsored By Turkish Airlines

: Diego Forlan
The fans agreed with the editors, clearly impressed by Forlan's well taken finish and clever link-up play, which kept the Celeste active as an offensive force throughout this encounter and indeed the competition as a whole.
The 2010 World Cup is finally here, so keep up to date with all the news at Goal.com's World Cup homepage and join Goal.com USA's Facebook fan page!