GERMANY
Neuer: 6 – Quick off his line to spoil Villa's fun in the opening moments, and had to be alert more than brilliant in the remainder of the first half as Spain again failed to turn possession into threatening shots. His main concern was largely in keeping an eye on long range shots until Puyol's bullet header made the difference.
Lahm: 6 – Rarely seen beyond the halfway line such was Spain's general territorial dominance. He held his own well at the back, but couldn't inspire his side to victory.
Mertesacker: 6 – Was sturdy, but almost destructive when he stupidly gave the ball away in his own third just before half-time. But he made up for that by covering well on a number of occasions before Puyol's clincher.
Friedrich: 6.5 – Defended fairly well, but was caught in possession in his own half a couple of times. Proved his worth when standing strong against Villa late on as Spain threatened to make the game safe and was unfortunate to be on the losing side.
Boateng: 5 – Provided sturdy resistance to the advancing Ramos in the early stages but then started to find things more difficult as time wore on and was unsurprisingly replaced by Jansen soon after the interval.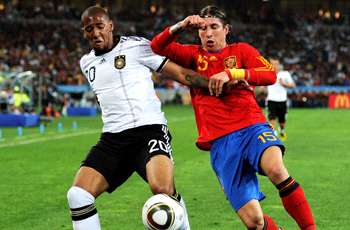 Schweinsteiger: 7 – Broke up play well but was far from the explosive attacking force that he has proven to be for most of the tournament. Became the deeper of the two holding midfielders at times, but was up to the task of blunting Spanish counters as his side were ultimately undone by a classic set piece.
Khedira: 6.5 – As a defensive midfielder he was forced into being more 'defensive' than 'midfielder' early in the proceedings, but fulfilled the role well. Gave himself more freedom at times after the break as Schweinsteiger took the reins as the main pivot, but eventually succumbed to injury when Germany needed attacking reinforcements.
Trochowski: 5.5 – Didn't quite supply the liveliness of Mueller, but at least fired in die Nationalmannschaft's first shot after a dominant Spanish opening. Found his attacking threat stifled too easily as he rather laboured his way through the game before Kroos replaced him.
Oezil: 6.5 – Despite Spain's success in giving Germany little ball, he still managed to pick up positions to give la Furia Roja headaches and should have been rewarded with at least a free-kick in first half stoppages. But he couldn't provide the killer contribution when it really counted as the Mannschaft failed to really rock Spain.
Podolski: 6 – Hardly in the game until brilliantly chipping a cross over to Kroos at the far post, which was Germany's best chance. But his inability to get closer to Klose proved one of Germany's downfalls.
Klose: 6 – Was forced deeper at times simply to see a bit of the ball, but held onto it well and managed to bring team-mates into play when required. Ultimately unable to get a clean sight on goal as he misses out on a second World Cup final.
Subs:
Jansen: 6 – A like for like replacement for Boateng, but proved a more capable left-back up against Ramos until getting into crossing positions as he failed to hit the spot on three occasions.
Kroos: 5.5 – Replaced Piotr Trochowski in a change which many expected to be made before kick-off. His first real chance was a gilt-edged one when he failed to really catch hold of Podolski's cross and allowed Casillas a chance to save in what was Germany's most threatening moment.
Gomez: NA
SPAIN
Casillas: 6.5 – Had little to do other than parry a long range Trochowski effort in the opening half, though he came and punched well when necessary. The second half was much of the same until he kept out Kroos' effort when he should have been given no chance.
Ramos: 7 – Didn't always provide the final ball when getting forward as he had a fair old battle with Boateng, but similarly gave the German left-back little at the other end. Should have been penalised just before the break when he caught the rampaging Oezil on the edge of the area, but may have had a shout of his own in the second half as he continued to get forward with energy.
Pique: 6 – Wasn't overly tested, but didn't look too convincing when faced with Klose and the ball at the same time and miscommunication with his keeper almost let in Germany for a free shot.
Puyol: 7.5 – Though it's not his primary role, his finishing let him down when heading over early on when he should have hit the target. But it was he who made the difference when he brilliantly attacked Xavi's corner, and his defending was composed and of a high quality throughout.
Capdevila: 6 – Not exactly rampaging, but found himself more regularly on the attack than on the rack as he helped to provide the attacking width which Germany couldn't cope with.
Busquets: 6 – Patrolled, rather than dominated, the midfield as Spain were allowed time and space by the men in white. His main contribution was simply in keeping the passing machine ticking over on its way to finally breaking through.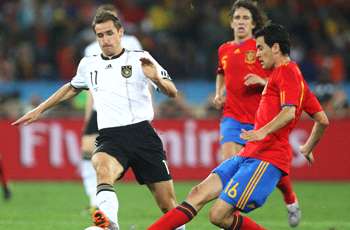 Alonso: 7 – Stroked the ball around in the midfield, but failed to threaten when he shot on sight from range in the first half, but that all changed when he twice threatened with efforts in the early stages of the second half. In the middle of the park he was typical Alonso, contributing both with and without the ball.
Pedro: 6.5 – His impact was immediate, teeing up Villa for a near opener in the early moments. But thereafter he didn't quite step up until making a magnificent run down the right after half-time which should have been met with a better shot from Alonso. But regularly failed to get a ball in first time, most notably when two-on-one late on.
Xavi: 7 – Many a threaded pass very nearly found its target early on, but couldn't quite find the killer final ball until presented with the corner which saw Puyol head home. His ability to spot a pass was largely his side's main threat.
Iniesta: 7 – Came agonizingly close to setting up the breakthrough with his excellent pass across the face of goal which just beat all of the advancing Spaniards, which was typical of his intelligence both in passing and in the angle of his runs.
Villa: 6.5 – Had Spain's first chance when foiled by Neuer from Pedro's clever throughball, but was more often than not either left alone in the box or ignored when in a decent shooting position. Having then looked to half space and time on breaks with his side 1-0 up he was replaced by Fernando Torres.
Subs:
Torres: NA – Brought on for the dying stages to replace Villa but still proved unable to break his scoring duck.
Silva: NA
Marchena: NA

The 2010 World Cup is finally upon us, so keep up to date with all the news at Goal.com's World Cup homepage and join Goal.com USA's Facebook fan page!