DEFENSE
Who Played Well
The stalwarts of Germany's defense were Per Mertesacker and Phillip Lahm. Despite the many bodies Germany had milling around on defense, it was always these two who seemed to be in the right places to stop or otherwise nullify Argentina's many attacks. One of the best instances of their willingness to sacrifice for their team's cause was when Mertesacker took a full-strength shot to the face. Others might have raised a hand to protect themselves and given up a penalty, but Mertesacker didn't.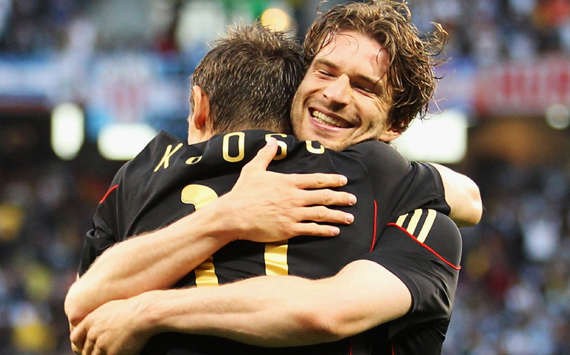 Who Was Poor
If there's any team left in the World Cup one can trust to doggedly hold on to a one-goal lead, it's Germany. At times, it seemed the entire team was packed back on defense, helping out the backline and Manuel Nuer.
Or perhaps, they didn't really trust their young goalkeeper, who spilled at least three easy catches throughout the match. The rebounds never fell to Argentina, but the inability of Nuer to hold on to relatively simple shots is worrisome for Germany's future success. Also, though he didn't have any tragic mistakes, Jerome Boateng had a quiet, anonymous match.
MIDFIELD
Who Was Good
Except for the silly and avoidable handball error that will cost him a chance to play in Germany's semifinal, Thomas Mueller had an outstanding game. From his perfect run and flicked header for the opening goal, to his tireless running in the midfield, to his dogged determination to keep the attack alive that led to Germany's second goal, to his willingness to assist on the defensive effort, Mueller played a fantastic game in the classic German style - nothing fancy, but terribly effective.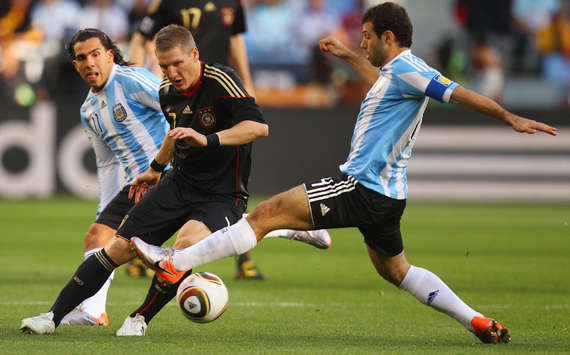 Schweinsteiger had a solid effort, showing his veteran savvy to withstand wave after wave of Argentina's early efforts. He won his duels with Argentina's midfield players fairly easily, because he understood well that slowing down their counterattack and giving his teammates time to help out on defense would be more effective that a rash tackle that might miss. Podolski also did well, passing perfectly on the second goal to set up Miroslav Klose.
Who Was Poor
Few noticed that Sami Khedira was even on the field. While his commitment and willingness to defend Germany's lead was commendable, that still should not have suffocated so completely his ability to join in on occasion in the attack. Mesut Ozil, while lively, didn't have much specific impact.
FORWARDS
Who Was Good
If pulling back to repel Argentina's attacks until their players were a bit weary was a deliberate strategy of Klose, it worked to perfection. The superior fitness of the German players was revealed in the second half, when Klose and his teammates rushed forward in waves, always one step ahead of the cleary tired Argentines. Klose was so well positioned for Podolski's pass on the second goal, that he had time to touch it twice. The fourth goal was another example of Klose's effectiveness, even after multiple World Cups. He just gets the job done.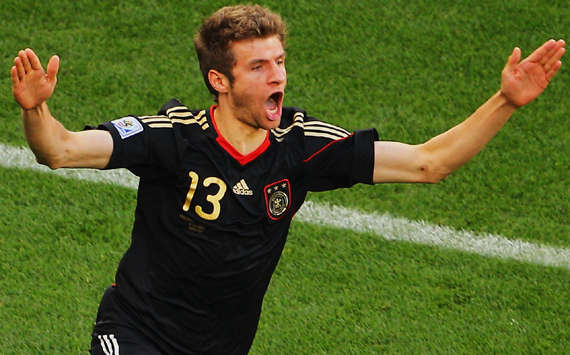 Who Was Poor
Has any target forward thrown himself as far back as Klose during long stretches of the match? In the first half, it almost didn't seem as if Germany had any forwards at all. Klose had one good chance in the first half to put Germany up by another goal, but he missed quite high on his shot.
The 2010 World Cup is finally upon us, so keep up to date with all the news at Goal.com's World Cup homepage and join Goal.com USA's Facebook fan page!