In our World Cup Comment series, individual writers at Goal.com offer their views on the hot World Cup topics of the day with local expertise and a global outlook...

For those who fancy attacking football, today's clash between
Argentina
and
Germany
may be the most enjoyable match of the 2010 World Cup. Having both earned emphatic victories in the Round of 16, today's rivals are primed for a rematch of their dramatic 2006 tie.
While form on the day will ultimately decide which team advances to the semi-finals, each side have their share of advantages. If the Germans emerge victorious, their triumph will likely result from the following:
1) Attack Martin Demichelis
Bayern Munich fans know all too well that, despite having good defensive skills, Martin Demichelis is often an accident waiting to happen. At the World Cup, he has twice put his country into danger with shoddy back-passes. If put under pressure, the Argentine centre half just might lay on another splendid assist for his opponents.
2) Stay Organised
Keeping a 4-2-3-1 formation in attack, and a tight 4-4-1-1 in defence is the only way Germany can beat Argentina. The same tactical setup worked wonders against England, but there was a time midway through the first half when the Germans allowed the game - and formation - to stretch over the length of the pitch. After going 2-0 ahead, Germany's rigid, two-lined defence collapsed, and England should have scored twice. Argentina - and referee Ravshan Irmatov - will be far less forgiving.
3) Push The Tempo
Compared to the other quarter-finalists, Argentina prefer to play rather slowly. In their four matches, the
Albiceleste
have covered just 393.477 km, which is 2.5% less than their combined opponents. Germany have also been outrun by their opponents, but by a much lesser margin (1.3%), and have covered a combined 432.312 km, 9% more than Argentina. If Germany keep the ball moving quickly and close down their opponents on defence, their intensity may unnerve Diego Maradona's men.
4) Use The Centre Of The Park
Maradona's system for today will be the same 4-1-2-1-2 he used against Mexico. Unlike the common 4-3-1-2, which features three central midfielders serving as a platform for the playmaker, Maradona's system involves just one ball-winner, Javier Mascherano, and two attack-minded wingers, Maxi Rodriguez and Angel di Maria, behind Lionel Messi. With Mascherano likely to keep busy marking playmaker Mesut Oezil, the Germans should have an advantage in the centre of the park: the presence of Sami Khedira and Bastian Schweinsteiger should force Messi to drop deep, and may leave the Argentine strikers alone up front. In attack, German pseudo-wingers Thomas Mueller and Lukas Podolski, who are natural centre forwards, should also be able to find space to exploit in the middle of the pitch.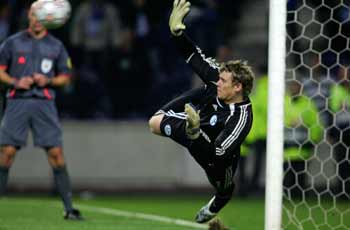 5) Penalties
It worked four years ago, and it can again in 2010. Jens Lehmann may no longer be in goal for the Germans, but new No. 1 Manuel Neuer is as well prepared for a shoot out as his predecessor. The 24-year old was heroic in a 2008 Champions League shoot-out with Porto, saving from Bruno Alves and Lisandro as Schalke advanced to the quarter-finals. Germany have never lost a penalty shoot-out at the World Cup, and with Neuer between the posts, are unlikely to do so in South Africa.
The 2010 World Cup is finally upon us, so keep up to date with all the news at Goal.com's World Cup homepage and join Goal.com USA's Facebook fan page!