In our World Cup Comment series, individual writers at Goal.com offer their views on the hot World Cup topics of the day with local expertise and a global outlook.....
Four games, three starts, no goals, several misses. No excuses.
Only, there are excuses. An injury-wrecked season at club level. Two operations in one year. A first start in three months.
Yet these excuses prove lame when you consider that Fernando Torres has been woefully out of form in all of the four matches at the World Cup. Granted, he is just returning to match action but that alone cannot make up for the chances he has spurned, especially when you consider that his departure and Fernando Llorente's introduction was what altered the game for Spain against Portugal in the last-16 clash.
Spain coach Vicente Del Bosque must surely have heard whispers telling him to tick Torres off the starting lineup, but instead the 59-year-old publicly came out in support of the Liverpool forward. Of course, no one remotely suggests that Torres is a bad striker and it will be criminal to even think that Llorente is better than Torres - different yes, better no; but this is the World Cup.
Except for the 2-0 victory over Honduras, Spain's winning margin so far has been by just one goal: so a Torres miss in the 15th minute could eventually cost Spain dear, one that this La Furia Roja cannot afford.
Which is why the exclusion of Torres wouldn't necessarily be baffling, but he will start against Paraguay tonight. However, that shouldn't detract us from exploring what alternative formations Del Bosque can employ in the quarter-final.
With Fernando Torres
Casillas

Ramos - Pique - Puyol - Capdevila

Xavi - Alonso - Busquets - Iniesta

Villa - Torres

In this 4-4-2 system, David Villa and Fernando Torres are the two strikers upfront and work alongside each other. They do not exactly play in the same line, and run at defences and switch positions from time to time, making it extremely difficult for them to be marked.
The problem with ths formation is that there is 'presence' in the penalty area. Villa functions best when he comes on in from outside the 18-yard-box and although he is lethal in the area as well, so far in the World Cup the newly signed Barcelona forward has been at his best when drifting in from the left.
Torres isn't a fox-in-the-box either. For this system to function, both the strikers will have to function but the Liverpool hitman is miserably out of sync.
Moreover, there is a discernible lack of width as only Andres Iniesta is the one who can weave his magic on the wings. Even under Louis Aragonese Spain didn't play with much width, but this is potentially a weak area.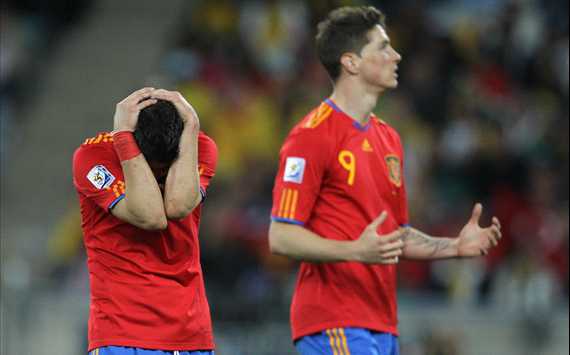 With Fernando Torres/Fernando Llorente
Casillas

Ramos - Pique - Puyol - Capdevila

Xavi - Busquets - Alonso

Iniesta - Torres/Llorente - Villa
In the 4-3-3 formation, Iniesta and Villa are the two wide-players with Torres playing centrally upfront. All in the front-three are capable of scoring goals and indeed this will force the Paraguay full-backs to stay back. This system also allows Villa to come in from the left and cut inside. Perhaps Torres' presence frees the former Valencia striker but so could Fernando Llorente.
Now, given that Llorente is more of a target striker, he would be lingering to 'pick up the pieces' and 'hold the ball up'. Moreover, he hasn't lost his touch and although Torres is a class above Llorente, the Athletic Bilbao striker did function well in that role against Portugal.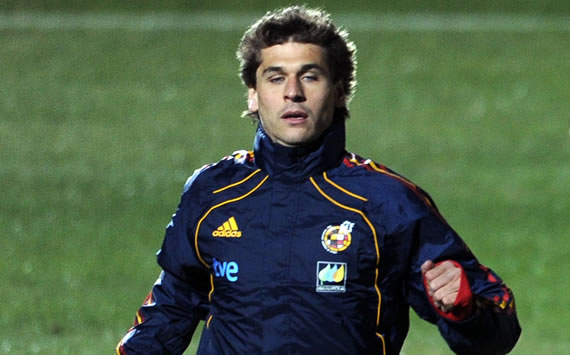 Casillas

Ramos - Pique - Puyol - Capdevila

Alonso - Busquets

Iniesta - Xavi - Villa

Torres/Llorente

This is a variant of the 4-4-2 system using the same personnel but playing with just one striker upfront. Sergio Busquets is not Marcos Senna and needs another 'half defensive midfielder' to help him protect the backfour, so Xabi Alonso slips in alongside him.
Iniesta and Villa occupy the flanks and Xavi plays in centre-midfield but a bit further upfront the way he does at Pep Guardiola's Barcelona. The lone striker could be either Llorente or Torres. But the former gives more presence in the penalty area and the latter could become isolated if forced to function as a lone striker.
In fact, this does have the potential to stretch into a 4-3-3 and that means Llorente could come in handy.
Without Fernando Torres/Fernando Llorente
Casillas

Ramos - Pique - Puyol - Capdevila

Xavi - Busquets - Alonso

Fabregas - Iniesta

Villa

Broadly speaking, this is a five-man midfield but one that employs Cesc Fabregas, arguably the best player in the World Cup who doesn't get to start. Again, the 'back-three' of the midfield remains Busquets, Xavi and Alonso, while Villa is the lone striker upfront, Iniesta and Fabregas comes in from an attacking midfield position.
But again, there will be no width. Fabregas is the midfield linchpin for Arsenal and his role in Spain is distinctly undefined. He may shift to the right but as against Portugal, he could look lost. Playing the 23-year-old through the centre will congest that area and expose Spain's lack of width, enabling the opposition to attack down the flanks.
Another problem is that in this World Cup, Villa hasn't looked at his best when playing as the lone striker. The presence of another forward liberates 'El Guaje' and he also gets someone to target when he cuts in from the left.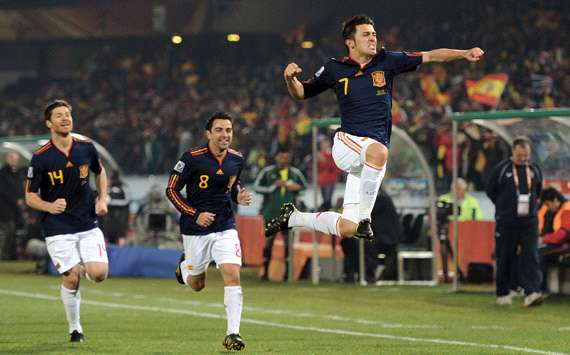 Casillas

Ramos - Pique - Puyol - Capdevila

Busquets - Alonso

Silva - Xavi - Iniesta

Villa
In this system, Fabregas moves out and on comes David Silva, bringing some width. Silva is a world class attacking talent and has played alongside Villa at Valencia for a number of years. Villa will again be the lone striker upfront but Silva's versatility implies that he will have an auxiliary striker. Indeed, if Spain want to maintain possession in midfield and also suffocate Paraguay at the back, then this is arguably the most ideal lineup on paper.
The 2010 World Cup is finally upon us, so keep up to date with all the news at Goal.com's World Cup homepage and join Goal.com USA's Facebook fan page!