SPAINCasillas: 5.5 -
The normally reliable goalkeeper was unsure with his handling, tipping a shot straight up in the air and also needlessly spilling a Ronaldo free kick. He lacked the commanding authority normally associated with the 100-cap goalie and was fortunate to keep a clean sheet, especially as his opposite number outperformed him considerably.

Sergio Ramos: 7.5 -
He had limited success down the right as an attacking force before the break and was overshadowed by the excellent work of Coentrao. Furthermore, he was also slow to retreat to his defensive position from a corner which almost proved costly for the Spanish. In the second half however, he was much more significant as an attacking threat and his ability to go on the outside or cut back inside posed problems for Coentrao. Almost scored a fine goal but was foiled by Eduardo.

Puyol: 7 -
Another assured showing at the back from the captain who threw himself at everything the Portuguese had to give. Despite his partner still not being on top form, Puyol was reliable and willing to give everything for the cause.

Pique: 6 -
Performed better in this game than he had previously, resisting more often the temptation to go to ground on most occasions. He was relieved when Almeida was brought off as the big striker's pace was too much for him at times and still looks some way short of his best.

Capdevila: 5 -
Though he was pinpointed as a potential weak link, neither Ronaldo nor Simao ever really exposed him. He was the source of bad blood between the sides with the Portuguese believing that he playacted to ensure Ricardo Costa was sent off. He was fortunate to escape harsh disciplinary action himself for a push.

Busquets: 6 -
The most defensive of the midfield quartet is not in the same league as a passer of the ball as the others however he did a tidy job breaking up attacks. Portugal were though content for him to have the ball, if it meant it wasn't at the feet of Xavi or Iniesta.

Xavi: 6.5 -
The little wizard was not at his absolute most fluent in the first half and he misplaced more passes than usual. However as the game wore on, he always made himself available and started to link up well with Iniesta, which could be ominous for the Paraguayans.

Xabi Alonso: 6 -
Unable to enact a stranglehold on the game however he didn't allow that to detract from his ball-winning duties in the midfield. Considering he was playing with an ankle injection, he did an admirable if not spectacular job.

Iniesta: 8 -
The Don was back to full fitness and so it proved tonight. He roamed everywhere and anywhere and refused to be downhearted by a spirited Portuguese rearguard action. The close control and awareness he showed in the build up to Villa's goal when he found room others would be incapable of even thinking existed highlighted his undoubted class and it will be a frightening proposition if he reaches his peak in this tournament.

David Villa: 8.5 -
What more can one say about El Guaje? He continues to deliver on the big stage even when being played off the left hand side. Did he scowl about being played out of position? Did he ever! He was a constant menace throughout leaving Ricardo Costa for dead on numerous occasions and his goal displayed his predatory skills and quick thinking. Torres or not, Villa is undoubtedly the numero uno of Spain's attack.

Torres: 5 -
Once more not at his sharpest, he lacked the cutting edge and consistently frustrated upfront for the Spanish. In terms of his performances alone, he doesn't deserve to start the quarter-final with Llorente impressing once he came on.



Substitutes

:

Llorente: 7 -
The big, bustling Llorente was a breath of fresh air in the second period and he helped to revive Spain's chances in the game as he gave them a different, more physical dimension in the second half. Should have scored with a diving header.

Pedro:
N/A


Marchena:
N/A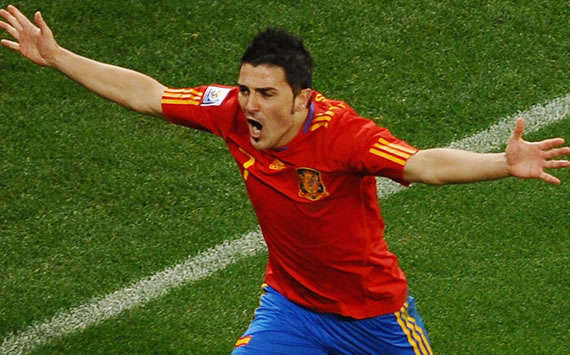 PORTUGAL

Eduardo: 8 -
An extremely confident performance from the Braga man who has been one of the goalkeepers of the tournament. Up against arguably football's finest number one, he outshone Iker Casillas with not only a string of outstanding saves but a calm assurance behind his back four.

Ricardo Costa: 5 -
By no means a natural in the position, he started shakily and was beaten repeatedly by David Villa who ghosted past him without effort. His evening ended on a sour note with his dismissal for an elbow on Capdevila.

Bruno Alves: 6 -
The imposing Porto center-half dealt well with Torres but found himself pulled from pillar to post once Llorente came on.

Ricardo Carvalho: 7 -
Another classy performance by the craftiest of defenders at the back. His positional sense and reading of the game was immaculate and he even found time to save the bacon of Ricardo Costa who was evidently struggling.

Fabio Coentrao: 6.5 -
The wing-back started in a composed fashion with some excellently timed interceptions and challenges. However he was exposed by Ramos in the second half and also failed to deliver enough quality balls into the box.

Pepe: 6 -
A workhorse in front of the back four, he covered a great deal of ground and was a nuisance to the Spanish midfield as he continually snapped at their heels. Once his side were in arrears though, he was pretty much redundant and Queiroz was correct in taking him off.

Tiago: 6 -
The midfielder who scored a brace against North Korea was a great deal more subdued in this encounter and though he did an honest job screening the back four, when the onus was upon him to get attacks going from deep, he did struggle somewhat.

Raul Meireles: 6 -
The most forward thinking of Portugal's midfield trio was stifled somewhat by both his side's tactics and the neat passing of his Spanish counterparts. He did however find some space in wide areas and his accurate crosses were Portugal's biggest attacking threat Almeida aside.

Cristiano Ronaldo: 5 -
The world's most expensive player endured another frustrating big game in a major tournament. He cut a desolate figure as the match progressed, seeming unsure of how he was meant to play. He did have a couple of shots on target but in general play barely worried the Spanish defense at all.

Simao: 5 -
Unsurprisingly restored to the starting line up, he did his best to combine with Fabio Coentrao down the left hand side however like Ronaldo he never got a foothold in the game, credit for which does have to be attributed to Sergio Ramos.

Hugo Almeida: 7 -
The Bremen target man at times plowed a lone furrow upfront and disappointed by missing a couple of headed chances however also showed a surprising turn of speed to beat Pique. As his side's brightest outlet, it was mystifying why he was taken off and even more so once Spain had scored.



Substitutes

:

Danny: 5 -
Another disappointing cameo from the £30 million winger down the left hand side. He took up some threatening positions without ever being able to capitalize.

Liedson: 5 -
He caused a few hearts to skip a beat in the Spanish defense late on but didn't look the threat he was at the end of the qualifying campaign. It doesn't help when he is shifted in and out of the side.

Pedro Mendes: 5 -
He came on in order to get the ball down and start playing. Unfortunately, by the time he was introduced, Xavi and Iniesta were running the show and the Sporting midfield never stood a chance.
The 2010 World Cup is finally here, so keep up to date with all the news at Goal.com's World Cup homepage and join Goal.com USA's Facebook fan page!