ARGENTINA
Romero: 6.5 – Forced to be ultra alert on occasion as Mexico showed a willingness to shoot from all angles, but was only beaten by one bit of magic from Hernandez.
Otamendi: 6.5 – Was a marked improvement on Gutierrez at right back as he showed both a desire to get forward and defensive competence. Earned a place in the side for the quarter-final.
Demichelis: 5.5 – Yet again the weak line in the Argentina defense, he was too easily beaten by Hernandez as Mexico got back into the game and twice allowed free headers in the box which weren't capitalized upon.
Burdisso: 6.5 – A steady influence at the back. He may just have done enough for El Diego to select him ahead of Demichelis against Germany.
Heinze: 8 – Worked hard all night, and was the star of Argentina's show. Made a couple of great covering tackles at the back and was superb going forward to boot.
Maxi Rodriguez: 6 – Sometimes left wanting as Mexico attacked well down Argentina's right. His position is one of the few which have question marks hanging over them in this side.
Mascherano: 6.5 – Put in his usual shift, but sometimes left short-handed by those around him. The midfield as a unit will have to concede less possession than they did tonight to keep progressing.
Di Maria: 6.5 – Looked a danger down Argentina's left, but was outshone by team-mates both in front of him and, in the case of Heinze, behind him.
Messi: 7.5 – Without El Mesias this side just wouldn't function the same way. Wherever he is forced to drop to in order to make things happen he'll do it, and he had a hand in the opening goal among many of the Albiceleste's better moments.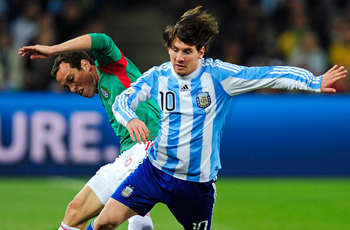 Higuain: 7 – Pounced superbly on Osorio's mistake to score a crucial second, but could have had one or two more had he been more clinical, especially in the air.

Tevez: 8 – Bagged a controversial first and a fantastic third as he turned in his best performance of the tournament so far.
Subs:
Veron: 6 – Brought in during the second half and slipped straight into the middle as Argentina looked to protect their lead.
Gutierrez: NA
Pastore: NA
MEXICO
Perez: 7 – Will count himself hard done by to have conceded three goals as he was regularly able to keep out Argentine efforts.
Osorio: 5.5 – Appeared at ease for the most part, but then made a huge gaffe to let in Higuain for the crucial second. Will kick himself when he watches it back.
Rodriguez: 6 – Found it difficult to keep a tight rein on the lively Argentina front line, never knowing who to follow as their movement outdid him.
Marquez: 6 – Enjoyed a decent battle with his Barcelona team-mate Messi at times, but was never going to be able to keep him quiet.
Salcido: 6.5 – Mexico's best defender, he kept Maxi Rodriguez quiet for long spells and unleashed a superb effort early on which could have changed the complexion of the game.
Juarez: 6 – Clearly not as happy when he doesn't have the ball, he was less effective tonight than he has been of late in the Mexico set-up.
Torrado: 6 – Given the job of patrolling the center of the park, but was fighting a losing battle as Argentina regularly found a way through the middle.
Guardado: 6.5 – Was reduced to pot-shots from range as he found it difficult linking with his front men after initially getting at Argentina well and coming close to a goal more than once.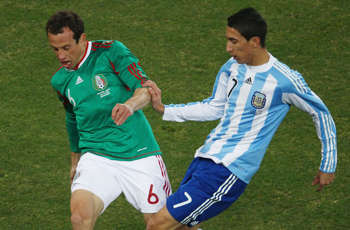 Giovani: 7.5 – Regularly made excellent forays forward as Mexico found him to be an excellent outlet down the right, but was ultimately unable to change the face of the game.
Bautista: 5 – Was very disappointing in the opening 45, resulting in his withdrawal at the break.
Hernandez: 7 – A livewire as always, he scored one and could have had another as he constantly asked questions of an unconvincing Argentine backline.
Subs:
Barrera: 6.5 – Was a marked improvement on Bautista as Mexico looked to get back into the game in the second half.
Franco: NA
The 2010 World Cup is finally here, so keep up to date with all the news at Goal.com's World Cup homepage and join Goal.com USA's Facebook fan page!