GERMANY
Neuer- 6.5:
All over the place in the first-half, making a hash on the England goal. He was much more secure in the second half, catching crosses with ease and denying Gerrard a late consolation.
Lahm- 5.5:
Not a vintage performance from the diminutive full-back, but he did his job when called upon. Arguably, his worst game of this World Cup thus far, even though he was not poor by any stretch.
Mertesacker- 7.5:
Incredible in the air to deny the Three Lions any success in that area. A competent defender, who plays with a clean style that is refreshing to see.
Friedrich- 6.5:
Made a decisive play in the second-half and to deny England when they were fired up after Lampard's disallowed goal. Otherwise solid enough at the back.
Boateng- 6:
A great block to deny Milner what looked like a certain goal. Milner and Cole had little success on his side even though Boateng was hardly noticeable during the 90 minutes.
Khedira- 7.5:
incisive in front of the back four and also willing to provide an option going forward. He had yet another great game.
Schweinsteiger- 7.5:
Always put a foot on the ball in midfield, more determined in the second-half and played a part in a text-book counter to set up Mueller for Germany's third.
Mueller- 9:
One assist and a brace from the talented youngster, who has achieved what every player dreams of doing in a World Cup match with two great finishes. Also set up Klose with another great chance in the first-half and caused all sorts of problems for Ashley Cole.
Oezil- 8:
The hero against Ghana was at it again, popping up everywhere in support of the strikers, his dribbling and movement left the Three Lions for dead many times. He burst past Barry and to square for Mueller and finish off the match completely.
Podolski- 7:
Tracked back when necessary and also kept up his positive exploits with a low shot from a tight angle for Germany's second.
Klose- 7:
He has been in top form at this World Cup and was an opportunist to poke the opener past James. However, he should have scored another when set up by Mueller.
Substitutes


Gomez- 6:
Was hardly involved, but the match was over as a contest by the time he entered.
Trochowski- N/A

Kiessling- N/A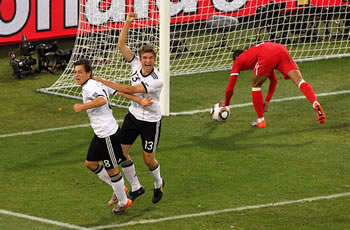 ENGLAND
James- 5:
Made two good saves from Oezil and Klose. However, he looked poor on Podolski's tally with suspect positioning. James' experience was not enough.
Johnson- 5:
Got forward in the first-half, but he is not a great international player. Looked out of his depth against the Germans as his team lost 4-1.
Terry- 4:
Completely misjudged the long ball that led to Klose's goal and after a brilliant display against Slovenia he ended his tournament as a flop along with several of his team-mates.
Upson- 6:
Some credit for scoring a goal with a nice header, but defensively he was almost as poor as Terry. The way Klose held him off for his goal made him look like a schoolboy at the back.
Cole- 5
: Involved in some strong challenges at the start, but Oezil and Mueller had Cole in their pocket for most of the match. It was a nightmare for the Chelsea full-back.
Milner- 5.5:
Not nearly as effective as he was against Slovenia; the Aston Villa midfielder did not justify his selection this time around. He tried to open up the defence in the second-half but to no avail.
Lampard- 6.5:
Can consider himself unlucky, as his first-half volley had clearly crossed the line. The Chelsea midfielder also slammed the crossbar from a free-kick in the second-half but from open play, he struggled against Khedira and Schweinsteiger.
Barry- 5:
Completely left for dead by Oezil on Germany's fourth as he lacked the pace to keep up with the Werder Bremen starlet.
Gerrard- 7.5:
Looked the most likely to make things happen in the first 60 minutes for England and set up their lone goal of the match with a nice cross. The skipper showed spirit and willingness to get involved but didn't get the support from his teammates.
Rooney- 5.5:
No goals for the Manchester United star at the 2010 World Cup. He displayed great control on some long passes and showed flashes of his ability, but in the end it was not enough for the Three Lions.
Defoe- 5:
Pressured the Germany backline to no avail and it's clear that he is not the striker England require at the top level.
Substitutes

Joe Cole- 6:
Came on as a replacement for Milner, but he fared little better and didn't see enough of the ball in dangerous situations.
Heskey- N/A
The 2010 World Cup is finally upon us, so keep up to date with all the news at Goal.com's World Cup homepage and join Goal.com USA's Facebook fan page!