Germany 2-1 England: Line-ups/Stats
World Cup 2010 Fixtures & Results
Frank Lampard's disallowed strike has left England trailing at Free State Stadium, as Germany lead 2-1. Miroslav Klose and Lukas Podolski scored and it looked comfortable, but Matthew Upson's tally has turned this into one of the best matches of the World Cup 2010 thus far.
Both sides used line-ups that were relatively unchanged. Three Lions boss Fabio Capello used the same starting XI that defeated Slovenia, keeping faith in Matthew Upson, James Milner, and Jermaine Defoe. Meanwhile Joachim Loew made a solitary variation to his squad as Klose, who returned from suspension, replaced the injured Cacau in attack.
Goalkeeper James was called into action after just four minutes, Mesut Oezil's run through the defence, beating Ashley Cole to the ball and volleying from a tight angle, but the veteran was ready and saved well.
England were having trouble clicking in attack in the early stages and Germany nearly took advantage on a counter, but Podolski wasted the opportunity when he attempted a shot rather than passing to a team-mate.
Frank Lampard has been poor in the group stages, but he burst forward with Defoe to ear a free-kick in a dangerous position 25 yards from goal, but he struck the set-piece straight into the wall.
Klose
proved to be decisive for his national team yet again at the World Cup. A long ball was misread by John Terry and the striker easily held off Upson to poke past James and give the Germans the advantage after 20 minutes. The three-time World Cup winners had been the settled side and were full value for their lead.
David James saved Capello's men from going two down. Mueller put in a sublime through ball for Klose and the Portsmouth shot stopper got down quickly to block his close range effort.
It was a sign of things to come as Klose lobbed the ball over to Mueller inside the box, who flicked across goal to
Podolski
. The 25-year-old controlled and fired low past James for a 2-0 scoreline. England looked second-best, but going behind by another goal sprung them into life.
Minutes later,
Upson
made up for his previous error, heading in Steven Gerrard's cross to make it 2-1. It was turning out to be a thriller.
A most controversial decision on 38 minutes kept England behind. Lampard's dipping shot from outside the area hit the crossbar and bounced downwards. Lampard and Capello were already celebrating the goal, but the linesman ruled it did not cross the line. Replays proved it to be the wrong decision as the ball was clearly in the net and the team in the red strip were up in arms before the half-time whistle blew.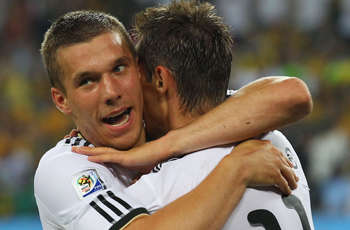 For more news on England, visit Goal.com's England section and join Goal.com USA's Facebook fan page!
For all the German news you can handle, check out Goal.com's Germany homepage and join Goal.com USA's Facebook fan page!
The 2010 World Cup is finally upon us, so keep up to date with all the news at Goal.com's World Cup homepage and join Goal.com USA's Facebook fan page!