Who:
Mexico vs. Argentina

What:
2010 FIFA World Cup Second Round

When:
Sunday, June 27, 2:30 p.m. PT

Where:
Soccer City Stadium, Johannesburg, South Africa

TV:
ABC, Univision
Serious Stuff Starts
Argentina were one of only two nations to qualify from the group stages with a perfect record, but while any errors were previously correctable, the gauntlet of knockout football means that Diego Maradona's men cannot allow their concentration to waver even for a second. Their first obstacle is Mexico, and sterner challenges will follow should El Tri be successfully negotiated.
Though packing a squad full of highly talented individuals, los Albiceleste have been dismissed in some quarters due the eccentric Maradona. The coach has attracted great attention for his quips and media-friendly soundbites, and this may simply have acted to ease some of the pressure on a team expected to go deep into the competition.
So far the signs have been good. A pedestrian 1-0 success over Nigeria kicked the Argentines off before a strong victory over South Korea in their second game booked a place in the last 16. Top spot in Group B was secured as a team of fringe players defeated Greece 2-0 in their final pool game.
Moreover, the confident Argentina squad don't need long memories to revisit their previous World Cup encounter with Mexico. Four years ago in Leipzig, Argentina defeated El Tri 2-1 after extra-time, with a stunning strike from Maxi Rodriguez the differentiating factor between the sides.
To that point of the competition in Germany, Argentina had looked highly effective, but they were eliminated on penalties by Germany in the quarter-finals. A potential rematch with Die Mannschaft awaits if results pan out correctly.

We Can Do It
Argentina hold no fears for Mexico. Already the North Americans have had to battle the passionate South African support when they tied 1-1 with the hosts in the tournament's opening game, grit their teeth and come through as underdogs against France before suffering something of a hangover in their final group encounter against Uruguay.
The loss against the Celeste – a side who finished below the Argentines in their qualifying group – has not damped the spirits of El Tri, who still believe that a place in the last 16 could be theirs.
"Mexico is also a strong rival for any team," Gerardo Torrado said, according to FIFA's official website. "If you look at the work this team does and how we match up man to man, we have proved we are a difficult team to beat and that has earned the respect of its rivals.
"Obviously you have to translate it onto the field, but I think we can make a valid argument to say we can win this game."
Playing some fluid attacking football, the Mexicans have been one of the tournament's more attractive sides in the first fortnight of competition, though questions still remain over their cutting edge. Additionally, their defense has not looked completely secure and anything less than rock solid against a talented Argentine side may prove decisive.
The Castrol World Cup Match Predictor certainly suggests Mexico have an opportunity to cause an upset, though their 35% chance of success is dwarfed by the Los Albicelestes' 65%.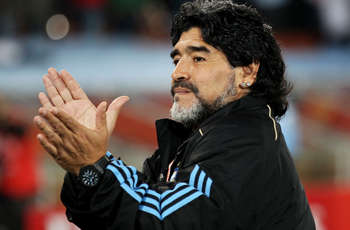 FORM GUIDE

Argentina
WON 2-0 (n) Greece (World Cup, June 22)
WON 4-1 (n) South Korea (World Cup, June 18)
WON 1-0 (n) Nigeria (World Cup, June 12)
WON 5-0 (h) Canada (Friendly, May 24)
WON 4-0 (h) Haiti (Friendly, May 5)

Mexico
LOST 1-0 (n) Uruguay (World Cup, June 22)
WON 2-0 (n) France (World Cup, June 17)
DREW 1-1 (a) South Africa (World Cup, June 11)
WON 2-1 (n) Italy (Friendly, June 3)
WON 5-1 (n) Gambia (Friendly, May 30)
TEAM NEWS

Argentina

Diego Maradona is not an easy man to predict, but after resting a good chunk of his first team against Greece he has given himself plenty of options going into this encounter.
Jonas Gutierrez's stint at right-back may be drawing to a close. In addition, reports from South America suggesting that Nicolas Otamendi will be brought into the team. Walter Samuel will also start.

Probable Starting XI:
Romero; Otamendi, Demichelis, Samuel, Heinze; Gutierrez, Mascherano, Di Maria; Messi; Tevez, Higuain
Mexico
Carlos Vela was withdrawn injured in the second match of the competition and is still doubtful for Sunday's match-up. The Arsenal forward looks likely to start the game on the bench once more, though whether he's stripped or not is up for debate. Vela has been training with the ball of late.
Meanwhile, Argentina-born Guillermo France, who has been at pains to stress that he feels Mexican, has been training with the substitutes of late. Cuauhtemoc Blanco may be the man to replace him.

Probable Starting XI:
Perez; Osorio, Rodriguez, Moreno, Salcido; Juarez, Marquez, Torrado; G. Dos Santos, Blanco, Barrera
PLAYERS TO WATCH

Argentina

Gonzalo Higuain
was rested for the final group stage encounter against Greece, so he should be in perfect condition to continue where he left off against South Korea. The Taegeuk Warriors suffered three times at the hands of the Real Madrid striker, who will again be aiming to use his keen nose for a goal to get into positions that will afford him easy chances. With the likes of Lionel Messi about, he's sure to have a sight or two at goal.

Mexico

Rafael Marquez
will have an important role in the center of the Mexican midfield. The Barcelona man has already stressed the importance of stopping club team-mate Lionel Messi getting on the ball, and his role in this task will be vital. He will have to quickly close down the Argentine midfielders and harangue them into errors as prevention is better than cure for el Tri, whose defence is thought to be one of the weakest aspects of their play.

PREDICTION
Argentina justly start this match as favorites. They would seem to have additional quality in their offense, and this will likely prove decisive in the final reckoning. Javier Aguirre's side cannot be written off, as they do boast a threat of their own, but it's likely to be Diego Maradona celebrating once more come full-time.
Argentina 3-1 Mexico
The 2010 World Cup is finally here, so keep up to date with all the news at Goal.com's World Cup homepage and join Goal.com USA's Facebook fan page!