SLOVAKIA
Mucha: 5 – Looked more than safe in the first half, but then showed his flaws once Italy finally began to ask questions when 2-0 down. Came for and missed crosses more than once, but ultimately not tested enough.
Pekarik: 6 – Got up the right side so easily so often you'd think he was playing against Castel di Sangro, not Italy. Proved to be a real workhorse, but appeared more exposed in the second half as Zambrotta and Di Natale started to have more luck.
Skrtel: 7 – Did more than enough to see off Iaquinta and was a threat in Italy's box too, both in the air and when he drove straight through the middle in the first half. His brilliant clearance off the line proved vital.
Durica: 6.5 – Held firm in the face of increased pressure, though he was occasionally left wanting when he was run at late on.
Zabavnik: 6.5 – Did well despite the pressure which can down his side in the second half. Found it too easy to get forward in the first half.
Srtba: 7 – A fantastic battling midfield display to see off a notoriously rugged Gattuso, and has the battle scars t prove it.
Kucka: 6.5 – Helped to set up several Slovakia attacks with his ability to keep a cool ahead amidst the frenetic action.
Stoch: 6.5 – His ability to break with pace caused Italy countless headaches, particularly in the second half as they became more stretched in the quest for goals.
Hamsik: 6.5 – Far from his greatest form, regularly playing the wrong ball when breaking in the first half, but made up for it by setting up Vittek's vital second.
Jendrisek: 6 – Did well to complement the obvious target of Vittek, proving to be the perfect foil.
Vittek: 8 – Two superbly taken goals were just the start of what he offered his side, helping to send them through to the last 16.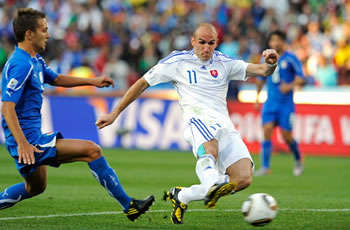 Subs:
Kopunek: 7 – Got only a few minutes on the pitch, yet scored what proved to be the winning goal within seconds of entering the play.
Petras: NA
ITALY
Marchetti: 5 – Can't be held completely culpable for the three goals, but his inability to cover his near post on the second will be put under the microscope. Left to defend by himself at times.
Zambrotta: 5 – Looked a lot better on the left than the right, as he was given more license to get forward.
Cannavaro: 4.5 – Cruely exposed for his lack of pace on more than one occasion as Slovakia regularly gave him the runaround. His international career ends with memories of him lifting the World Cup a long way from the mind.
Chiellini: 5.5 – Made several cover challenges as he was often left short-handed at the back, but he was slow to react as Vittek slotted home the second.
Criscito: 5 – Seemed one of Italy's livelier players in the opening half, but was withdrawn by Marcello Lippi at the interval.
Gattuso: 4.5 – Clearly off the pace for a game of this importance. After only a handful of appearances for Milan, and no minutes until today in the World Cup, he was yanked after 45 minutes as things became urgent for the Azzurri.
De Rossi: 4 – Almost certainly his worst game in an Azzurri shirt. Regularly lost his man, and, crucially, lost the ball far too easily to gift Vittek the opener. His game never recovered thereafter.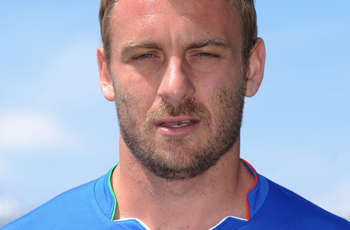 Montolivo: 4.5 – Couldn't force any kind of positive influence before being withdrawn just after half-time.
Pepe: 5 – Looked to get the ball into the box as often as possible, but his endeavour only took him so far, and his lack of a left foot cost him the chance to make it 3-3 at the death.
Iaquinta: 4.5 – His nice flick helped Quagliarella open the door for Di Natale's lifeline goal, but it was about his only decent contribution in yet another disappointing display from the front man.
Di Natale: 5 – Looked Italy's most likely for the large part, but he fluffed his lines too often for a man who topped Serie A's scoring charts this season. Personifies the gap between mid-table club football and the international game.
Subs:
Maggio: 5 – Appeared a positive substitution on paper, but he was caught on the back foot far too often as Slovakia broke at will. Not an international full back on this showing.
Quagliarella: 6.5 – A decent introduction as he scored one, forced the opening for the other and had one controversially ruled out. But play-acting takes away a possible 7.5 rating.
Pirlo: 5.5 – Certainly had a positive impact on the ball, but nowhere near the impact a fit Pirlo of old would have been able to contribute.
The 2010 World Cup is finally here, so keep up to date with all the news at Goal.com's World Cup homepage and join Goal.com USA's Facebook fan page!