Clark Whitney discusses the key events leading up to the thrilling conclusion of Group D.
In our World Cup Comment series, individual writers at Goal.com offer their views on the hot World Cup topics of the day with local expertise and a global outlook...
Earlier today, my colleague and friend, Subhankar Mondal, published
a piece
questioning which teams would survive the World Cup's true 'Group of Death'. At the onset of the tournament, that title had been given to Group G, but as time passed, it became increasingly apparent that Group D was indeed the tournament's toughest group.
In the opening round, eventual group winners Germany hammered Australia en route to a 4-0 victory. Ghana, initially considered the 'dark horses' of the group, shocked Serbia in their first match, taking a 1-0 victory after Asamoah Gyan converted a late winner from the penalty spot.
In light of their stunning victory and Ghana's surprise win over Serbia, it appeared that Jogi Loew's men were destined for an easy passage to the knockout rounds. Ghana, meanwhile, only needed to beat Australia in order to qualify for the second round.
Looks can be deceiving.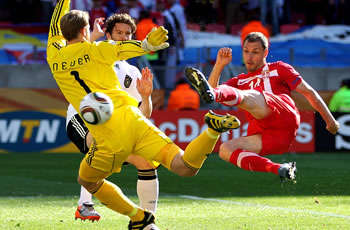 Turning point |
Milan Jovanovic turns Group D upside down
The second round of matches contained two surprises. Australia, who were dreadful in their opener, scored early against Ghana after a goalkeeping error. Ghana responded, however, and after Harry Kewell was sent off for handling the ball on the goal line, Gyan converted his second penalty of the tournament. Ghana had many chances to win, but ultimately were unable to do so, and settled for a point.
Germany, meanwhile, were unable to capitalize on their rivals' mistakes.
Die Mannschaft
struggled to break down a tough Serbian defense, and were dealt a hammer blow when Miroslav Klose was sent off late in the first half. The Serbs responded immediately, and Milan Jovanovic netted the only goal of the match. Germany had their chances early in the second half, but Lukas Podolski missed a few sitters as well as a penalty, and Serbia climbed back into contention for the knockout rounds.
Following the first two rounds, the title of Group of Death became justified. Heading into the final matchday, Ghana led the group with four points, and needed only a draw to ensure safe passage to the knockout rounds. Germany needed to equal Serbia's result, but with the White Eagles facing Australia, the Germans clearly felt that a win was necessary. Serbia, of course, needed to one-up Germany's result, and finally, Australia remained in contention to qualify if Germany were to drop points.
Before kick-off, odds were slightly in favor of Germany and Serbia advancing, but if previous results were an indicator, anything was possible. In Johannesburg, Germany openly attacked, but struggled to break a well organized Ghana defense. While Mesut Oezil spurned a one-on-one opportunity in the first half, Ghana arguably had the better chances before the interval, but Andre Ayew's header was cleared off the goal line, and several other chances could not quite produce a goal.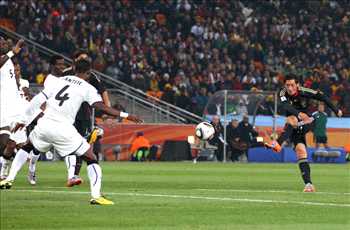 Traumtor |
Mesut Oezil sends Germany atop Group D
At the half, both Germany and Ghana were set to advance, although a Serbia goal could have changed things very quickly. A quarter hour into the second half, Oezil struck to put Germany ahead, leaving Ghana in very dangerous waters. If Serbia were to go ahead of Australia, the Black Stars would need a goal of their own (or an equalizer from Australia) in order to advance.
In Nelspruit, Australia took the lead through Tim Cahill, and Brett Holman added a second shortly thereafter. All of a sudden, the Aussies were just two goals away from taking second place, while Ghana and Germany seemed content with the result as it stood. Six minutes from full-time, Marko Pantelic pulled a goal back for Serbia, effectively ending Australia's hopes but also rekindling Serbia's chances of qualifying. Another strike from either Serbia or Germany would have put Raddy Antic's men through to the round of 16, but no such goal was scored.
In the end, Germany topped their group with six points, Ghana edged Australia by a goal difference of +3, and Serbia finished last, with three points. Until the final whistle in both games, however, Germany were just two goals away from finishing third, while Serbia were an equal distance from first. The Serbs' three surprising results provided drama for the group, which might turn out to be the most entertaining of the World Cup.
Australia and Serbia can go home tonight with heads held high. The Serbs may have come in last place, but they also beat the group winners. Australia, meanwhile, had a pair of harsh red cards affect their first two matches, but still came close to qualifying for the knockout rounds.
Germany and Ghana, meanwhile, can be proud to have advanced. The victory was important to restore Germany's confidence ahead of their round of 16 showdown with England. For Ghana, the loss in their final match may be disappointing, but as they prepare to face the United States, the Africans have to favor their chances of advancing to the quarter-finals.
The 2010 World Cup is finally upon us, so keep up to date with all the news at Goal.com's World Cup homepage and join Goal.com USA's Facebook fan page!