For an hour and a half, the Americans, needing a win to advance into the knockout phase of the 2010 World Cup, couldn't beat Desert Fox goalkeeper Rais M'Bolhi despite numerous chances. They hit his hands, his face, the post but not the back of the net.


Then, the team's all-time leading scorer -- who arrived in South Africa intent on making up for what he felt was a poor performance nearly half a decade ago in Germany -- came to the rescue. The midfielder put a rebound past the netminder, sending his side into the second round and his countrymen into rapture.

For the Los Angeles Galaxy star, Wednesday's result was also a personal triumph.


"I've been through a lot in the last four years, and I'm so glad it culminated in this way. It makes me believe in good in the world," Donovan said while fighting back tears in a press conference after the match. "When you try to do things the right way, it's good to see them get reward."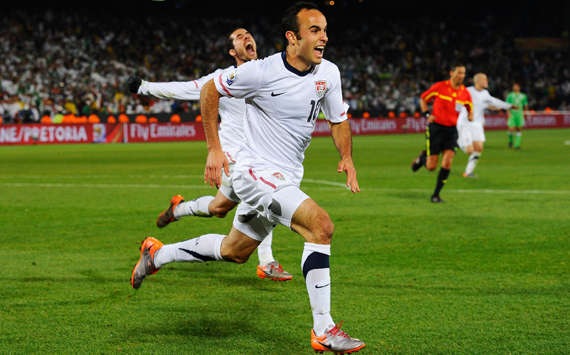 The mercurial talent demonstrated his shocking ability during the 2002 tournament, but faltered with the eyes of the world on him four years later. Although he has enjoyed success in Major League Soccer and flew up the American scoring ranks, the Californian's failure to move across the Pond had some questioning his talent and desire, while he suffered setbacks in his private life as well.



"The lowest points, there were two, really," he said. "Soccer-related it was after the 2006 World Cup. Personally, in July of last year, but those experiences can harden you and can help you grow if you lean from them and if you look at them the right way. I've spent a lot of time and I've done a lot of work to get something out of those experiences and I think it kind of all came together tonight."



His manager, Bob Bradley, noted the development of the best field player America has ever produced.



"Without a doubt, Landon has grown in so many different ways," Bradley said after the match. "From the soccer end, he mentioned the low after the World Cup in 2006 but there was also the challenge of him taking a bigger role, of being more responsible of a leader. I think these challenges came at a good time for him and he's never shied away from challenges."



"There's a special feeling where you play on a team when you know people are really counting on you," he continued. "Your character, your personality is the core of how that team does. Some players play their whole careers and never experience that. When you have that, it takes time to get a feel for what that's all about. But over the years, both on and off the field, I think he's grown and matured and accepted these kinds of challenges."



In the past, perhaps soccer came too easily to Donovan. He was always good and didn't appreciate his true ability. On a night when Americans from Pretoria to Pittsburgh celebrated in the streets, that storyline reached its conclusion. In its place popped up one staring a young man who understands how sport can transcend and his role in the proceedings.



"I used to see this game we play as just a game. I think I've realized, particularly during this tournament, that it's more than that; it's an opportunity to inspire. Not only inspire other people, but inspire yourself, your teammates, to be inspired," he said. "I think tonight is going to do a lot more for me and other people than maybe we realize."



America has at least three more days to be inspired, in large part due to Donovan.



Noah Davis (@noahedavis) covers the United States Men's National Team for Goal.com and is reporting from the World Cup in South Africa.


PRETORIA, South Africa -- Four years of frustration exploded from Landon Donovan's right foot in the 91rd minute of the United States Men's National Team's 1-0 victory against Algeria in Loftus Verstad Stadium.