With three points each, Thursday's fixture between the Danish Dynamite and the Blue Samurai is already like a knockout affair.
Kick Off: Thursday, June 24, 2010. 20:30 CET
Royal Bafokeng Stadium, Rustenburg
Blow A Hole In Japan
Denmark's road in South Africa has been somewhat rocky early on, yet Morten Olsen's side still have a very real chance of qualifying for the knockout stages. To progress to the round of 16 and maintain their record of never having been eliminated from the group stages, the Danes must simply defeat Japan.
After an opening match loss to the Netherlands, in which Olsen's side sat back for the majority of the encounter and simply hoped to spring on the counterattack, Denmark's campaign seemed to be heading into oblivion when a defensive slip presented Cameroon's Samuel Eto'o with an easy chance to put the Africans 1-0 up in their second game. Showing creditable resolve, the Danish Dynamite fought back to claim a 2-1 win thanks to Nicklas Bendtner and Dennis Rommedahl.
"Japan is a good team and very defensive, but I believe in the strength we have," Bendtner told the press ahead of Thursday's fixture. "We know we have to score. But if we can hold the ball up and use the height we have in attack then I believe that could break any defense down."
There has only been one previous precedent between these two countries, and on that occasion the Danish proved to be the stronger unit, running out 3-2 victors. Given the circumstances, it would be something of a surprise to see such a high scoring affair in Rustenburg, where the stakes are high for both sides.

Wanting Ten Goals
Japan coach Takeshi Okada was under intense pressure coming into the World Cup. His side had struggled badly for form in the lead-up to the competition, and the fanatical supporters of the Blue Samurai, normally so resolutely behind their side, had even taken to booing their national team.
Okada, however, is only a draw away from taking his troops into the last 16. Playing a gritty, defensive brand of football that is high on organization and discipline but low on flair and excitement, the Asians pinched a 1-0 victory over Cameroon to open their campaign. A similar performance against the Netherlands quickly followed, but the Dutch had the class to claim a narrow win. Goal difference dictates that the Japanese have the upper hand on the Danes ahead of this crucial encounter.
"I think it will be a very big match for both sides," Okada told the
AFP
. "To win such a big match, I think in a sense we need something beyond the team's tactics.
"It would be ideal if we can overwhelm the opposition by ten goals. But it won't be that easy. I think it's going to be a very close, fierce match."
Just as Bendtner pointed to set-plays as a key battleground, Okada did the same, noting his side's disadvantage in terms of height from free kicks and corners around the penalty box. If the Japanese can nullify this threat from their opponents, Okada believes they have a chance.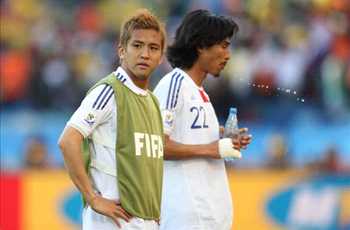 FORM GUIDE

Denmark
WON 2-1 (n) Cameroon (World Cup, June 19)
LOST 2-0 (n) Netherlands (World Cup, June 14)
LOST 1-0 (a) South Africa (Friendly, June 5)
LOST 1-0 (n) Australia (Friendly, June 1)
WON 2-0 (h) Senegal (Friendly, May 27)

Japan
LOST 1-0 (n) Netherlands (World Cup, June 19)
WON 1-0 (n) Cameroon (World Cup, June 14)
LOST 2-0 (n) Cote d'Ivoire (Friendly, June 4)
LOST 2-1 (n) England (Friendly, May 30)
LOST 2-0 (h) South Korea (Kirin Cup, May 24)
TEAM NEWS

Denmark

There have been no reports of fresh injury worries in the Danish camp, though Simon Kjaer picked up his second yellow card of the competition last time out and is therefore suspended.
Martin Jorgensen finds his place under pressure after a poor showing against the Cameroon, while Morten Olsen will want to see the defense far tighter than it was against the African outfit.

Probable Starting XI:
Sorensen; Jacobsen, Kroldrup, Agger, S. Poulsen; Jorgensen, Gronkjaer, C. Poulsen; Rommedahl, Bendtner, Tomasson
Japan
Takeshi Okada should be able to select from the same pool of players that took to the field against the Netherlands. After giving a good account of themselves in that fixture, it would be a surprise if there were to be any massive chances to the side, particularly since the goal in this game will also be to keep a clean sheet.

Probable Starting XI:
Kawashima; Komano, Nakazawa, Tulio, Nagatomo; Matsui, Abe, Hasebe, Endo, Okubo; Honda
PLAYERS TO WATCH

Denmark

Dennis Rommedahl
may be advancing in years, but he showed against Cameroon last week that he is not losing any of his effectiveness. Still contracted to Ajax, the winger struck the vital winning goal for the Danes against the Africans, and a repeat performance will lift him into the realms of national hero.
Japan

Tulio
's role in the heart of the Blue Samurai defense will be crucial. Born in Brazil but a naturalised Japanese citizen, his ability from set pieces with be severely put to the test. At 6ft 1in, he is one of the taller members of Takeshi Okada's unit, so there will be a massive onus to get his marking right from dead-ball situations. If he is solid at the back, he can also attack such situations with confidence as he has a commendable scoring record for a centre-back. He recently scored at both ends against England.

PREDICTION
Japan have looked a resilient team in recent times, but rarely have they looked particularly exciting. They don't need to be anything more than resolute on Thursday evening, and after showing great determination against Cameroon and the Netherlands, it's not beyond the realms of possibility that they can hold out. The Castrol World Cup Match Predictor suggests this will be a tight game, with the Danes given a 43 per cent chance of winning.

Denmark 1-0 JapanThe 2010 World Cup is finally here, so keep up to date with all the news at Goal.com's World Cup homepage and join Goal.com USA's Facebook fan page!