The Monday morning buzz amongst the Twitteratti pointed to one smart bet for the early game between
Portugal
and
North Korea
. It had to be goalless -
Carlos Queiroz
's side looked toothless in their opener against the
Ivory Coast
, while Group G's underdogs had tested
Brazil
, and were coming to
Cape Town
to 'park the bus', by common consensus. So Portugal announcing their arrival as a force in
World Cup 2010
is a pleasant surprise, unless you're North Korean.
If you were looking for a match to illustrate the value of confidence, then here it was. While the strut visibly drained from Portugal's stride after a bright start against the Ivorians, they surmounted a tricky opening spell to impose themselves in the best possible style. Jeong Hoon Kim's side - perhaps buoyed by their excellent showing against the Brazilians - arrived at the Green Point Stadium full of bravado, and Cha Jong-Hyok's raking shot from distance in the 11th minute had Eduardo worried before the Braga goalkeeper had to bat away a strike by Hong Yong-Jo shortly afterward.
But Portugal took control, and when they did, it was thanks to their midfield, which had been so overwhelmed by Sven-Goran Eriksson's Ivory Coast as the first match wore on. Raul Meireles scored the first approaching the half-hour, but if his late runs into the box were a feature of his side's early efforts, it was the slide-rule pass of Tiago to play him in which caught the eye.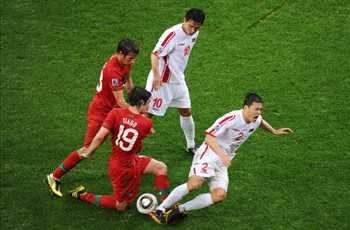 Tiago had not been a universally-popular choice - this correspondent, for example, would have preferred the more adventurous Danny to be used in his favoured central position having struggled out wide against the Ivorians. But his quick and accurate movement of the ball was crucial to a Portuguese rhythm that had been badly stymied in their tournament debut. He richly deserved the brace scored as the Koreans tired in the second period.
The 29-year-old is a Steady Eddie, often going unnoticed since his international debut against Scotland in a friendly at his hometown club Braga almost eight years ago. At Chelsea he was widely viewed as a fringe player, despite appearing in over 50 games in his sole season at Stamford Bridge (2004-05), when the Blues won their first title in half a century. Jose Mourinho later described selling Tiago to Lyon as the "biggest regret" of his Chelsea career.
The midfielder who brought order to Atletico Madrid's flaky midfield in the second half of last season is now doing the same job for his country. Deco has been a fine servant to Portugal, but Carlos Queiroz would be a fool to bring him back now, with the side finally moving with the style and grace that many doubted they could. It's time for Tiago to take center stage - it's crucial to Portugal's future in this tournament.