Italy flopped once more at the World Cup today against New Zealand in Nelspruit, stumbling to a second consecutive 1-1 draw in Group F. But while the blindingly obvious lack of creativity came back to bite Marcello Lippi yet again, he also has huge questions to answer in terms of his side's ability to defend as a team.
The main problem with the Azzurri's performance today is absolutely nothing new. Yet again they had plenty of the ball, and yet again they wasted most of it. Only through a soft penalty concession by All Whites youngster Tommy Smith did Italy break down the inferior opposition put in front of them, as their lack of flair and creativity once more showed them up on the big stage.
Not since Alberto Gilardino's hat-trick pulled them out of the fire in the final 12 minutes against Cyprus in Parma last October have la Nazionale been able to register more than a single goal. And that stat will come as no surprise to anybody who has had to sit through a single one of their seven clueless international showings since then. The main problem now is that Lippi is no position to fix this particular problem, having had a quartet of players among the most creative in world football to choose from and decided to send every one of them on an earlier holiday instead.

But one further issue – as if such impotence were not problem enough – has reared its ugly head over the past week in South Africa, and outsiders would regard it as the least Italian of issues. Because for the second game running Italy's normally sturdy back four were breached with far too much ease from a set piece.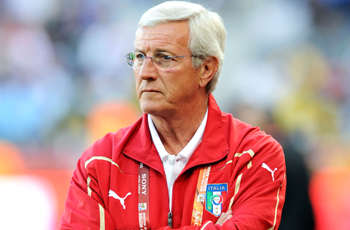 Marcello Lippi ¦ At fault for lack of options
Let me qualify this particular argument first. Yes, there may have been a push on Gilardino by Winston Reid. And yes, Shane Smeltz was quite clearly in an offside position when Reid flicked on. But what on earth was Fabio Cannavaro thinking as he so clearly took his eyes off the ball as it arrived at him? His slip allowed Smeltz to fire New Zealand ahead and accentuated the continued decline of the once great center-half, who will bolster only his bank balance and not his reputation once this tournament is over. He was once again culpable as substitute Chris Wood almost fired home a winner late on, having again turned away from the ball.
Last Monday's soft set-piece concession was far too similar, too. Cannavaro took his eyes off the ball and failed to leave the ground ahead of Antolin Alcaraz, who had lost Daniele De Rossi completely as Paraguay got their noses in front.

While Cannavaro and De Rossi have not been the only ones to blame, the fact that two of the Azzurri's most experienced and reliable members have fallen foul to these errors brings questions to the mind. As does their general shakiness when opponents have sent crosses in or run at the backline over the first two games and the friendly matches with Mexico and Switzerland in the weeks leading up to their departure for South Africa.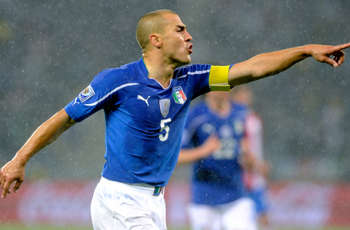 Fabio Cannavaro ¦ a hero in decline

With the now vital fixture against Slovakia only four days away, Marcello Lippi will not only have to ponder how to change things up front. He'll also have to get the team back to good old set-piece training if Italy are going to get out of this group, and out of the mess they've now left themselves in.
The 2010 World Cup is finally here, so keep up to date with all the news at Goal.com's World Cup homepage and join Goal.com USA's Facebook fan page!