The chance has come for Marchetti to make Italy's No. 12 shirt his own for some time. But in a World Cup which hasn't been kind on goalkeepers, are the Azzurri's hopes being placed in good hands?
The gushing messages of confidence and praise have been flooding in for Federico Marchetti over the past six days as the Cagliari man gets set to start his first major tournament match. But in a World Cup which has already shown up many a goalkeeper, a real make-or-break period for Marchetti's reputation – and indeed his career – begins this afternoon when Italy take on New Zealand in Nelspruit.
Stepping up from an Isolani side who conceded 48 goals in the 27-year-old's 33 games on duty this season, he finds himself suddenly having the chance of a first real run as the Azzurri No. 1. And it just so happens that it comes on the biggest stage of all.
But does he have the quality to fight the injured Gianluigi Buffon for the shirt over a longer period of time? Or is he the next Marco Amelia, who claimed nine international caps before being shown up as a poor technical decision-maker... coincidentally enough against New Zealand... in South Africa!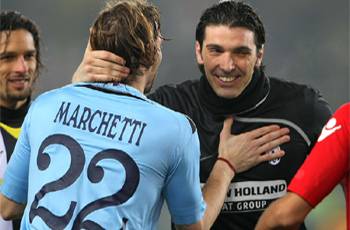 Marchetti clearly is an excellent shot-stopper, having made some headline-grabbing stops at times for the Sardinian outfit since arriving from Albinoleffe in 2008. But there is more to goalkeeping then show-stopping saves.
Goalkeepers make mistakes, that's a fact of life. And I'm not just talking about Faouzi Chaouchi and Rob Green when I say that. Lapses of concentration are not the telltale sign of a good or bad shot-stopper. It's their all-round game, including their anticipation, positioning, and organisational abilites which help to make a good goalkeeper great, just as much as keeping the ball out of the net.

Marchetti's Marks
| | |
| --- | --- |
| 88 | The number of goals conceded by Marchetti in 68 league games since his switch from Albinoleffe two years ago. |
| 1.45 | His average goals-per-game conceded in Serie A in 2009-10. |
| 56 | The number of games missed by Gianluigi Buffon in the last five league seasons. |
| 52 | The number of Italy games Buffon has missed since his Azzurri debut in 1997. |
| 3 | The number of goals conceded by Federico Marchetti in his six international appearances. |
| 165 | The number of minutes per goal conceded by Marchetti for the Azzurri. |
| | |
Form
If there are areas of concern over the ability of Marchetti, then they are within the former group of qualities. His positioning and decision-making has often left him exposed throughout the last season, and this was never more evident than in Cagliari's 4-3 defeat to Milan at San Siro. That afternoon he conceded two goals when caught out of position (albeit one of them, for Alexandre Pato, would have been hard to stop anyway) and another came when he misjudged a flick on and palmed straight into the centre of the goalmouth.
The Azzurri's Alternative No. 1s...
Morgan De Sanctis
(Napoli)
Key strength: Organisation


Salvatore Sirigu (Palermo)
Key strength: Positioning

Emiliano Viviano
(Bologna)
Key strength: Handling






Luca Castellazzi
(Inter)
Key strength:
Anticipation

Competition
Whilst he will have a better backline in front of him playing for the Azzurri than he has had at club level (theoretically at least), a goalkeeper can often take responsibility for a good, organised defence too. This is no more evident than in the shape of Marchetti's competition for the understudy spot. Morgan De Sanctis and Salvatore Sirigu have both done superbly well in forming decent defensive records despite – particularly in the case of De Sanctis at Napoli – having a relatively poor man-for-man backline in front of him.
Future
With a new international coach in Cesare Prandelli to impress too, this afternoon's game will not just be Marchetti's chance to help Italy to three vital World Cup points. This is also his opportunity to put some real daylight between him and the competition as Italy's second-choice keeper. And with Buffon unlikely to be fully fit for a number of months once he's undergone surgery, it is imperative that the right man is found to wear the Azzurri No.1 in the great man's absence.
The 2010 World Cup is finally upon us, so keep up to date with all the news at Goal.com's World Cup homepage and join Goal.com USA's Facebook fan page!