After emphatically winning their World Cup opener against Australia, Germany lined up exactly as they had in their previous encounter. Miroslav Klose, who was on target in that match, retained his starting role in attack, supported by Mesut Ozil, Thomas Mueller, and Lukas Podolski.
The opening round was less pleasant for Serbia, who lost 1-0 to Ghana. Radomir Antic made three changes to his previous starting lineup: in central defense, Neven Subotic replaced the suspended Aleksandar Lukovic; in holding midfield, Zdravko Kuzmanovic started ahead of Nenad Milijas; and Milos Ninkovic started on the right wing in place of previous striker Marko Pantelic. Nikola Zigic started alone up front in a 4-5-1 formation.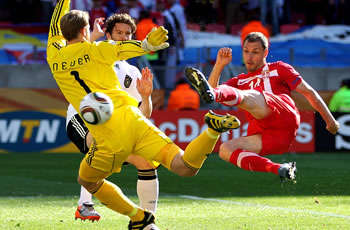 From the opening kickoff, Serbia played a high-intensity, tight marking system that afforded the Germans very little time on the ball, forcing hurried passing. To their credit, the Serbs started off well moving forward, although Zigic appeared isolated in the penalty box.
After a cagey start, the Germans found their passing rhyth, and Lukas Podolski nearly punctuated a good attacking sequence with a thundrous volley after Nemanja Vidic cleared Philipp Lahm's cross. The German winger sliced his shot just a hair wide of the left post.
The Serbs responded just moments later as the impressive Milos Krasic crossed to Ninkovic, who had a free volley at the ede of the 18-yard box, but missed over the bar.
Opportunities on goal came at a real premium from both sides. Ozil and Mueller, who were brilliant against Australia, were stymied by Kuzmanovic and Kolarov. Meanwhile, Krasic looked bright for Serbia, but his indirect style, coupled with the isolation of Zigic, resulted in the Serbs ultimately creating very little in terms of goal scoring.
If the game needed a goal, referee Alberto Undiano Mallenco appeared ready to have his part in forcing one. The Spanish referee was very unforgiving in the opening minutes, issuing four bookings within the opening 22 minutes.
It took half an hour for Germany to put the ball into the net, but as he struck, Klose was flagged offside. Bastian Schweinsteiger was just a moment late in his delivery as his Bayern Munich teammate began his run.
Two minutes later, Krasic stormed towards the penalty area before being upended by Lahm, who may have prevented a goal at the expense of yet another booking which was probably the first foul truly worthy of a yellow card.
The referee's liberal interpretation of the rules for carding was always going to have its effect on the match, and surely enough, it took just 37 minutes for Klose to be sent off. Chasing Dejan Stankovic in his attacking half, the veteran striker was sent off after committing a foul.
It took just seconds for Serbia to capitalize on their numerical advantage. After Krasic beat Holger Badstuber to the right byline and crossed, Zigic headed down for Milan Jovanovic, who struck home from close range to put the Serbs ahead.
Germany had a chance to respond just before the break, but were ultimately denied. After a corner was mis-cleared, Sami Khedira's volley struck the underside of the crossbar, and Mueller's overhead volley was cleared off the line.
Serbia entered the break in full control of their destiny, though somewhat rattled after nearly conceding the equalizer. Germany, on the other hand, entered the locker room with their work cut out for them.
At the start of the second half, the two sides took to the pitch unchanged. Podolski made clear his intent by flashing a shot wide of the right post. The Koeln striker, and Germany as a whole, came out much better after the break, with Ozil finally probing the Serbian defense with his trademark through balls.
For all their good attacking movement, the Germans lacked venom in front of goal. That reality was accentuated in the 60th minute, after Germany finally caught a break. Like Kuzmanovic in the previous match, Vidic was penalized for taking a cross down off his outstretched arm. Podolski stepped up to take the penalty kick, but Vladimir Stojkovic guessed correctly, and saved to his left.
The penalty miss seemed to take the steam out of Germany's sails, and also forced Loew to push his team forward. The Serbs had an excellent chance to put the game away in the 67th minute, when Krasic first beat Badstuber before setting up Jovanovic, whose shot struck the left post.
As full time approached, the Germans threw in the kitchen sink, replacing Ozil, Mueller, and Badstuber with Cacau, Marko Marin, and Mario Gomez. Serbia were well organized in defense, leaving their opponents with very little space to use, and absolutely no chance to counterattack.
Instead, Serbia had the better chances to score next. First, Krasic set up Zigic to head off the top of the post, then substitute Gojko Kacar volleyed over the bar after Zigic teed him up.
The result of today's match leaves Germany and Serbia tied on points in Group D with three apiece. Germany are slightly ahead, with a +3 goal differential, while Serbia are at 0 after winning and losing 1-0 in their first two matches. Depending on the result of today's match between Ghana and Australia, we may be set to see a thrilling conclusion to Group D. As the results stand, Germany and Serbia both need to win their respective matches to have a chance of winning their group.
The 2010 World Cup is finally upon us, so keep up to date with all the news at Goal.com's World Cup homepage and join Goal.com USA's Facebook fan page!