Dunga's Brazil beat DPR Korea and sit atop Group G with a two-point cushion but the man himself has not appeased the critics. Not by a long way. Robinho aside, the five-time champions displayed little guile and often looked bereft of ideas in the final third; Luis Fabiano floundered as the point of their attacking shape, Kaka raised eyebrows rather than the people from their seats.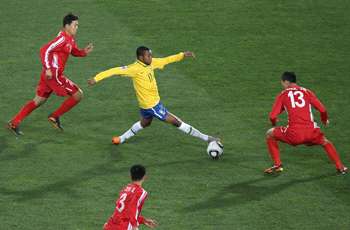 Robinho| Brazil's only true samba star at 2010
For a team comfortable enough to leave the peerless Ronaldinho out of the squad this bordered on the unconvincing. Not only did the South Americans play in their now customary methodical manner but they did not even manage to keep a clean sheet. Was that not part of the bargain? Trade in flair and you expect solidity.
Dunga's pragmatism does not adjust for letting rip on 'lesser' opponents and as such Brazil can sometimes struggle to beat teams who place emphasis on keeping goals out rather than scoring them. That is what transpired when they met the resistance of Kim Jong Hun's expertly drilled side.
The Koreans executed a systematic game-plan of containment, frustration and counter-attacking that seemed to serve as a blueprint of that which Dunga ultimately would like his own team to emulate. Ahn Yong Hak prowled the area in front of his back-five, who defended rigidly and effectively. Pak Nam Chol was as comfortable winning the ball as he was on it. Hong Yong-Jo, as the linker, showed shades of Jari Litmanen with his clever, efficient usage of the ball.
The Asians were the equal of Brazil for long spells and demonstrated that they are deserving of their spot in the competition and that they should be now spared the twee patronization that has come from the world's media alongside their participation.
That Ri Myong Guk left his line around the hour mark to allow Maicon to bend a ball inside his near post permitted Dunga to finally breathe freely. Elano guided a second past the goalkeeper; the pass was delivered by Robinho with
elan
. They thought they were home and dry. Would it be three? four? six? Not on your life.
The team in yellow were not permitted to ease up. The Selecao had to work assiduously for 85-odd minutes and were punished for their lack of attention in the closing stages.
Jong Tae Se, whose heart poured out during the Korean national anthem, showed his industry, strength and ability all evening and sufficiently occupied two of Europe's best central defenders. His declaration that he would score in every game of the competition is now redundant but his claims of a move to Europe are only enhanced. It was he who aimed a flick-on to Ji Yun Nam, the left-back who etched his name into DPR Korean folklore with a well taken goal.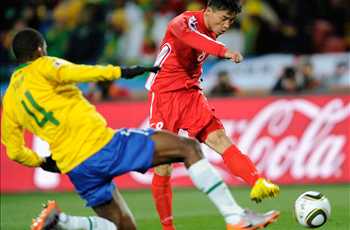 Well Deserved| North Korea's Late Goal From Ji Yun Nam
This game will have provided Carlos Queiroz and Sven Goran Eriksson with plenty of food for thought following Portugal's dour draw with Cote d'Ivoire in the afternoon. Both of those teams, who came into the tournament expecting to qualify easily ahead of the Asian representatives, looked short of goalscoring prowess and may come unstuck against the regimented Koreans. Certainly the consequences of an upset are all the more stark after Tuesday's results. Brazil will be fancy their chances of four or six points, North Korea might too.
The highest ranked team in the tournament jostled with the lowest ranked but it was difficult to ascertain, at times, just why 100-odd place separated these two countries in FIFA's list.
Brazil will more than likely qualify for the closing stages of the World Cup but they will not please the aesthetes like previous years. North Korea are now everyone's second favorite.
The 2010 World Cup is finally here, so keep up to date with all the news at Goal.com's World Cup homepage and join Goal.com USA's Facebook fan page!