A draw will do, barely.
All the excitement and momentum gained from a 1-1 draw with England will go to naught if the United States doesn't capitalize in the second group stage match, USA coach Bob Bradley knows.
The United States currently has one point from one game. Traditionally, five points proves enough to qualify for the knockout rounds; the U.S. scraped by with only four in 2002.
While Bradley admits that the match against Slovenia isn't a must-win, anything less than a draw would make progressing out of Group C very unlikely.
"It's a game that is close to a must win, but it's 100 percent a game that you can't lose," Bradley told SIRIUS XM program "The Football Show." "So we have a great opportunity to secure our place in the next round with a win. A tie sort of just keeps things on hold. And a loss really takes away almost any chance. So, oftentimes game two in that first round is so important and I think that is absolutely the case this time around."
After the plucky draw with England, as well as the recent success in the 2009 Confederations Cup, the Americans enter the Slovenia match as favorites. Still, the former Chicago Fire tactician refuses to take the Slovenes for granted.
"Without a doubt Slovenia is a well organized team. They play very, very solid defensively," Bradley said. "I think anybody who saw the playoff series with Russia would know that and so we have respect for them and we know that a lot is at stake so we'll do everything we can to be ready to go."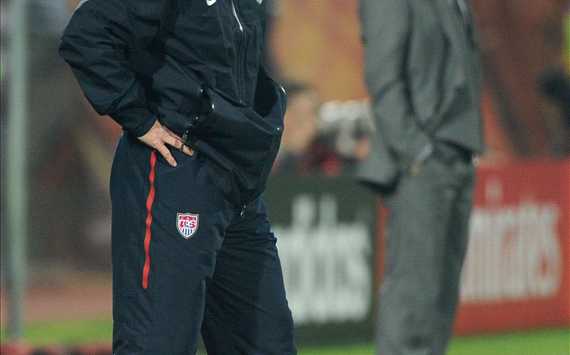 Slovenia won its opening match 1-0 over Algeria, which the U.S. will face in the third round of matches. In both upcoming matches, Bradley knows he can only do so much to prepare his squad before the players have to go out onto the pitch and perform on their own. He credits the resiliency of the American team for rebounding from an early Steven Gerrard goal against England.
"I think the real credit goes to the players," Bradley said "Certainly, we didn't have the start we wanted. It's a disappointing start but I thought that the response was very good. We got back into the game, felt that we were able to start to pass the ball better, move better. You know, any time you play England it's going to be really a hard fought game for 90 minutes and I think it was a good, solid team effort, and you come out with a point in the first game and that's important."
Visit the U.S. national team page on Goal.com for more and join Goal.com USA's Facebook fan page!