Barca powerhouse is still waiting for the right opportunity to come along.
They say the
World Cup
is every footballer's perfect shop window, so if
Yaya Toure
needed any further motivation going into the
Ivory Coast'
s opener against
Portugal
in
Port Elizabeth
- which he shouldn't - he has it right there.
What Toure's second World Cup bow could hint at is just why he hasn't yet become the subject of an international bidding frenzy, with the Premier League's big guns poised but not yet pouncing, though there are a number of other factors to consider.
Arsenal have been a longtime link, with recent renewed speculation casting him as a makeweight in any deal for Cesc Fabregas. This would appear to be a decent deal for the Gunners, who need an imposing central midfielder as much as they have at any point since the 2006 departure of Patrick Vieira.
Chelsea have been strongly mooted too. His physicality is perfect for the Chelsea profile, and last season's injuries to John Obi Mikel showed how thin the Blues are in that area. Perhaps they are even a better fit for Yaya, more closely corresponding to his trophy-challenging expectations after three years at the Camp Nou than Arsene Wenger's men.
Briefly ignoring any financial issues, he could add steel to Manchester United or be a fine Javier Mascherano replacement should the Argentina international depart Liverpool.
His suitability for England seems in little doubt. His emergence onto the European scene as a genuine prospect coincided with his 2005 move to Olympiacos - his fame before then was limited to a series of glowing "my little brother" references from older sibling Kolo, himself already firmly ensconced in the Premier League with Arsenal.
The family connection made us take our eye off his future career map. Having already taken the well-worn Ivorian route into Europe via Belgian feeder club Beveren, the widely-held assumption was that it was a mere matter of time before he made his way north to join Kolo.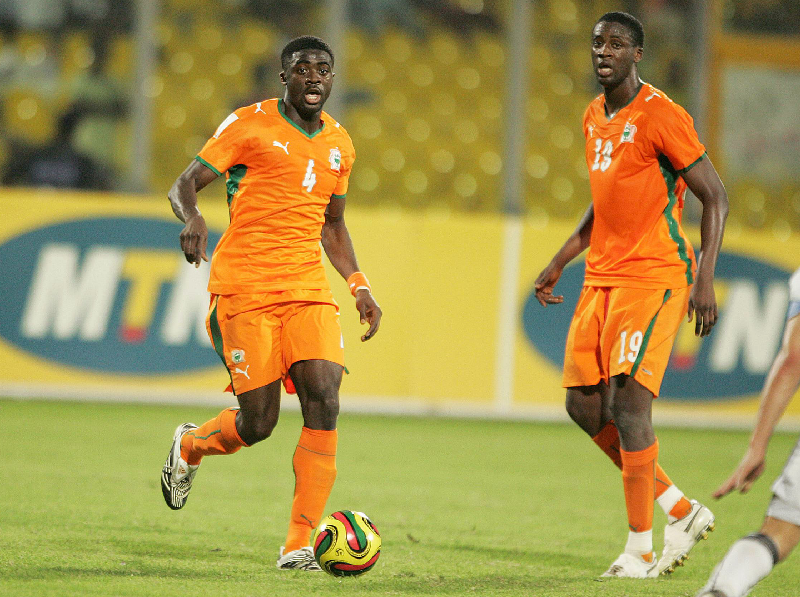 Big brother | Kolo, left, has shone in the Premier League - can Yaya follow suit?
Yaya ticks all the 'Made For England' boxes. Standing at an imposing 6ft 3in, his strength and his authoritative manner of eating up midfield metres meant Kolo was hardly visionary in hailing him as the 'new Vieira'. His habit of surging from box-to-box drew uncanny parallels with La Girafe's early days at Highbury.
There is little doubt that Wenger has missed a trick somewhere along the line, with Toure the younger going through three different European clubs since leaving Beveren before ending up at Barcelona shortly after his 24th birthday. Maybe his assumption was the same as that of many onlookers - that it was written, and all the factors making Arsenal seem like Yaya's destiny meant he didn't have to go the extra mile to convince him.
Yaya has hardly taken the most linear route to his current profile, it must be said. His 2003 move to Metalurg Donetsk was quite a shock - although he fitted in well enough to still speak fluent Russian today - at a moment when he should have perhaps looked to stay and develop in western Europe.
It was in Ukraine that he picked up his agent, Dimitri Seluk. Seluk first presided over another surprise move, to Olympiakos in 2005, then fell out spectacularly with the Greeks, who denounced him as a non-registerered agent and refused to deal with him further. Yaya moved to Monaco shortly after amid some acrimony.
Yaya's footballing progression, particularly during his year in Ligue 1, that haven of tough African central midfielders, also propelled him beyond Arsenal's reach. While at Monaco he showed he was more than a mere Vieira clone, combining power with near-flawless technique which allowed him to grow into a prompter's role. He also scored a series of fine goals in the Principality, none more so than December 2006's strike after a mesmerising slalom against Sochaux.
More recently money has fudged the issue again - and more accurately. Manchester City. The sniff of nouveau riche interest detected by his Catalan employers sent Yaya's reported price rocketing to a whopping £24m; reflective of his talent, some may argue, but hardly reasonable for a player who started just 18 games for the Spanish champions last season; and some of those when pressed into service as an emergency centre-back.
This is the quandary for Yaya Toure - arguably not good enough for Barcelona's awesome first XI, but too good to be a Premier League bargain signing. With the World Cup's habit of inflating transfer values, a fine tournament for the Ivory Coast - and the little brother - threatens to make his future even less clear than before.
The 2010 World Cup is finally upon us, so keep up to date with all the news at Goal.com's World Cup homepage and join Goal.com USA's Facebook fan page!