Thoughts on the U.S.-England?
How long have you got? [Laughs]
Thirty seconds?
From an English point of view, it was disappointing. I think we'll both go through. I don't think it was ever a question of that game deciding who goes through to the knockout phase and probably we may both look back and think a draw was a good result, but when you go in front that early -- it was the earliest goal of the competition at that time -- we were totally in control for the first 20 minutes, all the English fans would have expected us to go on and get a superiority in terms of the scoreline. Typical England, really. If you look back over history, we always start with a draw. Even when we won it in 1966, we drew with Uruguay. In 1990 when we got to the semis, we drew with Ireland in the first game. It's nothing unusual.
After the initial disappointment, you sit back and analyze it and you think we've got a key player returning from injury, which is Gareth Barry. That will completely change the way we play in midfield for the next game. I still feel very confident.
So there's still hope?
Of course there's still hope. We can still win it. I have no doubt about that.
Who would you start in goal?
That's a really tough question. It didn't surprise me that [Fabio Capello] played [Robert] Green because Green played through most of the qualifiers, and he did a really good job. Don't forget we won all but one of our qualifiers. It's not like he's a rookie who's come in and didn't know what he's doing. Obviously, he's never played in a major tournament before.
My feeling is that [Fabio] Capello may stick with him. He's the boss; he's shown in the past that he'll go at it his way. The players know he's a disciplinarian and you don't mess with Capello. Journalists have found that out. He may well stick with Green.
A lot depends on David James and his slight hand injury. If he's fit, maybe he'll come back in, but you then wonder what that would do for Green and the rest of his international career. His confidence would be shot to pieces. It's a very difficult decision, which is why Capello is paid $9 million to make it.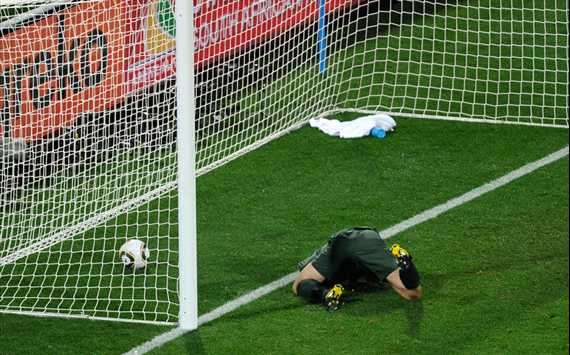 Do you think England has faith in Green?
Yes, I think so. The players would have liked to know more than two hours before kickoff who was going to be in goal. That's Capello's way, but I think the goalkeeper's a different situation. I think the defenders would have liked to know all week who was going to be in goal. I think the players would want David James in goal because he's the most experienced. He's the loudest. Getting yourself heard above these horns is a challenge and Rob Green's a very softly spoken guy. Yes, he is quite commanding, but he doesn't have that vocal presence.
I think Capello ideally would like to play Joe Hart because he's the best goalkeeper, but he's very young. He doesn't have any caps. He's 21. So he's gone for the halfway house option, which was Rob Green.
I think the players are behind him. They've all made big mistakes in big matches. John Terry, he's made some pretty big clangers for club and country and there was no criticism from him. Whatever was said in the dressing room, I don't know but we're told he went in and apologized. It's over. England has got to look forward now.
(See part 1
here
.)
Noah Davis (@noahedavis) covers the United States Men's National Team for Goal.com and is reporting from the World Cup in South Africa.
The 2010 World Cup is finally here, so keep up to date with all the news at Goal.com's World Cup homepage and join Goal.com USA's Facebook fan page!