ITALY
ITALY
Buffon: 6 – Could do little about Alcaraz's goal after shambolic defending by his colleagues. That apart he was fairly untroubled before being withdrawn at half-time due to a back injury.
Zambrotta: 6 – After his early mix-up with Cannavaro he whipped in one super cross just over the head of Gilardino. He remained more adept going forward than at the back, delivering balls fairly well with both feet.
Cannavaro: 5.5 – Looked like the Fabio Cannavaro of 2006 early on, but had one mix-up with Zambrotta and then failed to get off the ground as Alcaraz headed home. Thereafter he was unconvincing at best as Barrios caused him problems.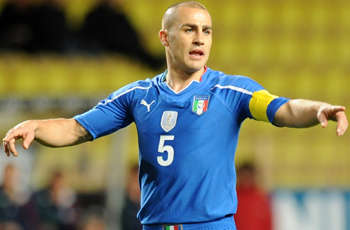 Chiellini: 6 – Very harshly penalized for the free-kick which led to Paraguay's opener. That apart he enjoyed a decent battle with Valdez, without ever really dominating the lively forward.
Criscito: 5.5 – Lacked the cool and calm of an experienced World Cup player, but showed signs to suggest that he might work his way into form over the tournament.
De Rossi: 6.5 – Tried to head blind as he was beaten in the air by Alcaraz when Paraguay took the lead. His midfield play was tidy, but it took his scuffed equalizer to really re-inject him with confidence and he suddenly began to look like the Daniele De Rossi who plays for Roma.
Montolivo: 5.5 – Did well to fashion a breakaway opportunity when he pressured Vera, but his rushed shot was weak. Gave Villar more to worry about with a stinging drive in the second half and looked competent on the ball, but really seemed set to be the difference-maker and had no presence defensively.
Marchisio: 5 – Looked busy enough on the ball, but his play often bore little fruit and he didn't have the required bite in the tackle. Replaced by Camoranesi on the hour.
Pepe: 7 – An all-action display on both wings. Caused all sorts of problems for Paraguay early on and then battled superbly when he switched to the left in the second half. His excellent flag-kick coaxed Villar into gifting De Rossi the equalizer.
Gilardino: 5 – Despite the 4-3-3 set-up, he was left to ply a lone role for the most part, often exposed by the lack of support from his team-mates. Saw more of the ball after the switch in formation at the break, but still couldn't forge a real goalscoring chance and was replaced by Di Natale.
Iaquinta: 5 – Looked lost at times as Italy lacked cohesion. Seemed to have a lack of understanding of his role as he often left Gilardino to fight the cause alone up front. Later moved to the center but had little more to shout about there.
Subs:
Marchetti: NA – Hardly tested after replacing the injured Buffon.
Camoranesi: 4.5 – A booking for a clumsy challenge and further dangerous tackles were the sum total of his contribution after being introduced.
Di Natale: NA
PARAGUAY
Villar: 5 – Hardly tested by an impotent Azzurri before charging out to Pepe's corner, gifting De Rossi the leveler. Got behind a couple of long-range shots after that, but still seemed nervy coming for the high ball.
Bonet: 6 – Found it fairly easy to cope in the first half as Italy had few ideas down his flank and when he got forward he looked useful. Not quite as comfortable in the second half as the Azzurri forced their way back into the game, but soon got wise to Pepe's one-footedness to quell his threat.
Da Silva: 7 – A couple of brave headers ended Italy moves in the first half. His distribution could have been better, but he'll be happy with having helped to keep Italy's forwards out of the game.
Alcaraz: 7 – Made a brave challenge under pressure from Zambrotta early on, then got up superbly above both Cannavaro and De Rossi to head the opener. Was just as commanding in his own box as he kept Italy's forwards quiet.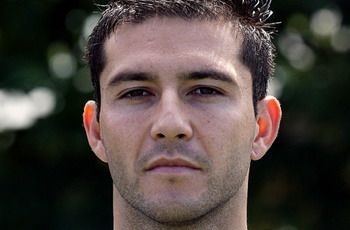 Morel: 6 – Was forced to make an acrobatic clearance early on to deny Pepe a sight of goal, but found it difficult against the wide man at times thereafter. Came good in the latter stages as Paraguay held on with a little to spare.
Vera: 6.5 – Made a huge gaffe when handing Montolivo possession on the break, but harried the midfielder reasonably well to stop his charge toward goal. He then more than made up for that error by swinging in an excellent free-kick for Alcaraz to head home. Could have put the Albirroja two up as he chimed into the frontline well at times.
Riveros: 6 – May consider himself lucky to have seen more than 30 seconds of action after his challenge on Montolivo in the opening gambit. Settled after his shaky start and was combative throughout.
V Caceres: 7 – Battled superbly in midfield throughout, but could easily have seen red for pole-axing Montolivo on the hour.
Torres: 5.5 – Totally outdone by Pepe early on and pinned back regularly by the Juventus man. When he did get forward he dragged a left foot shot wide when he should have made Buffon work. Settled into his role thereafter, but replaced on the hour.
Barrios: 6.5 – Led the line well, troubling Cannavaro regularly as Valdez's good work led to him seeing more of the ball.
Valdez: 7 – Took his time getting into the game, but was the man who started to unsettle Italy after his side's timid start. He more than occupied the capable Chiellini, setting the platform for Paraguay's victory. No surprise that they saw less of the ball after his withdrawal.
Subs:
Santana: 6 – Failed to really stamp an impression on the game after replacing Torres.
Santa Cruz: NA
Cardozo: NA
The 2010 World Cup is finally here, so keep up to date with all the news at Goal.com's World Cup homepage and join Goal.com USA's Facebook fan page!