France, even with a 'newly attacking' 4-3-3 formation, contrived to open their 2010 World Cup campaign with a stale scoreless draw against ten-man Uruguay.
For a period in the first half les Bleus seemed bright, but with little aid from the touchline, they were allowed to drift happily to a few-thrills stalemate against beatable opponents.
It's a story that's been played out by Raymond Domenech's France before, and it was a thoroughly predictable outcome.
In the friendly matches played prior to South Africa, les Bleus' worries had come about largely at the beginning of games, but having overcome that period without any real threat, the French set about exerting impotent pressure on the Celeste defence.
Had Sidney Govou found the net from close range when Franck Ribery laid the ball on a plate for him, the game may have been blown open, but having missed an early glaring chance, France contrived to play out the remaining 85 or so minutes without getting a sniff of Fernando Muslera's goal.
At least for periods in the opening 45 minutes there seemed to be some kind of purpose to the French play. Nicolas Anelka got his head to a couple of dangerous crosses and the movement of Govou – in the opening quarter, at least – looked dangerous coming in to supplement the center forward.
Abou Diaby was the real driving force, though, frequently gathering possession in the heart of the midfield before striding forward a la Patrick Vieira, distributing the ball intelligently or mustering a shot at goal of his own. The Arsenal man offered dynamism and energy previously lacking in the midfield, though such momentum would not be carried through into the second half.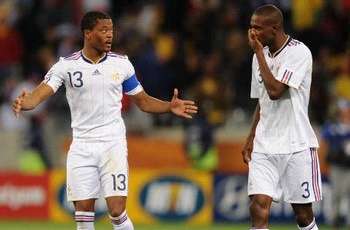 What's Wrong? | Your coach, Pat, that's what
Domenech only came to the correct solution for his midfield via a training ground argument with Florent Malouda, who was axed from the starting XI instead of being reassigned to the wing, where he is at his most effective committing defenders.
The point stands that France looked considerably more dynamic in the center of the field against Uruguay than they did in virtually all of their pre-World Cup warm-ups... for periods at least.
Once the Uruguayans started to get a handle on the game, France looked lost. The Celeste compacted themselves considerably towards the end of the first half and after the break, denied the French runners the yards of grass to burst into spaces that they previously enjoyed.
This more defensive approach was a simple maneuver that stifled les Bleus but could have been circumnavigated by a tactical counter from the touchline. Instead, Domenech just tamely gave his players the thumbs up, as if thinking, "We're not losing; it's going okay."
When they changes came, they came too late, and they were the wrong moves in any case. Thierry Henry came on for Anelka – not the invisible Govou - when introducing Andre-Pierre Gignac or Djibril Cisse might have been a better option to find a goal. When Gignac finally did appear, he was shunted out wide, inexplicably so, as Uruguay were down to ten men and a genuine wing threat such as Ribery would have really stretched the South Americans.
Ribery was having a difficult night, and he was not aided by being moved inside when Malouda was called forth. Deprived of that most precious of commodities, space, he toiled to hold any influence on proceedings in the latter stages of the game. Out on the wing, meanwhile, Gignac showed some nice touches but always looked like a center forward playing out of position.
Undoubtedly there were some positives France could draw from periods of the Uruguay performance, but the nature of the game harked back all too readily to Euro 2008, when les Bleus were content to drift to a scoreless draw in their opening match against Romania, only to crash out at the first hurdle as they miserably failed to lift through the gears.
Mexico and South Africa aren't Italy and the Netherlands, but the form Domenech is in, they may as well be.
The 2010 World Cup is finally here, so keep up to date with all the news at Goal.com's World Cup homepage and join Goal.com USA's Facebook fan page!