Loan deals and MLS games aside, it's the biggest tournament that matters.
Landon Donovan is looking for things to change in the 2010 World Cup. Somehow, anything seems possible when the tournament is played outside of Europe, where tradition seems to stifle upsets and the Old World tends to have the most success.
But Donovan was also a Project 2010 kid, one of a select group of USA players raised and trained on the long-term plan that Carlos Quiroz helped set up for the USA. Now the Portugal coach, Quieroz can also take a certain measure of pride in the USA's progress. Three of the 2010 kids made it from that early, hopeful start at Bradenton to meet the current deadline - midfielder DaMarcus Beasley, defender Oguchi Onyewu, and Landon Donovan.
Yet despite finally reaching that milestone that was the target so long ago, Donovan tries to be blissfully unaware of how a successful tournament could go a long way to establishing a historic view of him as a player. It was a disappointing 2006, for example, that drew harsh criticism from many sides for Donovan's inconsitent play.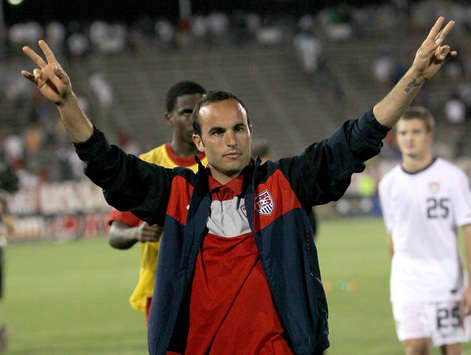 "I don't think of it in big terms like that," Donovan told
Goal.com
before he left to South Africa. "The thing I was most disappointed in 2006 is that I didn't play the way I'm capable of playing. If you don't have the talent and don't have the ability and try your hardest but come up short, that's one thing but when you have that ability and don't do it, that's disappointing. For me, I don't think about legacy or what I didn't do then. I just want to be as good as I can be. If I do that, the rest of it will take care of itself."
Players often say that family grounds them, teaches them the value of things. Donovan says similar things, but the twist in his situation is that he is recently divorced from the person he gives credit for helping him gain a better perspective on life.
"When people here divorce they think 'Oh, it must have been so terrible,'" Donovan explained, "Because of the person I was involved with, Bianca [Kajlich], and because of the way our relationship has gone, that's the reason I've been successful. She's meant more to my career than anybody. People think divorce – 'How could you be playing well when you're going through a divorce?' That has nothing to do with it. The divorce was something that was between us. Regardless of whether we are together or not, having her in my life has made me a better person and made me a lot better soccer player."
In the USA, Donovan can get away with praising his ex-partner after their split and being vague on exactly why things didn't work out with the person who inspired his career improvement. In other countries, there might be blurry photos of another woman, interviews with neighbors about loud arguments, and a big tell-all interview from Kajlich's camp.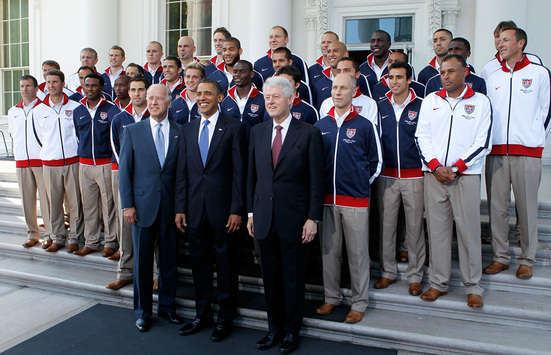 Instead, without the hothouse environment of the sport's extreme popularity elsewhere, Donovan had the peace and quiet to work out a civilized, seemingly cordial end to his marriage.
"We see each other often and I'm really fortunate that I met her," Donovan said. "When you go through something like that, it can be devastating and it doesn't mean it's easy, but going through it with her was actually ended up being a very good experience on both of us."
One thing that is clear from a practical standpoint is that Donovan's divorce makes his options to move elsewhere for his career more feasible. Kajlich needed to be based in Los Angeles for acting jobs, which made a move elsewhere a difficult choice for Donovan during their marriage.
"I actually focus more on my career because I was with her," Donovan explained. "The simple truth of it is that,she is someone who has fought for every acting gig she's ever gotten, and really fought. I've had, because of my talent and ability, a lot of things have come relatively easy to me. So she would see that, if I wasn't giving everything and making the most of that ability, that was very frustrating to her because she knows the other side of it, when you give everything you have and still don't get the opportunity."
Perhaps Donovan also learned that feeling of frustration first-hand when he was on loan at Bayern Munich in 2009. He failed to impress the German squad, and many branded him a European flop.
Some were converted to think differently after Donovan played well with Everton, but nothing cements a player in people's hearts like the World Cup. Heroes on the biggest stage in the world aren't easily forgotten. With the quadrennial competion format, though, the chances to burnish his image in the collective memory of millions is running out.
"Certainly if it goes very well, people will draw memories," said his Galaxy teammate Eddie Lewis, who served up a perfect cross that Donovan converted via a header to help the USA advance into the 2002 quarterfinals.
"People will never forget Mexico and '02 World Cup," Lewis specified. "If it goes well [this year], I think he'd like nothing better than to make this his legacy. But that's difficult. It's going to be a heck of a World Cup. The jury's still out on a lot of areas within the team and other things, guys that are coming back from injury, and I don't think anybody wants to make any early speculation, but we're all just hopeful it goes well."
If it goes badly for the USA, Donovan is likely to be blamed more than anyone.
Former USA coach Bruce Arena pointed out that the pressure of the World Cup weighs heavily on many players besides Donovan.
"It's part of everyone's legacy and Landon's included in that. If Messi has a poor World Cup, it's part of his legacy because he still hasn't shown at the international level. That's all part of it as well.The same with Ronaldo and Rooney and all those kinds of players. This is the event everyone is focused on and judge players on. Landon has to show he's a good player."
The 2010 World Cup is finally here, so keep up to date with all the news at Goal.com's World Cup homepage and join Goal.com USA's Facebook fan page!