URUGUAY

Muslera – 7 –
Surprisingly, the goalkeeper wasn't frequently tested, despite France's pressure. Dealt with what came his way well, but saves from Gourcuff's free kick and Toulalan's long range shot were of the routine variety.

Victorino – 7.5 –
Policed the dangerous Ribery very well, one slip early in the game aside. Tucked in to help out his center-backs when required, making a couple of crucial clearances in the box.

Lugano – 5.5 -
The captain had a very disappointing first period. Though he won a significant amount of balls in the air, the Fenerbahce center-back looked nervous and made several elementary errors that could have cost his team. Certainly improved after the break, but a clumsy late foul could have been punished.

Godin – 7.5 -
Seemed to spend much of the first half clearing up the mistakes of others, with a couple of fine saving tackles when the Celeste looked in trouble. Managed a couple of positive raids forward and was the defender who best led by example.

A. Pereira – 7 –
Shut out the threat posed by Govou entirely after the break, rarely getting involved in the defensive play just because the Lyon man was getting so little of the ball. This was a tribute to the Porto man.

Perez – 6.5 -
Monaco midfielder Perez was a bundle of energy, most useful in a defensive capacity. Strong and competitive in the challenge, he certainly made his presence felt in the midfield.

Rios – 6.5 -
Guilty of giving possession away cheaply in the first period, with his stock response seemingly to collapse to the ground in the hope of earning a free kick. Was far better defensively, making several telling challenges in the center of the midfield as he broke up potentially dangerous French raids.

M. Pereira – 6 -
Struggled to limit Sagna's forward bursts by imposing himself on the match, but at least after the interval managed to stop the bleeding down his flank. Rarely looked a meaningful danger going forward.

I. Gonzalez – 6 -
Seemed to start on the left side of the attack, but never really looked especially comfortable in the role and was shifted into 'the hole'. Was often caught in no-man's land and as a result failed to become involved in play too often. Withdrawn with around an hour gone.

Suarez – 6.5 -
Caught offside in silly positions much too often, showing very little of the predatory instinct expected of him. The Ajax man made a nuisance of himself, drawing several fouls deep in French territory but never had the chance to showcase his finishing abilities.

Forlan – 7.5 -
The team's star player, and for long periods he looked it. Dangerous in possession, a fine early shot had to be well saved by Lloris. Was pivotal to many of his side's best moments, but missed his side's big second half chance.
Substitutes



Lodeiro – 5 -
Dismissed for a reckless challenge on Sagna, he put the Celeste in real danger when they were beginning to look comfortable.

Abreu – n/a –
Didn't have a chance to really impose himself offensively as Suarez's replacement.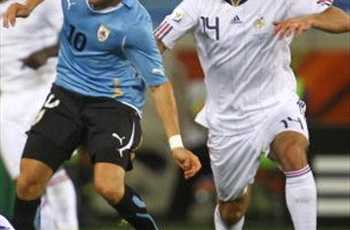 FRANCE

Lloris – 6.5 -
Was nearly embarrassed by an early bouncing ball that looped over his head but gathered his composure quickly to make a good block from a dangerous Forlan shot. Untested after the break.
Sagna – 7 -
Spent much of the opening half powering forward on the right wing, and his delivery into the box may well have yielded a goal on another day. Offered less of a threat in the second period but was solid enough.

Gallas – 6 -
One of the players most focused upon because of off-field reasons, the out-of-contract Arsenal star at times looked a little nervous, allowing Forlan to spin easily away from him early on and then misjudging a bouncing ball that may have allowed Suarez in.

Abidal – 6.5 -
The Barcelona left-back, who is used in the center of the defense on the international scene, had a no-thrills game, not drawing attention to himself because of errors, but equally not achieving anything spectacular either.

Evra – 7 -
Booked in the early stages of the match for a tug on Perez, yet the Manchester United man didn't seem to be too restricted defensively. Didn't attack as frequently as might have been expected of him before the interval, but showed more intent in the second period.

Gourcuff – 5 -
Expected to be the fulcrum of the France team, the Girondins de Bordeaux ace at times struggled to find space in the first half, though his set pieces were a source of danger. After the interval, Gourcuff's passing became sloppy, and it was little surprise to see him replaced.

Toulalan – 7 -
A typical Jeremy Toulalan performance; solid in the tackle, energetic in the middle of the field and relentless at closing his opponents down. Limited going forward, but his job is to anchor the central three. One particularly meaty challenge saw him booked. This could easily be copied and pasted into virtually any of his performances for club or country.

Diaby – 7.5 -
Colossal in the first half, doubtless leaving the axed Florent Malouda to regret his training ground spat with Raymond Domenech. Hugely powerful in possession, yet there was an edge of classy to his game as he broke away from challenges and looked to make a telling pass. Half-time seemed to stifle his momentum, which was a shame.

Govou – 5 -
Squandered the first half's big chance from just six yards out, the Olympique Lyonnais player moved intelligently in the early stages, breaking into the box regularly to supplement Anelka. Did he have a touch in the second half? Not a meaningful one anyway.

Anelka – 6.5 –
Worked commendably hard in attack but is clearly struggling in the centre forward role. Managed to flick a couple of dangerous headers at goal but otherwise offered little direct goal threat before being replaced by Henry.

Ribery - 5.5 -
Largely ineffective in the first period, the Bayern Munich man posed a threat with a dangerous low cross when he did emancipate himself from the clutches of his marker. This proved to be a night when things just wouldn't work out for the winger as he constantly chocked up possession when trying to beat his man.
Substitutes



Henry – 6 –
Didn't offer anything that Anelka was missing. Had a couple of half-chances during goalmouth scrambles.

Malouda – 6 –
The subject of discussion prior to the game, 'Flo' had a shot zip wide from distance, but he never had the opportunity to really run at his marker.
The 2010 World Cup is finally here, so keep up to date with all the news at Goal.com's World Cup homepage and join Goal.com USA's Facebook fan page!