The Celeste and les Bleus finished all square, though it's the South Americans who will be the happier team.
France were held to a scoreless draw by Uruguay in a very watchable encounter in Cape Town, though les Bleus will perhaps feel that three points were available for them to claim.
After a goalless first half, the second period only sparked into life for moments, before Nicolas Lodeiro of the South Americans was dismissed ten minutes from the hand, having been shown a second yellow card.
The early stages of the match offered little, though both sides were offered large areas of space to attack into.
France would be the first team to take advantage of the acres of grass offered for their benefit. Abou Diaby, in the starting XI in place of Florent Malouda, spun cleverly in midfield before feeding Franck Ribery down the left channel. The Bayern Munich man delivered wickedly low towards the near post, where Sidney Govou didn't get enough on the ball to force it on target.
Les Bleus were bright in the early stages. Diaby slashed a shot from distance wide, while a header from William Gallas following a Yoann Gourcuff corner smacked Luis Suarez on the midriff, blocking what might have been a dangerous effort. Moments later, the Girondins de Bordeaux playmaker centered once more, but Nicolas Anelka couldn't steer his header down.
On the quarter hour mark, Uruguay showed their teeth for the first time. Diego Forlan's movement on the edge of the box took him away from Gallas, and cutting in from the left flank, the Atletico Madrid striker whipped a powerful right-footed drive at goal that Hugo Lloris did well to beat away.
This proved to be something of a flash from the South Americans as France were quickly back on the offensive. Set-piece specialist Gourcuff, from an outrageously tight angle, cracked a shot towards Fernando Muslera's top corner, though the goalkeeper was sharply across to parry wide.
After this threatening moment, Raymond Domenech's side would lose some of their initial momentum, though they would still look the likelier side going forward, yet without any meaningful penetration about their play. Anelka allowed good situations to be squandered by holding possession too long, while at the other end of the field Suarez were frequently caught needlessly offside, rendering the first half scoreless.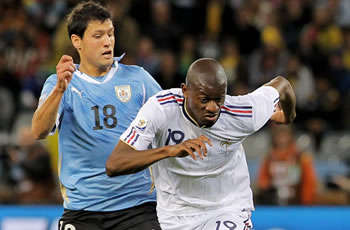 Both sides would create half chances in the stages immediately following the interval. Nacho Gonzalez shot wide for the Celeste before Anelka replied with a strike that was deflected wide. Forlan showed terrific control to pull down a long pass and unleash a shot at goal, though from a tight angle he could not threaten Lloris' goal.
Les Bleus gradually started to impose themselves on the fixture, with Patrice Evra cutting an increasingly threatening figure down their left. One run carried him by several challenges only for Gourcuff's shot to be blocked by Diego Godin.
Jeremy Toulalan is not known for his goal scoring abilities, yet the anchoring midfielder chanced his arm with the Jabulani from 40 yards. Though his skimming shot seemed to move dangerously, Muslera held well.
At no stage were France in total control, and an angled free kick from Forlan was well held by Lloris as the ball narrowly beat several heads clamoring to get a decisive touch.
This was a signal for Uruguay to get a handle on the game, which started to drift as the Celeste increasingly bossed the midfield. Indeed, the South Americans would have a golden chance to snatch the opening goal when a cross dropped invitingly to Forlan on the penalty spot, but the normally unerring striker snatched his shot wide.
By this stage of the game, Domenech had begun to shuffle his pack. Thierry Henry had replaced the ultimately ineffective Anelka, while the disappointing Gourcuff was withdrawn to make room for Florent Malouda, whose first meaningful contribution was to send a shot from distance a foot by the post.
With ten minutes remaining, Nicolas Lodeiro, who himself was only brought on from the bench, was shown a second yellow card for a late, high challenge on Bacary Sagna, handing the initiative to the Europeans.
Inevitably France pushed players forward, with Uruguay happy to sit back in numbers and cling on for a point. Henry, ironically, had a strong handball shot in the closing stages as he tried to scramble home, but the Celeste grimly hung on for a point.
The 2010 World Cup is finally here, so keep up to date with all the news at Goal.com's World Cup homepage and join Goal.com USA's Facebook fan page!