The country is waiting.
If you have the eyes of the world on you then you may as well be dressed to the nines and in football terms, Soccer City in Soweto is the ultimate gladrag.
Everyone knew that the stadium was going to look good for the big kick off on Friday afternoon against Mexico in the opening game of the 2010 World Cup but the 88,000 capacity arena is a belter. South African national team coach Carlos Parreira described it on Thursday as 'stunning'.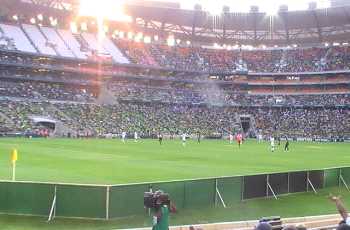 Soccer City
Designed to resemble an African cooking pot from the outside it is from the inside in which it really impresses. As big as it is, the stadium has an intimate feel and when it is full and especially when South Africa are playing, the atmosphere promises to be something else.
The question now is whether the home team and the hosts of the whole shebang can play their part with the eyes of the world watching. Having the best car around is all well and good but if you are banned from driving after just a test drive or two and are reduced to watching others have all the fun.
Pressure in on South Africa from all sides. "Our national team Bafana Bafana is ready and is in fighting form. We beat Guatemala last week and Denmark yesterday. That is a sign of things to come!" said the country's president Jacob Zuma recently.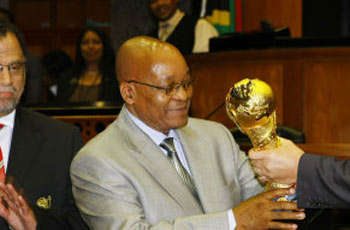 Zuma Gets His Hands On The World Cup
The nation's press is desperate for success and every backpage is a call to arms, on South Africa's Supersports TV on Thursday evening, analyst Mamadou Gaye predicted three South African goals and even those happy few who somehow managed to watch Bafana's final training session on Thursday afternoon shouted out to the players that they needed to do their best.
The session, the 15 minutes that were open to viewing at least, was relaxed. The players looked relaxed and laughed as they passed among themselves prior to the start, Steven Pienaar looked relaxed as he lay on the green turf in order to receive a massage from a green-coated helper and coach Carlos Alberto Parreira looked relaxed as he chatted with his staff and waved at the girls who called his name. Either this team really is relaxed and this is all the calm before the storm or they are good actors.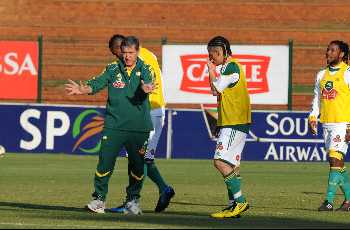 Parreira Calms Everyone Down
In the official pre-match press conference captain Aaron Mokoena insisted that all was calm but admitted that too much relaxation would not be a good thing. "We are looking forward to tomorrow's game. We want to be relaxed but not too relaxed. It is most important to enjoy it."
Coach Parreira has seen it all before, well, not quite all. The man who steered Brazil to the 1994 title in the third of his hitherto five World Cups, was a little bemused and if reports were to be believed, downright annoyed at the events of Wednesday in Sandton.
Just 48 hours before the kick-off, 185,000 people exploded on to the streets to celebrate an open-top bus appearance by the coach and a few players. He was quoted as saying "I have never seen something like this in my life. We do not need this two days before a big match. Not all the players will be part of this. Those of us that are coming out are doing so because we want to tell the people we appreciate their support. We couldn't run away from it, as much as it is difficult for me to understand."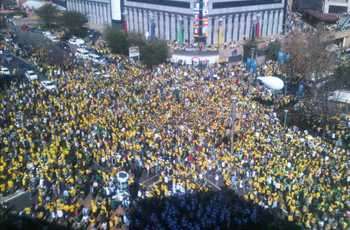 Sandton On Wednesday
The Brazilian had changed his tune by the following afternoon and claimed that it wasn't a parade or a triumphant celebration.
"We liked what we saw yesterday. We could feel their joy and the happiness of the people. It was spontaneous; They were there because they believed. We expected to have more calmness and more focus on the game. But I understand as this country has been sleeping for many years in a football sense. Suddenly there was a ray of hope with the world cup coming for the first time."
"We want to have fun. We want to enjoy the game. We are confident and we want to deliver and want to make this country proud."
The 2010 World Cup is fast approaching, so keep up to date with all the news at Goal.com's World Cup homepage and join Goal.com USA's Facebook fan page!