Bob Bradley was a second choice candidate for U.S. Soccer in 2006, only getting the job after Jurgen Klinsmann rejected it. After winning the 2007 Gold Cup and guiding the United States to an unlikely second place in the 2009 Confederations Cup, the U.S. head coach is in the discussion to remain in charge of the team for another four-year stint.
With several nations, including Italy and France, having already announced new head coaches for after the World Cup, Goal.com associate editors Allen Ramsey and Zac Lee Rigg ponder what the United States should do from August 2010 onwards.
Zac Lee Rigg:
U.S. Soccer president Sunil Gulati said recently that Bob Bradley's future depends on how well the United States does at the World Cup. Does that seem fair to you?
Allen Ramsey:
Absolutely. If the USA gets out of the group then he probably gets to keep his job, and that seems fair enough to me. I know people will hate to hear that because calling for Bradley's head is the trendy thing to do, but unless a Fabio Capello type decides he wants the job, why not stick with what's working?
Rigg:
That's the cutoff, making the Round of 16? I suppose I could see how it might be, especially given what the USA did in 2006. Think there's any chance he keeps his job if the USA crashes out in the group stages?
Ramsey:
Not a single one. But that's the point isn't it?
Arena was canned because the showing was disappointing in 2006. Bradley will get the sack if it's disappointing in 2010. But if the team looks like they played up to potential - and a second round exit to Germany wouldn't look bad at all with this group - then he should get to keep working with them.
Here's my question, do you think he should be gone either way?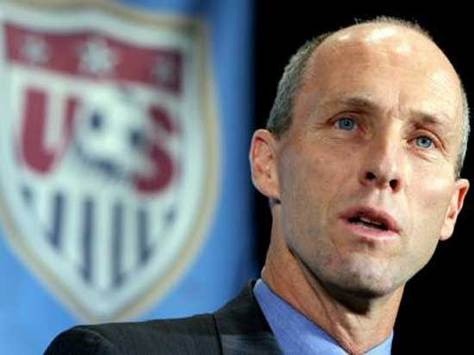 Rigg:
There are certain things that preclude firing your coach - leading an unlikely team such as the USA to the semis or finals, for instance. Even an idiot like Raymond Domenech kept his job for getting France to the final. But I worry that eight years is too long. Bradley's a nice solid coach, but he's not a genius. In those cases, sometimes freshening up the top job keeps everyone on their toes and moving forward - new ideas injected every World Cup cycle, you know?

Plus we have to consider what Bradley wants. If he can land a gig in Europe and further his career, I bet he takes it. So our argument may end up a moot point.
Ramsey:
That's a different discussion all together. Leaving the job, and being asked to leave are two different things.
Rigg:
Indeed.
Ramsey:
Still, I'm not against what Bradley has done. When he took the job after Arena was let go, he was left with a stable of young unproven players. Now, given another four years, the players he picked up then will be in their prime. Think about it. Stuart Holden, Michael Bradley, Benny Feilhaber, Jozy Altibore, Charlie Davies, these are all guys we really didn't know much about in 2006. Now they form the young core of the team. I know bashing Bob is the thing to do, but you look where he's taken this team and it's actually pretty impressive. Clearly his job was to get a team ready for a run into the knockout rounds in 2010, but if you look at the number of players he's tried to bring into the team it's also clear that 2014 is already on the minds of U.S. Soccer. If this group can make a run, why not keep around the coach and hope that he grows along with the squad that he's put together.
Rigg:
I agree Bradley has done well at injecting new players into the national team. I don't remember the numbers, but he's given first caps to dozens of players. Some have paid off, some will pay off later, and others were noble tries. I also like how he prepares teams for games, they usually set out very well to give the team every chance of getting a result. I'm not a big fan of Bradley when it comes to changing things on the fly in the middle of games, but that's neither here nor there. My point is there are very few examples of sustained success at the international level from coaches.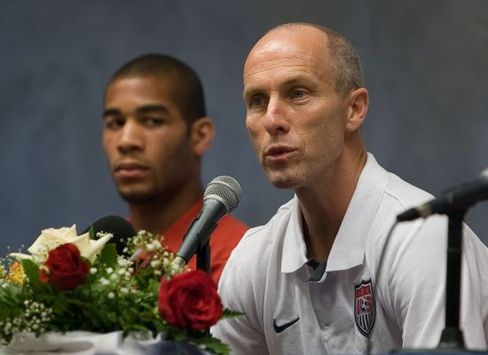 Second World Cup runs typically don't go all that well. Which is why I think it's worth considering letting someone else have a crack even if Bradley does well.
Ramsey:
That's a fair thought, but I think that generally has more to do with sticking with players too long, past their prime if you will, and not giving young talents a chance. I really don't see that being a problem with Bob so I think it bodes well for him being able to keep a team moving forward for another four years. But we've got a World Cup to get through. Let's see how that goes first. I may change my mind before it's over.
Visit the U.S. national team page on Goal.com for more and join Goal.com USA's Facebook fan page!