If we're being honest,
England
hardly need other countries commenting on their chances at the
World Cup
— we do quite enough of that on our own, thank you very much.
But it is always interesting to get a, let's say, more impartial view of the Three Lions' chances in South Africa — and there are plenty of views to choose from as it seems many players, managers, and dignitaries have happily taken the time to join in the fun of predicting how Fabio Capello's squad will fare.
With World Cup fever really ramping up to fever pitch,
Goal.com UK
thought it might be a good time to take a look at what all the other big kids in the playground are saying about Rio and the rest of the boys ahead of a big summer of international football.
The good
"I'm not saying this only because I am in England,"
said Liverpool's Yossi Benayoun, getting off to a less than encouraging start,
"but I do believe England are the favorites.
"They have very good players and I think Fabio Capello has got them playing very well."
Cheers Yossi!
"I spoke to some of the English lads about him [Capello] before he got to work and I told them: 'He is going to turn it around and he is going to be unbelievable for England.' And that's what he does. He is a successful manager and he achieves things,"
said

Holland's

Hamburg's Ruud van Nistelrooy of Mr Capello.


"He is tough, he is direct [and] deep down you know that he's right. He knows what is necessary to get the best out of players."
Even Emile Heskey?
"If you look at the statistics, they are the team who scored the most goals in the qualifiers, and on top of that Mr Capello seems to have forged them into a formidable combination. I believe that they will be a big revelation at this World Cup,"
were the kind words of Algeria coach Rabah Saadane. So that'll be a semi-final exit and — who knows — perhaps even a penalty shoot-out victory along the way, then.


"England can win it, they have a lot of the best players in the world in their team,"
noted Slovenia coach Matjaz Kek, no doubt completely unprompted.
"They're good tactically, have good players and have good discipline. England are one of the best teams in the world and that's why they are one of the favourites for the tournament."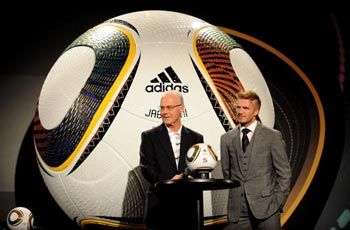 Back the Becks | Franz fancies England
"I think they go to South Africa among the favourites along with Spain, Brazil, Argentina, because, of course, Argentina have Lionel Messi who along with Rooney is the best player in the world right now,"
noted German hero Franz Beckenbauer. And you don't argue with Der Kaiser.
"England have good chances. Absolutely,"
said our old friend Sven-Goran Eriksson, before going on to basically admit the team has a far better chance now he isn't manager.
"They have a very experienced team. Most of the players have been in big tournaments like the World Cup before. You have Wayne Rooney who is coming from a great, great season and he is an extremely important player.
"So I think they have a great chance of reaching the semi-final, and why not the final?"
Yeah, that's the positive outlook we want! But why couldn't we manage that in 2006 or 2002?!


"Ultimately our model indicates Brazil as being the strongest team taking part in the tournament. However, due to the fixture schedule our model predicts... [the] World Cup winners [will be] England,"
reported finance experts JP Morgan in May. A nice idea, but all they definitely proved is that when you take the unpredictability and romance out of football you are left with something very boring.

"England is a very strong squad, a very strong team. We know that. Some of the England players are in very good form,"
said Gilberto Silva, formerly of Arsenal, who will have the best seat in the house in South Africa as he watches games go on around him from stationary position in Brazil's midfield.
"They can do a lot in South Africa. It will be a tough tournament for everyone who wants to win. We will fight for it."
The bad
"England, with Capello, are going to be strong. They have very good players, competitive with their clubs, who haven't been able to take that into the national team."
Brazil boss Dunga says what many think: England should be good, but often aren't.
"It is not very good to play well so England should not be too worried,"
said the legendary Ruud Gullit, putting a novel (and somewhat illogical) spin on England's poor performance against Mexico in their World Cup warm-up game.

"You don't need to play well because otherwise teams will suss you out before the tournament has started and you don't want that. The chances for England to do well are big, but they are as big as the other top teams in the competition.
"You need to hit the right form at the right place and have a bit of luck also. That is all part of it."
So form and luck — two things England rarely seem to have — are vital ingredients. Great.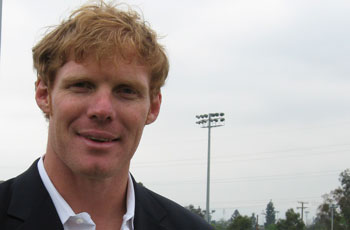 No beard, no brain | Lalas runs his mouth off
"The US is in a great position. They play the underdog role very well and, while some might see it as a shock if they win, I don't think it should be,"
said Alexi Lalas – owner of the second best beard in World Cup history.
"England are not as good as they think they are and the US are better than some people give them credit for.
"This is the easiest group the US have ever been in and it would be a complete failure if they didn't qualify."
With rather excessive claims like that, presumably the former defender is still desperately trying to be remembered for something other than his epic facial hair. Embrace your fate, Alexi.

"England, with Fabio Capello, will be thereabouts. But, from there to winning the World Cup, I don't think so." T
he gospel according to Sir Alex Ferguson, using his tactical acumen (and traditional disdain for anything south of Hadrian's Wall) to predict England will do no better than usual — even with an Italian coach.
"I always put England in the last four,"
said David Ginola, once of L'Oreal and Café Noir adverts, in an encouraging start (albeit a prediction that was last proved correct 20 years ago).

"It will be important they get through the group stage but after that, they can go far,"
he sagely continued.
"Capello has managed to make England play as a team,"
the Frenchman added, preparing for the punchline.
"After missing out on Euro 2008, it is so great to see England at the World Cup."
And there it is. That hurts, David — even more than one of your ads. You are not worth it.
The ugly
"I saw Becks there and I had to go over and tell him what is going to happen in South Africa,"
said American Jozy Altidore — who Hull City fans may or may not vaguely remember after a less-than stellar loan spell last season — after bumping into David Beckham at an LA Lakers game.
"I made sure he knows how it's going to be without him playing – USA 3, England 0."
Rumours that Beckham forgot to laugh at such a ridiculous prediction because he was eyeing up the cheerleaders have not been confirmed, however.
"It may be really good for him to run 100 metres in a little over 10 seconds, but the aim [in football] is to get to the goal,"
said France's [finest] Eric Abidal, talking about whippet winger Theo Walcott.

"We'll wait there for him and we'll see what he can do with the ball - let's see if he can get past four defenders."
Great banter, Eric. But why do you think Aaron Lennon is also in the squad?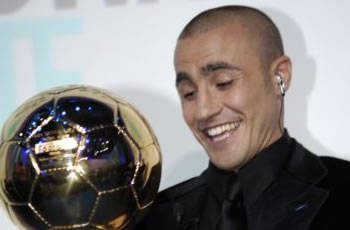 Fab call | Cannavaro's earned right to criticise
"I'm happy for his [Capello's] success in a place where they are a bit presumptuous sports-wise,"
Italian World Cup and Ballon d'Or-winner-turned-shadow-of-his-former-self Fabio Cannavaro jibbed recently.
"To put themselves back in order, England had to call one of our coaches. That means that our culture clearly works."
Good point. Any season now we'll no doubt start influencing referees or playing games behind closed doors in response to fan violence, too…

"Rooney is a top player. In my opinion, he is one of the best players in the world right now, but the other part of it is that he has played a lot of games and he is tired. He is probably worn out,"
said American Landon Donovan, master of playing about three months in Europe and then flying back to the presumably less-tiring schedule of MLS.
"Any time you come into a World Cup, because of the timing of it, big players who play a lot of games in Europe are coming right at the end of their season, so it is always an interesting dynamic how to balance that."
Good point. Lucky you don't have to worry about such a problem, eh Landon?
The 2010 World Cup is fast approaching, so keep up to date with all the news at Goal.com's World Cup homepage and join Goal.com USA's Facebook fan page!