MLSers off to international duty.
With 30 players headed to Princeton, N.J., for a training camp with the U.S. national team, Goal.com takes a look at the form of the Major League Soccer representatives. MLS clubs played Saturday, with players congregating in New Jersey on Sunday.
Landon Donovan, Los Angeles Galaxy
by Andrea Canales
The Galaxy player was clearly frustrated at his team's inconsistent form versus Toronto FC on the night. Yet his own corner kicks varied widely in quality, with a couple failing to clear the first defender. Donovan started up top with Buddle, but after the Galaxy midfield struggled to create chances in the first half, and he saw little of the ball, Donovan moved to the left flank. There he was able to run at defenders, and the balance of the match tilted towards the Galaxy. Though his dangerous attacks drew fouls and a yellow card for a rival player, the tenacious defense of TFC still warded off any goals. Later still, with the Galaxy pushing to find the winning goal, Donovan ranged widely, ending up on on the right side. There his crosses were threatening, and eventually, a free ball fell to Donovan. His perfect touch put the ball past his defender, who was forced to foul him and give up a dangerous free kick. All in all, the USA player looked as capable as ever, but the extra confidence a win or a goal could generate didn't happen.
Edson Buddle, Los Angeles Galaxy
By Andrea Canales
The striker has more at stake in terms of trying to impress USA coach Bob Bradley. Though he got himself in good spots at various times and had one attempt denied by the post, he failed to finish. The fact that defenders collapsed on him with such fervor showed the respect Buddle has generated in the league. He did enough to dispel the notion that he won't work for 90 minutes in a match, as he was still threatening late in the game. However, Buddle still has much to prove in the upcoming training camp.
Brian Ching, Houston Dynamo
By Jeremy Horton
It's hard to get a read on Brian Ching based on Houston's game against Real Salt Lake this past weekend - he came in late with the outcome already decided (Salt Lake were up 3-0 at the time). But he showed a few things that should be encouraging to U.S. - and Houston - fans. He took a few hard knocks from that big, physical RSL backline, and each time he popped right back up. Sprinting didn't seem to bother that injured hamstring, a notoriously touchy injury to recover from. And while his touch showed some of the rust you'd expect from missing over a month, it wasn't off by much. Ching looked to be in the mindset of testing out his form, his fitness, and the state of his hamstring. He didn't have a huge impact on the match, but strictly from an assessment point of view, his appearance was a success.
Jonathan Bornstein, Chivas USA
By Nick Rosano
Jonathan Bornstein put in a good, if unspectacular shift against the Columbus Crew. He kept Eddie Gaven quiet on the right flank (apart from one slip, which Gaven subsequently squandered) and offered good support going forward. With the U.S. facing questions at the left back spot, Bornstein could provide welcome support going forward, though he will have to up his defensive game.
Sacha Kljestan, Chivas USA
By Nick Rosano
Despite playing on the losing side, Sacha Kljestan had an excellent game against Columbus. He orchestrated the Chivas attack very well with his deft touches and accurate passing. It must be noted that this good work was not enough to breach the Crew defense, though with the national team he will certainly have more capable players around him to link up with and put the ball in the back of the net. If he keeps this kind of play up, Kljestan has a great chance of returning to South Africa and providing another creative outlet for the U.S. midfield.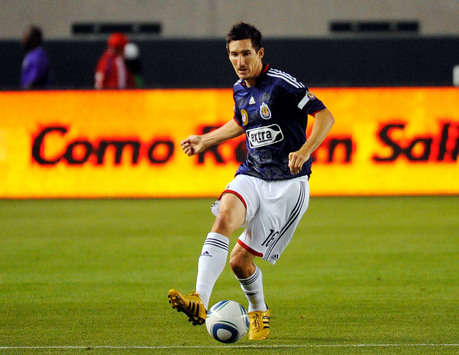 Heath Pearce, FC Dallas
By Keith Hickey
Heath Pearce had a disappointing game against the Philadelphia Union. Playing in defense, he didn't make any major errors, but spent too much time jogging or watching the ball. At one point, he stayed firmly rooted to the pitch as he watched Danny Califf have a free header just a few feet away. Granted, FC Dallas's defensive approach for much of the match didn't allow him to effectively showcase his skill going forward, one of the strongest aspects of his game, but Dallas keeper Kevin Hartman had far too much to do, even with the amount of pressure the Union were committing forward.
Chad Marshall, Columbus Crew
By Nick Rosano
Chad Marshall looked strong on defense against an attack-minded Chivas USA side. His positioning was spot on and he blocked two shots and denied the Chivas forwards any way through. However, his on-the-ball skills were questionable at times, and he, as well as the rest of the defense, misplaced a number of balls out of the back. Those are mistakes that he might be able to get away with at the MLS level, but could hurt him as he tries to make it at the international level.
Robbie Rogers, Columbus Crew
By Nick Rosano
Robbie Rogers was largely anonymous in Saturday's game. Although his pace troubled the Chivas USA defense at times, the Chivas fullbacks were able to deny Rogers space to run and he often struggled in tight spaces. Already considered a long shot to make the final 23, he will need to step up his game in the next month if he is to make the trip to South Africa.
Robbie Findley, Real Salt Lake
By Jeremy Horton
Robbie Findley scored a goal just three minutes into his match against Houston, but people seem to be focusing on what he didn't do, which was finish a few other golden chances. His glancing header was a clinical finish for sure, but he failed to score on two other breakaways. His first might be excusable - he was being closed down hard by a recovering defender, and Pat Onstad made a great save. But there's no sugarcoating the second one: Findley flat out misfired with no one to beat but Onstad. The 42 year old Onstad didn't even have to make a save as Findley just pushed it wide. Findley has to be secretly hoping that Bob Bradley had gone to the fridge for a beer during that play, because it raised a lot of eyebrows. Nevertheless, Findley looked much more relaxed than he has lately, and if he can find his scoring touch in camp, he could be headed to South Africa.
Visit the U.S. national team page on Goal.com for more and join Goal.com USA's Facebook fan page!