Editor's Note: CONCACAF hipster Jon Arnold brings Goal readers stories and opinions from around the region in a weekly column.
It all turned in a moment. After there were celebratory parades and pleas to stay, Jorge Luis Pinto, the Colombian manager who had taken Costa Rica into the quarterfinals of the World Cup, resigned at a news conference. But he said too much.
At least, that was the view of Eduardo Li. After Pinto said the reason he could no longer work with Costa Rica was because of an unfaithful assistant, the Costa Rica FA president teed off on the departing manager and set off a wave of criticism that has come from the top down.
It has turned into a messy divorce with both sides making accusations and making the others' private indiscretions very public. That public seems undecided, torn between a national hero – assistant Paulo Wanchope, who denied being the coach Pinto accused of trying to get him fired even after Pinto named him on South American radio – and the coach who led them to such heights.
MORE: Full Goal 50 list | Beautiful people in Brazil
Each did a number of interviews, Pinto has written a number of open letters and the criticism of the manager keeps coming in from various players and members of the staff.
The federation declared the matter closed Monday, which was a wise decision. No matter where public opinion lies or who is right in the situation, Costa Rican soccer must go on. In the near future it will go on under the leadership of Wanchope and Luis Marin, who also assisted Pinto during the cycle. It is they who will determine if the Ticos go alongside Croatia and South Korea as nations which sustain their World Cup success or if they'll join the company of flashes in the pan like Bulgaria and Cameroon.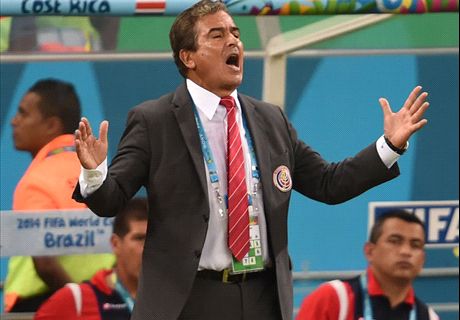 The first test is quickly approaching, with the Copa Centroamericana taking place in September. Costa Rica will enter the tournament as the favorite, and frankly the competition seems to be there for the taking. But in addition to the drama, Wanchope may encounter a few other challenges. Among them, star goalkeeper Keylor Navas may not be available, with
Marca
reporting Real Madrid wouldn't fancy the keeper missing a week of matches, though part of the tournament will take place during a FIFA window (the same publication has reported that the goalkeeper will sign with the Blancos, and while signs point that direction an official announcement has yet to come).
Much of the Costa Rican side entered the World Cup needing a showcase to change club situations, and it found exactly that. Even players who didn't star in Brazil are making moves which would've been improbable before the tournament, such as Jose Miguel Cubero moving from Herediano to Blackpool. For Wanchope and Marin, players facing transfer uncertainty and the timing of the tournament creates a conundrum, but ultimately those players getting minutes at a higher level should help going forward. The duo must survive in the interim with, they hope, a base of World Cup veterans and a dash of domestic-based players for support.
The telenovela in the technical area has seen some of the wave the Ticos were riding in the wake of the World Cup crash, but there's still plenty of time to make sure 2014 was no fluke.
Quickly taken
- Former Costa Rica manager and player Hernan Medford will be unveiled as the new Honduras manager Tuesday. Medford's managerial career has been up and down but is currently on a high, recently winning the Honduran league with Real Espana. He'll be tasked with rejuvenating a Honduran team that made the World Cup but showed little once it arrived, and will have to replace several aging players at key positions such as center back, goalkeeper and forward.
- Does Monterrey have its swagger back? It's early in the Liga MX season, but after looking the worse team the Rayados found a goal against Pachuca to get their second win in as many weeks of the season. Neighbors Tigres impressed against Leon after failing to do so in week one against Atlas. La Sultana Del Norte returning to its status as a football fortress would be a positive development for the region, though not one Liga MX or CONCACAF Champions League opponents will want to see.
- Darren Mattocks scored for Vancouver for the third straight match. An in-form Mattocks is not what Jamaica's opponents are hoping to see in November's Caribbean Cup.
- Panama clinched the top spot in the Central American U-20 championship. Host El Salvador also has qualified with Honduras, Costa Rica and Guatemala fighting for the two final spots for January 2015's CONCACAF U-20 Championship, which will see four teams qualify for the 2015 U-20 World Cup.
- Speaking of Panama, its two CCL entrants did battle Friday, and Chorillo was able to beat Tauro in a physical matchup. Alcibiades De Los Rios, a 21-year-old who broke out with Tauro last season, was booked twice in the span of a minute to put his club down a man for the second half.
Follow JON ARNOLD
on