The Argentina goalkeeper barely featured on loan in France last season, but his two shootout saves Wednesday saw the Albiceleste reach their first final since 1990.
RIO DE JANEIRO — "Today, you are going to become a hero. Is that clear?" Sergio Romero looked deep into the eyes of Javier Mascherano and nodded at his teammate. Then, he duly obliged, making two shootout saves to deny Ron Vlaar and Wesley Sneijder, sending Argentina to the World Cup final for the first time since 1990.
In the weeks and months leading up to the final, such an outcome had appeared improbable. With Romero stuck on the bench at Monaco and Malaga's Willy Caballero impressing in La Liga, there were calls for a change between the sticks ahead of the World Cup.
But Alejandro Sabella stood firm. The Argentina boss was asked about the goalkeeping situation on numerous occasions but his answer was always the same. "I have to make the decision," he said. "And I'm sticking with the same three goalkeepers: Romero, [Agustin] Orion and [Mariano] Andujar."
MORE: Beautiful people in Brazil | USA MVP rankings
So far, that trust has paid off. Romero made several important interventions to keep Argentina on level terms against Iran in the group stage, including one stunning save on Ashkan Dejagah before Lionel Messi won it for the Albiceleste with a superb strike in added time.


"I was very happy with the performance of Romero against Iran. In a World Cup, when you have a player like Messi who can win you any game, plus a goalkeeper who is growing with each match, that's very important," Diego Simeone told Goal in his column as a Sony World Cup ambassador after the Iran match.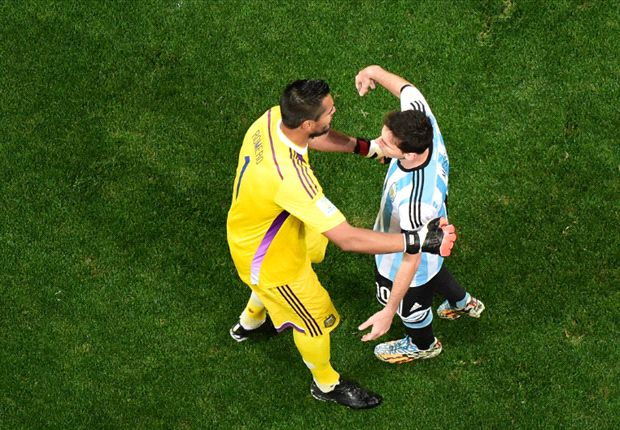 DECISIVE | Romero and Messi embrace after their side's semifinal success
Romero conceded twice in the 3-2 win over Nigeria and once in the 2-1 victory against Bosnia-Herzegovina, but has now kept three clean sheets in the knockout stage and was the hero for Argentina with his shootout saves Wednesday.

"Hands of God," was the headline on the cover of one Argentine newspaper following those heroics after Romero was decisive against Netherlands, evoking memories of Sergio Goycochea's penalty saves against Yugoslavia and Italy en route to the World Cup final 24 years ago.

"Romero was decisive and I'm so happy for him. He was a team-mate of mine at the end of my career at Racing and he's humble, hardworking – a great person," Simeone said. "Sabella kept faith in him and that confidence, that continuity and even bravery to stand by a player who didn't have the opportunity to play often at Monaco last season, has all paid off."

He added: "At a tournament like this one, if your goalkeeper is on form and your most decisive player is also on form, that gives you confidence at both ends of the pitch."

So as Argentina prepares for its most important match since the 1990 meeting with West Germany in Rome, Romero's form and Messi's magic give the nation added confidence and two big reasons to believe in a third World Cup win Sunday.