SAO PAULO -- Heading into the World Cup, nobody in the Netherlands gave the Oranje a chance.
Robin van Persie had seen his season with Manchester United curtailed by injuries, while Klaas-Jan Huntelaar didn't play for his country between August and May due to the knee injury that accounted for most of his 2013-14 campaign with Schalke.
Worse still, Kevin Strootman was the victim of serious knee trouble playing for Roma in Naples in March, ruling him out of the tournament, and likely deputy Stijn Schaars suffered a similar issue while performing for PSV.
Elsewhere, there was a noticeable lack of big tournament experience in the squad, with a total of 16 new names thrown in since the run to the World Cup in 2010. Even Louis van Gaal himself didn't give his troops much of a chance of doing what they've done.
"There are eight to 10 teams better than we are. The chances of reaching the quarterfinals are 20 percent," the coach claimed ahead of the tournament.
That bad feeling stretched a long way. Even Goal, in presenting a case for every major national team as potential world champions, opted instead to provide reasons why this wouldn't be the year of the Dutch. There just didn't seem any chance that they could seriously challenge.
But so much changed on that first Friday afternoon in Salvador. Not only did the 5-1 win over Spain give people a glimpse of what Van Gaal's squad was truly capable of, it also opened up the draw.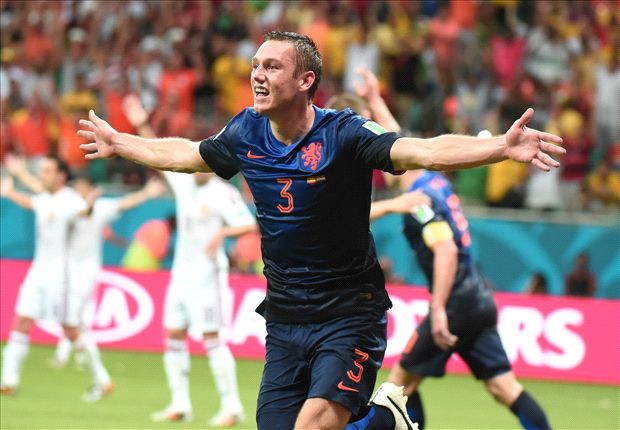 Stefan De Vrij | "The Dutch press didn't believe in us, but we had confidence"
Not for the Dutch a second-place finish in Group B and a Round of 16 clash with hosts Brazil. Instead, they cruised through as group winners and made themselves odds-on to reach the last four. Now that they prepare to face Argentina in the semifinal in Sao Paulo, they are being taken as seriously as any other team left in the competition.
Much of the success appeared to come from them having kept a low profile in the buildup. In a modern game in which everyone appears to know everything about every possible opponent, suddenly it wasn't necessarily the case with Holland.
With 10 players in the squad coming from the inferior Eredivisie rather than the more traditional powerhouse leagues, they were immediately written off by outsiders. Rather than people taking a closer, harder look at the likes of Jasper Cillessen, Stefan de Vrij, Bruno Martins Indi and Daley Blind, the popular approach was to decide that these players simply could not perform at the World Cup.
But that same group was full of belief in their ability, and Van Gaal's vote of confidence in selecting six World Cup debutants in the defensive unit reaped massive rewards from the start.
"First, we have great confidence and play with great confidence," De Vrij said this week when asked what was the secret to the new boys' success. "The Dutch press didn't believe in us, but we had confidence. It's great to be able to play at the World Cup, particularly us younger players. It's a wonderful experience, and we have grown more confident."
Van Gaal insisted that a switch to 5-3-2 was his only choice following the injury to Strootman which robbed him of his greatest creative influence, and the way in which the new shape has played to the side's strength in some of its outings is remarkable.
It added numbers were it might have been more shaky to begin with, then gave it options out wide to exploit opponents' issue defending width at points too. And the former Bayern Munich boss has been clever enough not to rely only on a change of shape, changing repeatedly in response to different scenarios over the course of the competition.
The battering of Spain on opening day was one thing, but the way theyNetherlands has been able to constantly adjust in seeing off Australia, Chile, Mexico and the gallant effort of Costa Rica since then speaks volumes about the powers of adaptability this squad has.
For the Netherlands to become such a chameleon of an outfit at exactly the right time on the biggest stage there is has been one of the stories of the World Cup.
And, more importantly, it has left it within 180 minutes of glory. It has been here before, of course, but to rule out the Dutch is folly... as many have learned to their cost.
"Ahead of the tournament, we did not expect this," Arjen Robben told De Telegraaf recently. "Although, I did not have as bad a feeling about the World Cup as most people back home."
But the campaign to this point has been so good that many have forgotten that bad feeling ever existed. Now, there is every reason to believe.
Follow Kris Voakes on