It was not long ago that Mats Hummels and Borussia Dortmund were locked in an ugly war of words with Joachim Low and the German FA over the national team's treatment of the center back. Nowadays, it is impossible to imagine their World Cup campaign without his brilliant influence.
Hummels' performances in Brazil have been a departure from what has been a torrid year for the 25-year-old while representing club and country. He has looked at home on the biggest stage, thriving under the pressure, scoring two vital goals, and standing out at the back.
The one game he has missed, the last-16 match against Algeria, Germany looked decidedly less secure at the back, being made to survive a scare against plucky opponents.
It could have been all so different, though. Under a year ago, Hummels was firmly out of the Germany first team and embroiled in an ungainly and public dispute with the DFB.
Hummels' travails with the national team stretch back a long way, but things came to a head when Germany, already under pressure, limped to a 3-3 draw with Paraguay in August. He was the weakest player on the pitch, often found out of position and out of confidence.
Low's response was to leave him out of the next three qualifiers, during which time Germany kept three clean sheets and looked decidedly more solid at the back with Per Mertesacker and Jerome Boateng manning the heart of defense.
"Hummels is very good, but I've seen him for Dortmund in recent games," Low said in September. "Maybe he lacks the security." The player's retort was simple. "I think I have to work harder than others to earn my place in the national team. I don't have the same trust there as I do at my club."
But when he was restored to the team for the final qualification match against Sweden, Germany conceded three in a thrilling win and the chaos that was missing when he was frozen out had returned.
Chances to re-stake his claim to a place in the first XI were few and far between. Hummels struggled with injuries throughout a frustrating term – not least when he broke his foot just 10 minutes after being introduced in the second half against England in November.
Dortmund ended the campaign empty handed and Sokratis Papastathopoulos took the center back plaudits, Hummels even having what may well have been the winning goal in the DFB-Pokal final unfairly ruled out. He had gone through the most disappointing season of his career at arguably the worst possible time.
That looks to be completely behind him. He took center stage in the quarterfinal against France, proving to be the difference between the two teams. He scored the winning goal and provided a solid, near flawless line of defense, making a particularly brilliant block when Didier Deschamps' side was pushing for an equalizer.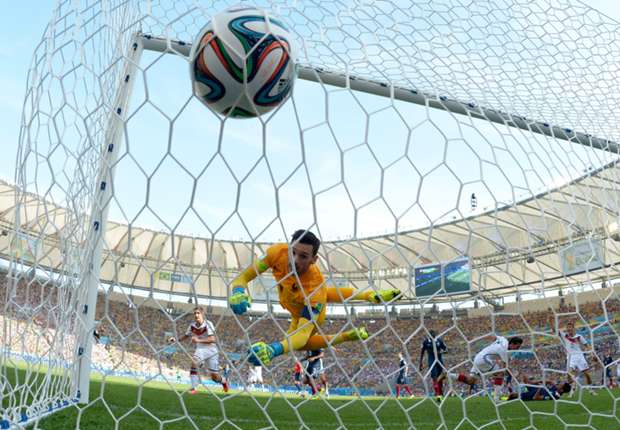 The Difference | Hummels' goal against France sends Germany through to the last four
But this is all eerily familiar and Hummels has had many false dawns throughout his career. Notably, at Euro 2012, he formed an excellent partnership with Holger Badstuber and his side looked a good bet to win the trophy.
It wasn't to be as the young defender was turned all too easily by Antonio Cassano for Mario Balotelli's first goal in Germany's semifinal defeat and a long way out of position for his second.
Tuesday's last-four meeting with Brazil is a chance for redemption. Hummels, perhaps like no other, sums up the current generation of Germany players: obviously talented but unable to perform consistently, particularly when it really counts.
The game against Brazil is an odd one, though; Germany needs to deliver the trophy after a generation of near misses, but, against the hosts and favorites, it will be an underdog.
It's the sort of situation in which Germany, and Hummels in particular, could thrive. He is part of a BVB team which has made a living on being unfancied and the defender is determined to prove himself further.
Germany looks like it's made of sterner stuff this time out and Hummels' form is a big part of that. But the ultimate test of its mettle comes in Belo Horizonte on Tuesday.